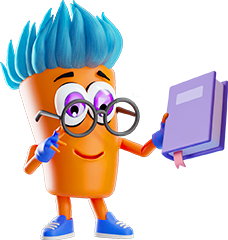 How to Master Interior Design Projects: Tips, Tools, and A Checklist for Success
No design idea is too complicated. No risks are frightening. And no client expectations are impossible when you master the art of project management in interior design.
Yes, interior designers can weave magic and beauty into every space they touch. But within this creative realm, they face countless challenges that demand their expertise and resourcefulness.
If you want to bring your client's vision to life, you'll have to find the delicate balance between functionality and aesthetics, estimate costs, and conquer each obstacle that comes your way. And that's where project management can be so helpful.
In this guide, we'll explore all aspects of project management for interior design. You'll learn about the interior design project management process and get acquainted with the best project management software for interior design. In the end, you can grab a comprehensive checklist to use in your next project.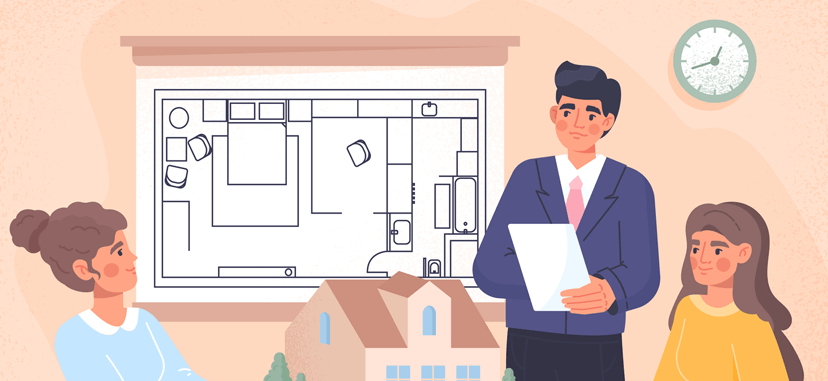 What is project management in interior design?
Project management for interior designers means having a plan to create beautiful spaces that meet the client's needs while staying on track and within budget.
To put it formally, project management of interior design refers to the application of project management principles and techniques within the context of interior design projects. It recognizes the unique requirements of interior design projects and tailors project management practices to suit those specific needs.
This specialized approach takes into account factors such as aesthetics, spatial planning, material selection, and collaboration with architects, contractors, and suppliers.
The synergy of interior design and project management
Interior design and project management are two related but distinct fields that often go hand in hand when it comes to planning and executing interior design projects.
Like project managers, interior designers act as the central point of contact between the client, designers, contractors, and suppliers. As a result, they're able to ensure effective communication and smooth project execution.
In many cases, interior designers take on project management responsibilities as part of their role. However, for large and complex projects, it may be beneficial to have a dedicated project manager who works closely with the interior designer to ensure the project's success.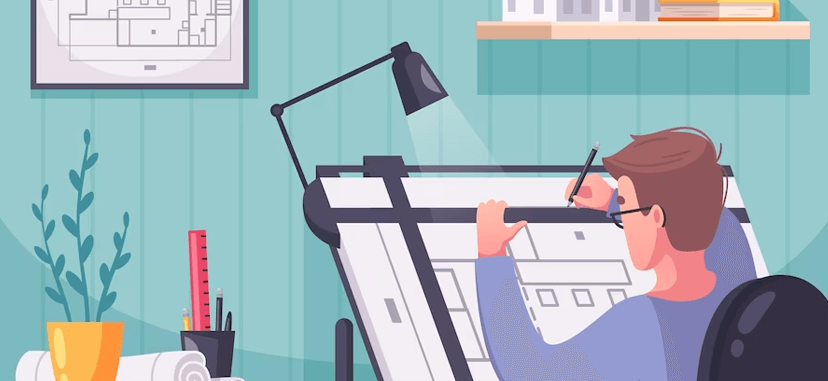 What's unique about project management for interior designers?
Like technical project management, interior design project management has its key differentiators. We've handpicked three of those unique aspects:
Industry knowledge
In the exciting world where project management meets interior design, understanding the ins and outs of the interior design industry is essential.
You should master design principles, explore a vast array of materials, and unravel the secrets of construction methods. But that's not all! You'll also need to navigate through industry-specific regulations like a pro.
And if you want to transform ordinary spaces into extraordinary masterpieces, you'll need even more. In particular, you'll have to stay on top of the latest trends and embrace the best practices out there.
Design integration
So what makes project managers in the world of interior design truly exceptional?
It's all about their deep understanding of design integration principles. You should possess a unique skill set to grasp the essence of design intent and transform those brilliant concepts into practical, actionable plans.
Moreover, you're the guardian of the design vision who ensures that the entire project aligns with the set vision.
Aesthetic considerations
Unlike general project management, interior design project management has a secret ingredient: aesthetics. Get ready to explore the world of color schemes, lighting, material, texture and furniture selections. It's a journey where project management becomes an art form, seamlessly integrating these design elements into the overall project plan.
Unlocking the benefits of project management in interior design
Imagine a world where interior design projects flow seamlessly, where resources are utilized with utmost efficiency, and where every aspect of the project is meticulously orchestrated. Through the implementation of project management practices, this vision becomes a reality.
But it doesn't stop there. Project management in interior design acts as a powerful catalyst, fostering clear communication among stakeholders and nurturing a collaborative environment. Gone are the days of misunderstandings and disjointed efforts. Instead, every team member works in sync towards a shared goal.
Yet, the impact of project management extends even further. It becomes the shield against risks as you identify and mitigate the potential obstacles before they can derail the project. With this proactive approach, you can handle the challenges of working with difficult clients and keep your projects on track.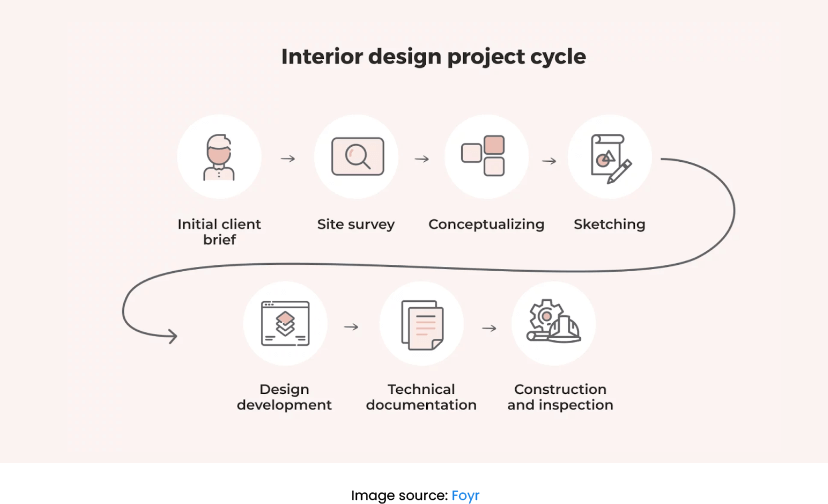 Charting the course: Interior design project management process
The interior design project management process typically consists of several stages or phases. While approaches may vary depending on the project and the interior design firm, here is a general outline of the interior design project management process:
Initiation
The initial phase sets the foundation for a successful project. This stage allows project managers to establish a clear understanding of the client's goals, requirements, and constraints. By conducting thorough consultations and site visits, you can gather essential information about the space, identify potential challenges, and assess the feasibility of the project.
Also, this is the time to define project objectives, establish key performance indicators, and develop a comprehensive project plan.
Planning
Now you should create the roadmap that'll guide the entire project from start to finish. Project managers outline the project's scope, set timelines, and take care of resource allocation. This plan serves as a strategic framework that keeps all activities well-organized and aligned with the client's objectives.
By assigning tasks, setting milestones, and identifying dependencies, you can effectively manage and monitor progress throughout the project's lifecycle.
Design development
Watch your concepts and ideas take shape and evolve into detailed design solutions! This stage allows you to translate the client's vision into tangible design plans.
Through client meetings, presentations, and design reviews, all stakeholders work together to make sure the design plans are doable. They carefully study things like how much space is needed, the rules and regulations for buildings, and other technical stuff.
Also, they make detailed drawings, pick out materials, and create a special plan that shows exactly how everything should look.
By and large, you adjust and modify your project management for interior design before moving forward with the implementation phase.
Procurement
Time to source and acquire materials, furnishings, equipment, and other necessary resources. Effective procurement ensures that the project progresses smoothly without delays caused by the unavailability or subpar quality of essential items.
Moreover, the procurement stage is vital for budget control and cost management. And it's essential to work closely with the design team to develop a comprehensive budget and obtain the best value for the allocated funds.
Execution
You're about to turn your envisioned design into a tangible reality!
Attention to detail, quality craftsmanship, and adherence to design specifications are important during execution to ensure the project's success.
Effective project management during this stage involves overseeing construction progress, coordinating with subcontractors, and addressing any issues that may arise. Obviously, project managers play a central role in monitoring progress and resolving any conflicts or delays. Only this way they can keep the project on track and ensure timely completion.
Project closure
The project closure stage signifies the completion and finalization of the project. This stage involves the final touches, inspections, client approvals, and the wrapping up of all project-related activities.
It's a critical phase to tie up the loose ends and take care of the final outcome. In fact, you should seek client approvals to guarantee their satisfaction with the completed project. Additionally, project closure ensures that you've recorded and finalized all contractual obligations, financial transactions, and legal aspects of the project.
Remember, you should take care of proper documentation and knowledge transfer. Carefully handle all the necessary project information, including warranties, maintenance manuals, and final billing. This documentation serves as a reference for the client, providing important information for future maintenance, repairs, or modifications.
Post-project evaluation
After you've closed the project, it's time to look back and learn from your experiences. Review everything that happened during the project. Think about how everything went, the challenges you faced, and the lessons you learned.
During the project evaluation stage, everyone involved in the project (the clients, designers, contractors, and suppliers) gets a chance to share feedback and opinions.
This feedback is really important because it tells you what you did well and how you can improve. It gives you the whole picture of the project, allowing you to make smarter decisions in future projects. As a result, you can improve your practices in interior design and project management.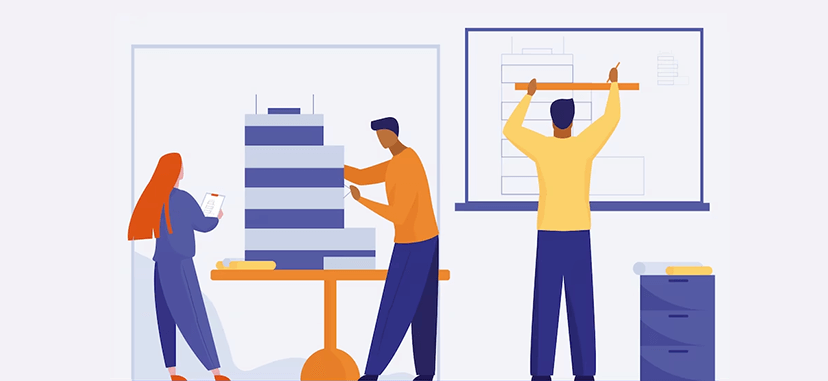 Designing Success: Interior design project management tips
Looking for in-depth insights on interior design project management? We have six pro tips to help you out.
Develop strong vendor relationships
Building and maintaining strong relationships with suppliers, contractors, and other vendors is critical for smooth project execution.
Invest time in researching and selecting reliable, quality-driven partners. Cultivate these relationships through effective communication, fair negotiation, and regular feedback. Quite naturally, strong vendor relationships will lead to better service and reliable deliveries. Saving you precious time and nerves!
Cultivate a design-focused mindset
As an interior design project manager, immerse yourself in the world of design.
Stay updated on emerging design trends, materials, and innovations. Develop an eye for aesthetics and a deep understanding of design principles. By cultivating a design-focused mindset, you can contribute more meaningfully to design decisions and provide valuable insights to the team.
Embrace technology
Know the latest tools relevant to the interior design industry (you'll get a list of interior design project management software in a second).
Explore project management software, design software, and collaboration platforms. They can streamline processes, enhance communication, and improve efficiency. Not only does embracing technology save valuable time, but it also provides a clear advantage in the ever-competitive industry.
Prioritize sustainability
In today's environmentally conscious world, integrating sustainability into interior design projects is increasingly important.
Embrace sustainable design practices and materials, considering factors such as energy efficiency, waste reduction, and ecological impact. Most probably, incorporating sustainability principles will bring in more clients – those who seek like-minded business partners.
Incorporate emotional intelligence
Develop strong interpersonal skills, empathy, and self-awareness.
Emotional intelligence in project management enables you to navigate conflicts, build relationships, and motivate your team. Also, it helps in understanding clients' needs on a deeper level, leading to a more personalized and successful project outcome.
Continuous professional development
Never stop learning and expanding your knowledge in the field of interior design project management.
Read books and attend industry conferences, seminars or workshops to stay updated on the latest trends and best practices. Seek opportunities to obtain certifications or further your education in project management or related fields. Continuous professional development enhances your skill set and establishes you as a leader in the industry.
Optimizing workflow: The best interior design project management tools
The tools you choose will depend on your project requirements, team size, budget, and personal preferences. To save you time, we've compiled a list of popular tools designed to streamline your interior design project management processes.
SketchUp: Combine design and project management functionalities.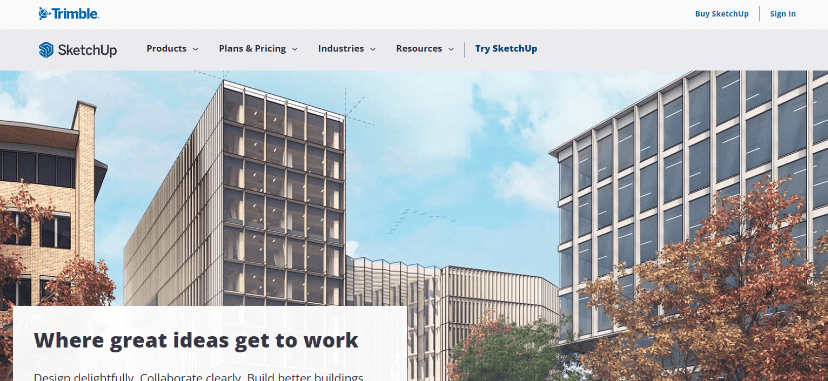 You have a client meeting, and you want to present your design ideas in a visually stunning and interactive manner. With SketchUp, you can visualize the layout, materials, lighting, and textures with breathtaking realism. This robust tool allows you to create highly detailed 3D models of your interior designs, showcasing every aspect of your vision.
But SketchUp goes beyond just design visualization. By incorporating layers and groups in your 3D models, you can organize your design elements and project components. Assign different layers to furniture, fixtures, finishes, and other elements for quick adjustments. This enhances your project management process, allowing for efficient collaboration and iteration.
Moreover, SketchUp offers a wide range of extensions to enhance your project workflow. These extensions enable you to add features like task tracking, project timelines, and even cost estimation within the platform's environment.
AutoCAD: Take your interior design projects to the next level.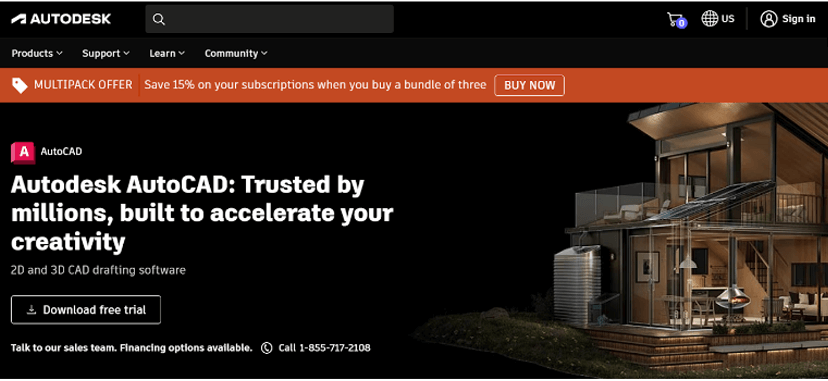 Imagine having the ability to create detailed floor plans, 3D models, and construction drawings in a single software. AutoCAD allows you to do just that. It allows you to generate accurate and precise architectural drawings that serve as the foundation for your interior design projects.
These drawings become the central reference point for your project management process, ensuring that everyone is on the same page about the project's specifications.
With the tool's layering system, you can organize design elements into separate layers, simplifying the management of complex projects. By turning layers on and off, you'll be able to zoom in on different aspects of your drawing.
Teamly: Stay focused and in control.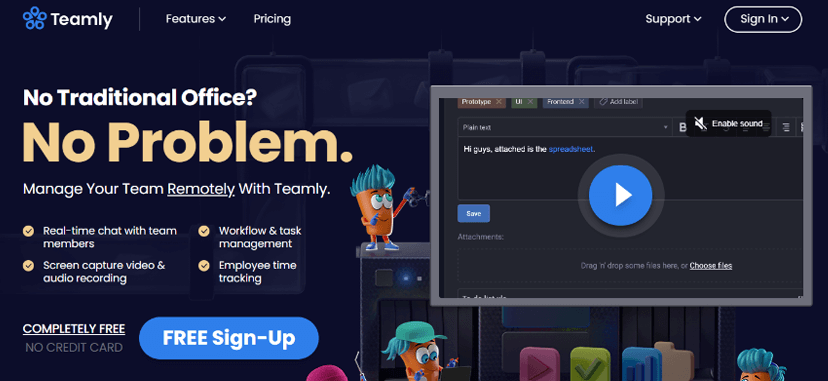 With Teamly, you can effortlessly organize and prioritize your projects, ensuring that no detail gets overlooked. The intuitive interface allows you to create project boards where you can list tasks, set deadlines, and assign them to team members or contractors. Imagine the peace of mind knowing that Teamly has your back, keeping you on track and accountable.
Need to share design concepts, mood boards, and progress updates? One of the most exciting features of Teamly is its seamless collaboration capabilities. Invite your team members, contractors, and even clients to join the project boards. Now everyone can contribute their ideas and provide feedback!
But there is more. This flexible tool allows you to generate time-tracking reports, calculate payroll, and track expenses in real-time. That's how Teamly becomes one of the best project management tools in interior design.
Dropbox: Manage your project files efficiently.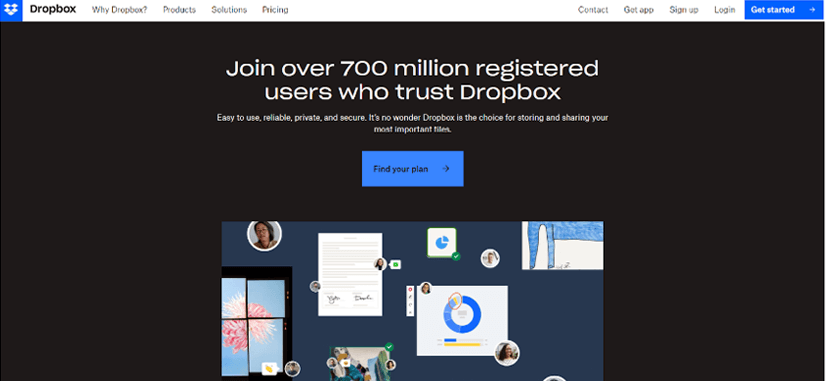 Dropbox is a powerful cloud storage and file-sharing platform that can streamline your interior design project management process. With its user-friendly interface and robust features, Dropbox becomes more than just a storage solution – it becomes your project management hub.
Say goodbye to searching through endless email attachments or local drives – Dropbox keeps everything organized and readily available. Find what you need at a glance and eliminate frustration by saving valuable time.
Plus, you can share design concepts, mood boards, and project updates in real-time, fostering effective collaboration with your clients.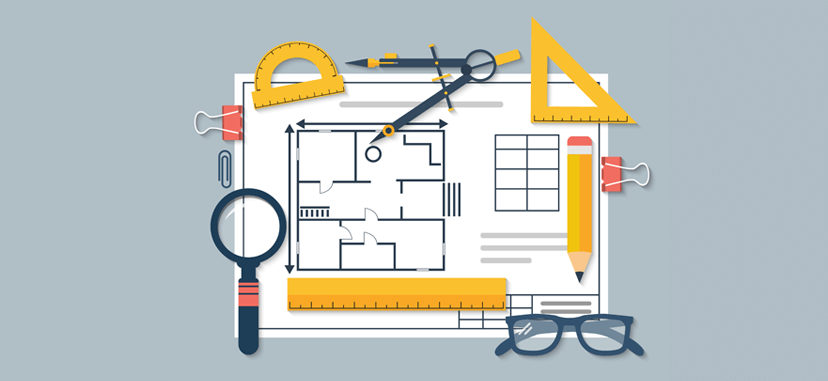 The essential checklist for interior design project managers
In interior design, project management checklists are useful tools to ensure that nothing falls through the cracks.
Pre-project planning
Review project objectives, client requirements, and project constraints.
Assess project feasibility, considering budget, timeline, and available resources.
Conduct a comprehensive site analysis and evaluation, including existing conditions, building infrastructure, and any limitations.
Meet with the client to understand their likes, goals, and project requirements.
Develop a detailed project scope of work, outlining deliverables, milestones, and key performance indicators.
Clearly define the scope of work, project objectives, deliverables, and any constraints or limitations.
Team, resource, and scope management
Research, source, and select appropriate finishes, furniture, fixtures, and equipment (FF&E) that align with the design concept and meet the client's requirements.
Assess and plan the layout, flow, and organization of the space, ensuring optimal utilization and functionality.
Develop a detailed project budget, accounting for design fees, construction costs, materials, FF&E, and other project-related expenses.
Create a comprehensive project schedule that outlines key milestones, tasks, and timelines for design development, procurement, construction, and installation.
Assemble a competent project team, considering their expertise, skills, and compatibility.
Delegate tasks and responsibilities to team members, ensuring clear communication of expectations and deadlines.
Design development and documentation
Collaborate with the client to develop the initial design concept, considering aesthetics, functionality, and the client's vision.
Oversee the production of detailed drawings, plans, elevations, and 3D renderings, maintaining high standards of accuracy and quality.
Coordinate with consultants (e.g., architects, engineers) for integrated design solutions and address technical requirements.
Review and approve all design documentation, including specifications, material selections, and FF&E schedules.
Implement a robust change management process to address design revisions and client requests effectively.
Project execution and coordination
Monitor and manage project progress, ensuring adherence to timelines, milestones, and deliverables.
Conduct regular site visits and inspections to oversee construction, installation, and quality control.
Foster collaboration across teams by facilitating coordination and communication among all project stakeholders.
Manage contracts, procurement, and vendor relationships, ensuring timely delivery of materials and FF&E.
Implement risk management strategies, identifying and mitigating project risks proactively.
Financial and budget control
Monitor project finances, track expenses, budget variances, and forecast future costs.
Implement cost control measures to minimize project budget overruns and optimize resource allocation.
Review and approve payment requests, ensuring accurate and timely invoicing and cost tracking.
Conduct regular financial reporting to stakeholders, providing transparency and accountability in project management of interior design.
Client relations and satisfaction
Maintain regular communication with the client, addressing concerns, providing progress updates, and managing expectations.
Conduct client meetings and presentations to review design proposals, gather feedback, and gain approvals.
Seek opportunities for additional value-added services and upselling while maintaining client satisfaction.
Proactively address client issues or disputes, striving for prompt resolution and maintaining positive relationships.
Project closure and evaluation
Coordinate project closeout activities, including final inspections, punch list completion, and handover to the client.
Prepare and deliver comprehensive project documentation, including as-built drawings, warranties, and maintenance manuals.
Conduct a post-project evaluation to assess performance, identify lessons learned, and implement improvements for future projects.
Seek client feedback and testimonials, utilizing them for marketing and reputation building.
Final thoughts
In the world of interior design, project management is the key to turning creative visions into stunning realities.
By harnessing the power of project management, interior designers can streamline their processes, enhance collaboration, and ensure successful project outcomes.
Design conceptualization, material selection, client communication… There is so much you need to stay on top of. But project management for interior design can become a breeze if you adopt the right mindset and keep the best tools at hand – from the planning phase to the final execution!