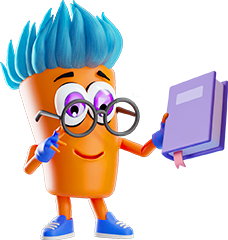 KPI Stands For Key Performance Indicator – And This Is How It Measures Business Success!
The cornerstone of any business is to fulfill its mission and bring to fruition the vision they've set out to achieve. KPIs – which stands for Key Performance Indicators – help to evaluate progress and turn productivity into profitability.
KPI is the latest office buzzword gaining increased momentum within different industries as an efficient and quantifiable way to stay on track and promote positive workplace change. In this blog post, we'll take a deeper dive into the different types of KPIs, why they're effective, and how KPIs can help develop a stronger team with a higher output. But first, let's define a KPI and what it stands for.
What Does KPI Stand For?
KPI stands for Key Performance Indicator. It's a measurable value that helps reveal:
1. If a company is meeting their core objectives
2. The effectiveness of the organization over time
3. If team performance is on track or needs to be improved
KPIs are normally used at varying levels of an organization in order to determine success at achieving particular goals. At the leadership level, KPIs can be implemented to help give a performance overview of the business as a whole, while lower-level KPIs can be used to assess each department, shape future processes, and refine internal goals.
KPIs can even be used as the basis for each employee's performance review, allowing the manager to easily identify key areas of significant progress or what's in need of further development.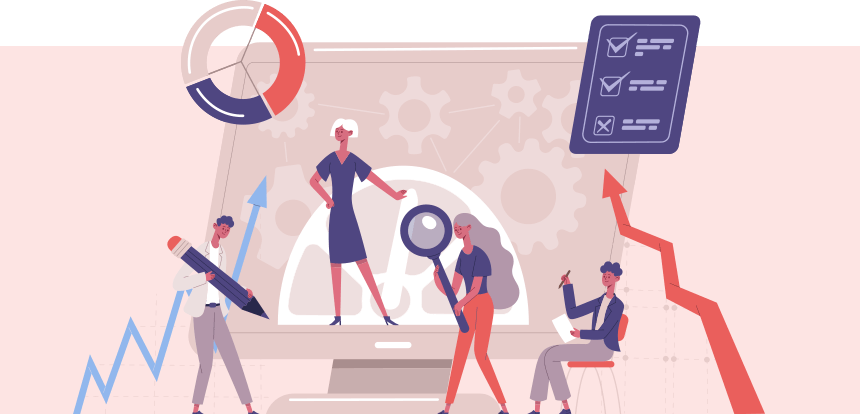 Why Are KPIs Important?
KPIs are essential in measuring success at each level of an organization. This allows leadership to be forward-thinking with their approach to future goals and helps inspire strategic decisions based on the results of the KPIs.
This method of quantifying performance also ensures that important milestones are being achieved, efforts within each department (or individual) are congruent to the company's objectives, and patterns —whether positive or negative —are being identified.
In fact, KPIs have many impactful benefits:
KPIs can improve communication among the team. Since everyone has an understanding of the goal that is to be achieved, it's easier to share knowledge and promote teamwork, which results in greater output.
KPIs make decisions easier. Because KPIs are quantifiable data points, it forces the team to focus on the facts and numbers. While you could argue that some information can be open to interpretation, it's hard to dispute the data in front of you. This, in turn, allows the decision-making process to be faster and any adjustments can be made as necessary.
KPIs can simplify complex problems. For example, KPIs can take a complex issue, such as customer acquisition costs, and bring it down to a single number making this a much easier data point to digest. When choosing the right KPI for your needs, be careful that the most pertinent data is taken into account before moving forward with a specific type of KPI.
KPIs keep team members accountable. Whether at a departmental level or an individual level, key persons track their success and contributions. For example, a salesperson's KPI might be how many sales they closed each month.
KPIs provide an objective view of your business' performance. Assess how your organization is doing by tracking KPIs and watching how they are trending over time. When you know the data, adjustments can be made accordingly. Often that might mean offering additional guidance or trainings in areas where KPIs are not being met.
If a company is not meeting its quarterly or annual goals, the outcomes of KPIs are an essential way to create a plan that directly addresses the adjustments needed for continued improvement.
5 Examples of KPIs In Action
Let's take a look at this in practice through the lens of five different industries:
Information Technology (IT) – An IT department should be able to effectively track and capture these scenarios to properly identify any actions that need to be taken to move toward success:
Total tickets
Total open tickets
Average resolution time
Server downtime
Social Media – In order to evaluate total engagement and conversions, those who work exclusively with social media platforms should be able to quantify the following data:
Number of followers/subscribers
Share/Retweet Rate
Interest/Like/Favorite Rate
Response Rate
Conversation Rate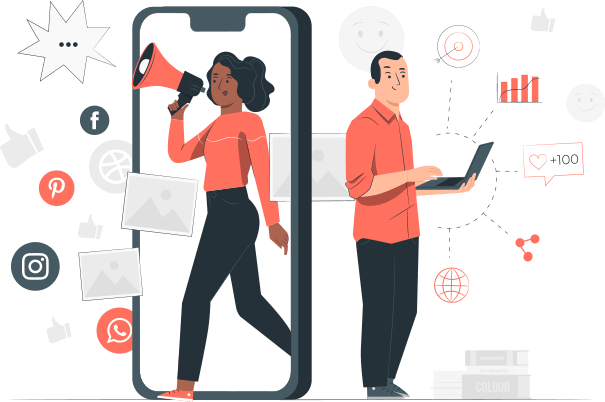 Marketing – Marketing professionals should be able to track their customer journey and conversions to confirm if they're meeting their intended bottom-line:
New Customers
ROI
Cost per lead
Conversion rates
Total revenue
Human Resources (HR) – In order to gauge metrics, leverage existing data, and measure success with efforts such as recruitment, compensation, and management, HR professionals need to be able to have certain performance indicators on hand:
Employee satisfaction rates
Number of new employees
Turnover rates
Labor cost per FTE
Number of promotions
Project Management – Project Managers need to be able to keep tasks moving so that deadlines are met and that the team stays on the specified budget without losing any of the quality in output. It's important for professionals in this field to identify these key performance indicators:
Percentage of milestones achieved on-time
Number of customer complaints
Actual hours spent on a project
Resource capacity
Percentage of completion
Each and every field has a number of unique performance indicators that can help them solve problems and create opportunities. However, KPIs are more than just identifying a pattern and installing a proposed solution. In order to generate beneficial change within the workplace, it's important to understand how we can implement KPIs in a way that will actually be effective.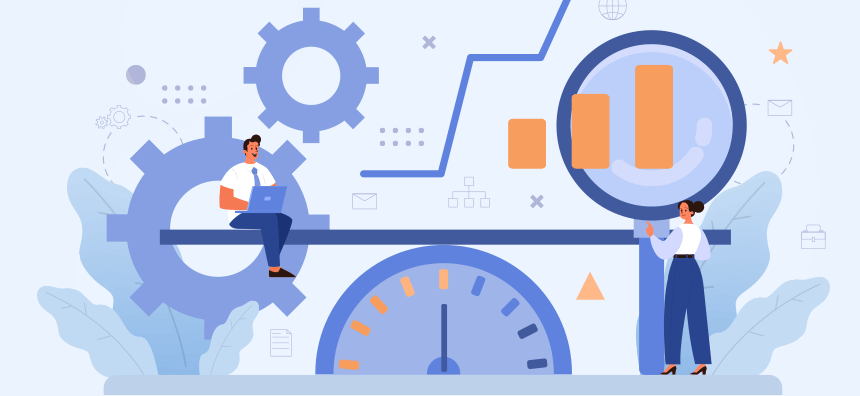 What Is An Effective KPI?
Effective KPIs are specific, structured, and relevant. Much like the methods used to build a positive work environment, KPIs that inspire real transformation are a result of collaboration and valuable insights from individuals on a team, the managers, and leadership.
The more transparent we are in the creation of the KPI, the likelier a team will absorb the information, respond favorably to its implementation, and take purposeful steps to meet or exceed the objectives.
In order to begin the process of building the most effective KPI, we need to first take a step back and make sure that we're clear on our goals. This means referring back to a framework specifically designed to assist with desired outcomes.
How Do SMART Goals Impact KPIs?
A company's goals are related to KPIs, but they are not the same thing. A goal is an outcome we want to achieve. A KPI is used to measure if we're on our way to completing that goal.
We must keep in mind that a KPI is a metric —a way for us to keep a pulse on the success of our business. Using the two concepts interchangeably can result in too much focus on our methods of measuring data versus actually achieving the end goal.
For example, a company is looking to grow by increasing its employee hiring rate while reducing turnover. They increase their ad spending, visibility, and marketing efforts, which in turn, results in more new hires. While they've increased their numbers (as measured by their KPI), they're now experiencing issues with retention as the perceived, primary objective was to fill seats. In the end, they didn't target the right talent who would ultimately align with the company's mission.
In this particular case, we achieved the KPI of hiring more employees, but the goal of reducing turnover was not reached.
To position a KPI for success, we first need to define our goals as it relates to the vision we have for the business. Using SMART goals (originally created by George T. Duran) is a way to structure and develop goals or objectives effectively. When coming up with a goal, keep the SMART approach in mind:
Specific – Do you know the details about what you're looking to accomplish?
Measurable – How will you measure your progress? What milestones need to be met in order for you to get closer to your objective or assess what processes are (or are not) working?
Attainable – Do you have the tools, skills, and resources needed to achieve this goal?
Relevant – Is the goal in line with larger objectives and an essential piece of what you need to accomplish right now?
Time-based – Did you set a reasonable and attainable end-date that motivates others to accomplish this goal within a particular time frame?
Having SMART goals and clear KPIs can fine-tune the strategies needed to move the business forward and in the right direction.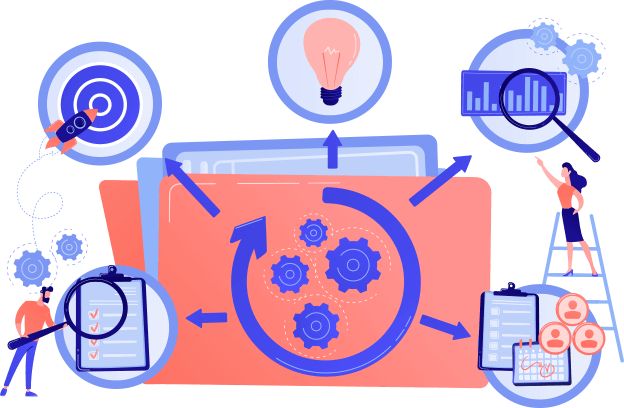 Types of KPIs
There are a variety of KPIs that you can implement, but this will mainly depend on the structure of your business and the data points you want to measure. It's important to remember that while a large part of KPIs is about the numbers, there are insights that can be shown by obtaining qualitative information that defines specific experiences.
Understanding the different types of KPIs can help you make the best decisions in your business development.
1. Quantitative Indicators – This is the simplest form of a KPI and is typically presented as a number. A key example of this would be the number of people in an audience or service response time.
2. Qualitative Indicators – Instead of using numbers, you can deploy surveys, focus groups, or interviews to understand particular opinions, feelings, or perceptions of an experience that can shape the way you repurpose your processes.
3. Leading Indicators – This type of KPI looks ahead and predicts what may happen in the future based on certain trends.
4. Lagging Indicators – Conversely, a Lagging Indicator measures what has already happened to see what worked well and what needs to be improved. For example, analyzing labor costs for a business.
5. Input Indicators – This measures what resources are needed to achieve a goal. An example of this would be the necessary funding, staffing, or equipment needs.
6. Output Indicators – This indicator measures the success or failure of the business process. Basically, it's the summary of the activity's results.
7. Process Indicators – Put in place to measure the efficacy of a process, these types of indicators usually point to the areas that are in need of improvement within already existing procedures.
8. Directional Indicators – These specific types of indicators measure the internal trends within a company. Are metrics remaining the same, improving, or declining? This measurement can help you stand out in a competitive market.
9. Financial Indicators – Financial indicators reveal the stability of the business and its overall growth. Some examples of this would include ROI, debt, growth profit margin, or cash flow.
10. Actionable Indicators – This specific measurement uncovers how committed the business is to implement changes, how effective the changes have been overall, and if it was able to complete this within the specified time frame.
All these types of KPIs can be used to develop a robust strategy and improve existing processes within a company. In some cases, it may be wise to utilize a variety of KPIs in order to achieve maximum productivity and gain results in the most effective manner. Now let's discuss how we can develop them within your own organization.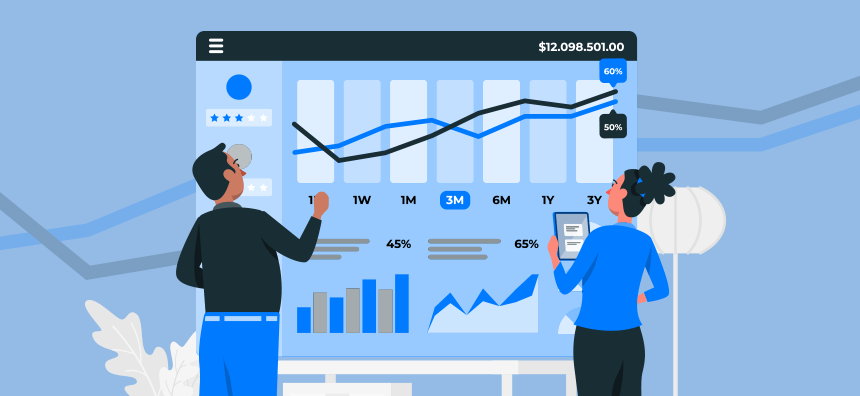 How to Develop KPIs
Developing KPIs for your team is a thorough process that needs buy-in from all the major stakeholders. But once you identify your objectives and how the appropriate KPI can help you achieve these outcomes, it eventually becomes a streamlined process that moves the company forward through positive and focused momentum.
1. Start with a strategy.
Leadership must be in tune with the company's vision in order to develop a customized strategy for future success. Where do they see the company in three, five, or ten years? What milestones are they achieving both professionally and financially? Key members of the leadership team should be aligned with the vision and must be prepared to have high-level discussions about where the company has been, where it is currently, and where it needs to be.
2. Get clarity on the goals.
With the vision and the mission of the company at the forefront, it's time to get crystal clear on the goals that need to be achieved. It isn't just purely about financial objectives, however. You need to think about the organization as a whole and how every moving piece is an essential part of the big picture. According to Chron., here are some other examples of business objectives to consider as you put together your strategy:
Customer service
Employee retention
Operational efficacy
Business growth
Remember, your goals need to be specific, attainable, and realistic. Once you have the company's goals in place, you can start devising ways to measure them.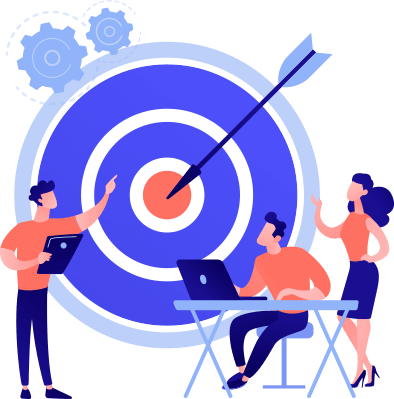 3. Define your KPI.
For every goal that you and your team have identified, you will then want to define the KPI associated with that particular goal in order to monitor its prospective progress, success, or failures. To jump-start this creation process, address these questions:
What are you looking to achieve?
How does this outcome serve the mission of the company?
Do we have the resources to make this a reality?
Who will help monitor the progress and outcomes?
Who will help manage the goals if adjustments are needed?
Do we have the capacity to hold regular check-ins to ensure we commit to any necessary changes and hold us accountable?
Why is it important that we succeed with this goal? Is this aligned with our values?
Is this goal attainable?
Are we able to measure this in a way that gives us real results so we can inspire true transformation?
How will this set us apart from our competition?
These questions can act as your guide in creating an effective KPI. Another way to get valuable feedback is to make this a collaborative process. For example, let's say the vision for the company is to create an expansive team of highly productive top talent. The goal is to increase the number of filled open positions with high performers from 30% to 50% by December 2022. The best supplemental insight you'll receive is from the employees working directly in this space i.e., the recruitment team or Human Resources. They can reveal current practices, noticeable patterns, and propose ideas for improvement. But this is also an opportunity to make sure they're aware of a potential metric they will be accountable for and remind them of the goals they're working towards. With everyone on the same page, you can then arrive at the decision to create a quantitative KPI that measures your percentage of new hire retention.
4. Define success.
Now that you're clear on your goals and the KPIs needed to measure them, you'll also want to gain clarity on what success looks like for the company. Let's go back to our previous example of growing an expansive team. What are the benefits of having a team of A-players? Why is having reduced turnover and higher retention rates so important to a company's future? This is what success looks like: A team of A-players will consistently show up for the company by stepping into their abilities and becoming self-leaders and experts in their field. Retention saves time and money by not having to expend additional resources on recruitment efforts. A high retention rate means that your work culture is healthy, positive, and productive. You're cultivating a reputation of being a company that invests in its people, which helps you produce consistently positive results. Every goal should have a version of success that sets them apart from the rest.
5. Develop a plan to check-in.
Along with your goals and KPIs, you'll want to also establish targets and milestones so that you efficiently monitor progress. This review needs to happen on a regular basis to ensure the KPIs in place are effective and not just an additional check box that leadership or management needs to complete. According to the Hico Group, you can measure your KPI weekly, monthly, quarterly, or yearly based on the timeframe established for each goal. For example, recruitment-related KPIs will most likely need to be monitored on a quarterly basis. Or, if you want to see how employee satisfaction is at the company, you can use a yearly survey (qualitative KPI) to get a temperature check on the workforce. Evaluation check-ins are essential in keeping the goals at top of mind.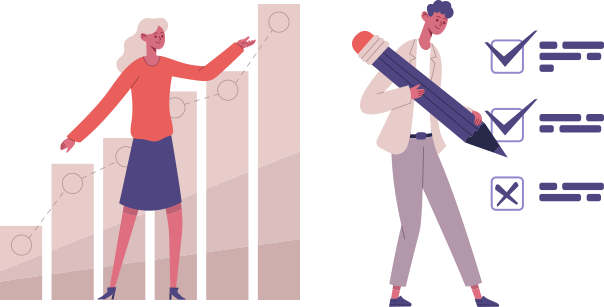 6. Continue to refine.
With targets in place making room for critical periods of review, you can continue to refine and adjust your goals and KPIs. As the company evolves, this will become an ongoing process that encourages a team to remain flexible and solution-focused. For example, if you had a KPI in place intended to measure future outcomes (a leading indicator) such as an increase in employee satisfaction, this will involve a certain number of adjustments over a specific time frame as you continue to gauge the team's productivity, engagement, and loyalty. If any changes are needed, make sure that the key players are involved and aware of the decision so that everyone remains aligned. It's also important to understand that any negative patterns that arise from these measurements should not be taken as a sign of company failure, but as an opportunity for continued growth, collective development, and creative problem-solving.
In Conclusion
On paper, KPI stands for Key Performance Indicator, which can be easily thrown around in the office as just another form of evaluation. But it's so much more than that. An effective KPI can measure the success of your business and makes sure that you're on track to fully realize the vision you have for your company.
Establishing KPIs can align your team, making it easier to work towards common goals. With everyone on the same page, you can maximize your productivity. Whether you have established KPIs but are looking for ways to use them to their full potential, they're a great way to measure results in your business!