The Essential Guide to Upwork Competitors: Find the Best Freelancers Online
Looking for a freelancer online can be a difficult task. Especially if you haven't required remote workers before, you might not know where to start. Plenty of job boards can help businesses to find the right person and one of the most popular is Upwork. In fact, it's one of the oldest boards around but does that mean it's the best?
Although the company has been around longer, other competitors might be better for your business. Upwork serves as many fields as it can which means it attracts a lot of freelancers but this can cause problems.
Jobs posted may gain lots of applicants but not all of them are worthwhile. Sadly, many people spam low-quality copy and paste proposals, they don't even look at your job description!
This article will share the best Upwork alternatives to help you find the right person. These are a mix of generic job boards and niche sites that have amazing freelancers ready to join your projects.
Pros and Cons of Upwork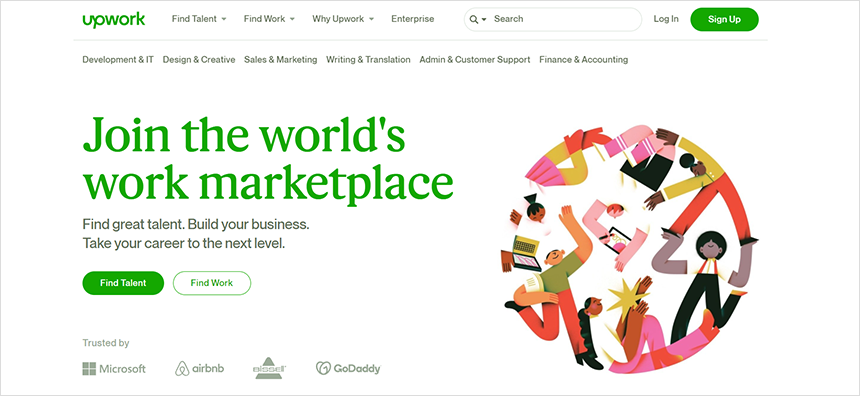 The first site that comes to mind for hiring remote workers is likely to be Upwork and there's a good reason for that. Upwork formed following the merger between ODesk and Elance. It's been the top online destination to hire remotely ever since but its reputation is a bit of a mixed bag.
Yes, you can find good people on Upwork. But if it's easier somewhere else, why bother staying?
Let's take a look at some of the pros and cons of choosing Upwork as your hiring partner.
Pros
Millions of active freelancers to choose from
The selection of disciplines and skills is huge. If it can be done remotely, you can find it on Upwork.
Post a job and accept pitches or choose a freelancer from the catalog
Easy to use interface with lots of functionality. (send and receive files, messaging, video communication, available online and on mobile)
Accurate billing either project-based or per hour and tracked by the Work Diary.
Payment protection, funds are held in escrow for everyone's protection
Together with excellent support staff, Upwork provides a complete solution to hiring freelancers. There are additional perks such as having Upwork connect you directly with top talent and handling payroll for your business.
Cons
Huge competition for freelancers. It can be hard to separate top talent from beginners and spam accounts.
Costs a lot, post-holders are charged a 3% flat fee and freelancers are charged 5-20% on their earnings. Other job boards are cheaper.
Escrow mediation can lead to paying out for poor work if mediators side with the freelancer.
Anyone can sign up and pitch for jobs. This can lead to unqualified freelancers sending proposals. On the other hand, it's easy to overlook talented freelancers due to no feedback on their account.
With these cons in mind, you might be wondering if there are better alternatives. Niche sites iWriter, Behance, and Lemon.io can help you find specific skills like writing, design, and web development. Job boards like Freelancer and PeoplePerHour are more general and host a range of skills.
Upwork Competitors
Finding a freelancer online doesn't need to be a stressful event if you know where to look. Upwork has a wide range of skills and plenty of talented individuals for hire. However, there are other platforms available you may not have heard of.
The cost of hiring a freelancer on Upwork can be offputting. You could save money by sourcing remote workers somewhere else.
A bad experience with a freelancer from Upwork could prompt a desire to find a new solution. Whatever the cause is, there are companies ready to help.
The gig economy is booming. More clients and contractors are looking for remote work than ever before. Newly created job boards capitalize on this emerging market. Each platform has its own quirks and specialties. Take a look at the sites on this list to figure out which one is right for your business.
Here are some of the best generic job boards that are available:
Freelancer
Guru
PeoplePerHour
Fiverr
Outsourcely
Workhoppers
Freeup

No matter what discipline you need to hire for, you will be able to find freelancers using these sites. These websites range in size and the pool of freelancers available varies. Depending on the size of your project, you could get the end results back within 24 hours.
If you've had a bad experience with Upwork or you're concerned about the unvetted nature of their freelancers, one of these sites could be right for you. Details for each site are below including the pros and cons of using them over Upwork.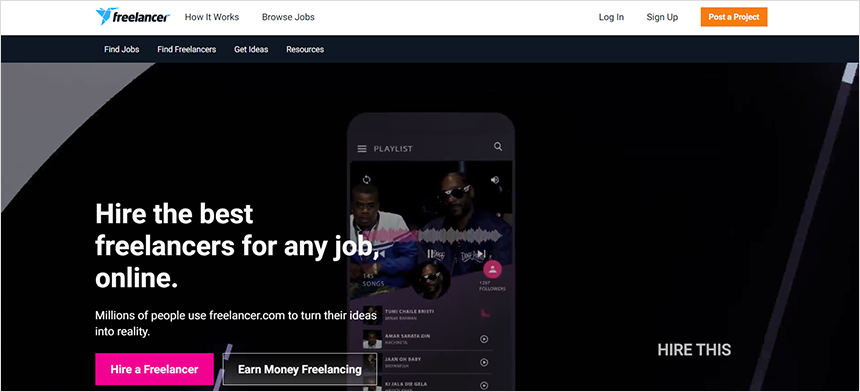 Freelancer.com
Freelancer.com is a popular online job board that operates similarly to Upwork. They have over 50 million freelancers on their platform with over 1800+ skills for hire. Freelancer is one of the top competitors for Upwork as it matches the size of freelancers available.
What separates Freelancer.com from Upwork is the ability to post contests instead of a job. When you host a contest you place the prize in escrow and freelancers can enter. For example, a logo design contest will receive dozens of entries and you can select the best one. Freelancer returns the money to you if there are no winners of the contest.
How much does it cost?
Signing up to Freelancer is completely free and posting a job does not incur any fees. The only time they levy a fee is when you award the project to a freelancer and they accept. Freelancer.com charges a 3% or $3 levy known as the introduction fee.
As well as the introduction fee, Freelancer.com offers plenty of upgrade options that could be of interest. If you want to feature your project or be tagged as urgent there is a $9 fee for this. For $9.50 you can hire an agent to help source the best freelancer for the job. They also charge for NDA's and IP agreements at $9 and full-time job postings cost $199.
Pros of Freelancer.com
Over 50 million freelancers are available on the platform which means finding someone should be easy.
Hosting a contest lets you view multiple entries without having to pay upfront. You can select the best and award the freelancer the prize.
Upgrades are optional so job posts can be personalized depending on needs.
Free to post a job and connect with a freelancer before hiring.
Bids can be received as quickly as 60 seconds after posting.
Live support service that can resolve issues promptly.
Cons of Freelancer.com
They lock most of the features behind upgrade fees.
Many top-tier freelancers will avoid contests because there is no guarantee of pay.
High fees for freelancers mean small tasks may not receive bids.
Many low-skilled freelancers will bid on your job post which can make it hard to find appropriate workers.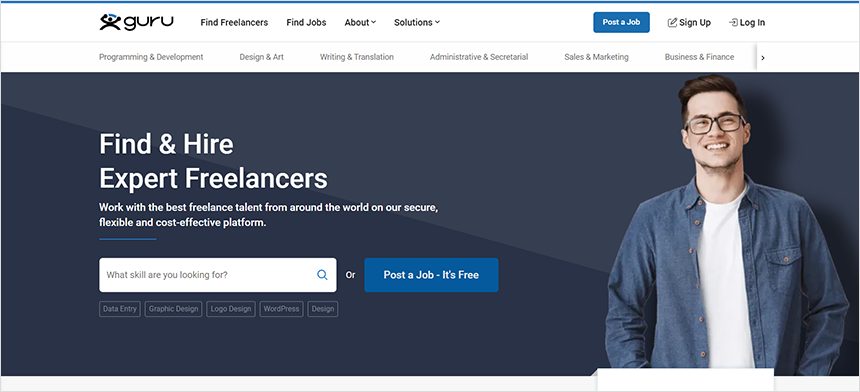 Guru
Guru has been around since 1998 when it was called eMoonlighter.com. The company helps to match remote workers with businesses looking for professionals. The talent pool is smaller than UpWork and Freelancer. However, they have freelancers available in a wide range of professions. You can find people for programming, design, and legal services.
Over 800,000 companies trust Guru with their remote working needs. They also boast a job satisfaction score of 99%. Through Guru, you can post all your jobs for free and they allow you to request quotes from freelancers you're interested in.
How much does it cost?
Guru claims to have the lowest industry handling costs. They charge a 2.9% handling fee for every invoice paid. Unlike its competitors, Guru offers 100% cashback when you pay by wire transfer or eCheck. They also provide more payment methods than any of their competitors.
Not only does Guru have lower fees, but freelancers need to buy a membership to be able to bid for work. The memberships start from $11.95 a month and go up to $49.95. Higher tiers reduce the job fees for freelancers and let them bid on more work.
The membership service is great for restricting the number of unqualified freelancers but unfortunately, it means Guru has fewer freelancers on its books. There is a free tier available but it has the highest fees and limits how many bids freelancers can send.
Pros of Guru.com
More payment methods than anyone else
Membership discourages amateurs from signing up, available talent is likely to be well qualified.
Guru likes long-term collaboration and has no extra fees attached to full-time opportunities.
Hiring on the platform is simple, quick, and hassle-free.
Cons of Guru.com
Costly for freelancers to use which discourages talented people from signing up.
A smaller amount of available freelancers when compared to Upwork.
May reject your job post if it doesn't meet their guidelines.
Customer service is slow to respond.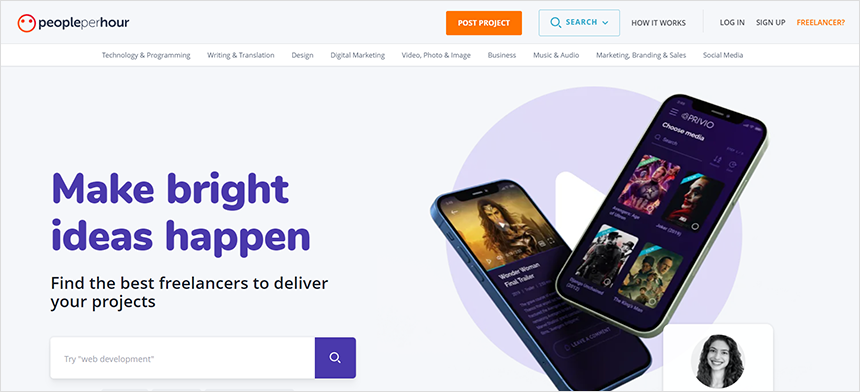 PeoplePerHour
PeoplePerHour is an excellent alternative to Upwork that offers two ways to hire someone. Like Upwork, businesses can post a job and interested freelancers can bid on it. Alternatively, freelancers can post "hourlies" and businesses can pick a fixed price offer.
This platform is a popular choice in Europe but also offers services worldwide. PeoplePerHour has a lot of low-level freelancers making it a great place to find a bargain. Even so, there are plenty of talented freelancers available for work on this platform. There is a wide variety of skills available including writing, translation, design, music, and audio production.
How much does it cost?
There is no cost involved with posting a job to PeoplePerHour. You can hire a freelancer without incurring a cost as well. The only costs PeoplePerHour needs you to pay are the payment processing fees. There are upgrades available if you have an urgent job or need to include an N.D.A.
PeoplePerHour makes its money from the service fees paid by freelancers. They take a commission from every invoice starting from 3.5% and up to 20%. Freelancers use bid credits to apply for jobs and these cost money once the free limit is exceeded. PeoplePerHour fees are lower for freelancers than the fees charged by Upwork.
Pros of PeoplePerHour
Post a job or browse "Hourlies" to find the right freelancer for you.
No costs are incurred for posting a job or hiring a freelancer.
Lower fees for freelancers mean they can offer a more competitive price.
The hiring process is easy to navigate.
You'll only be shown qualified candidates.
Mediation usually sides with the employer meaning you are better protected against poor work.
Cons of PeoplePerHour
Lots of low-level talent use PeoplePerHour which makes finding the right candidate a little harder.
You will receive a lot of applications for your job posts.
Customer service is not available 24/7.
Mainly European freelancers which can cause some timezone-related issues.
Single dashboard, called WorkStream, makes it easy to manage all job posts in one location.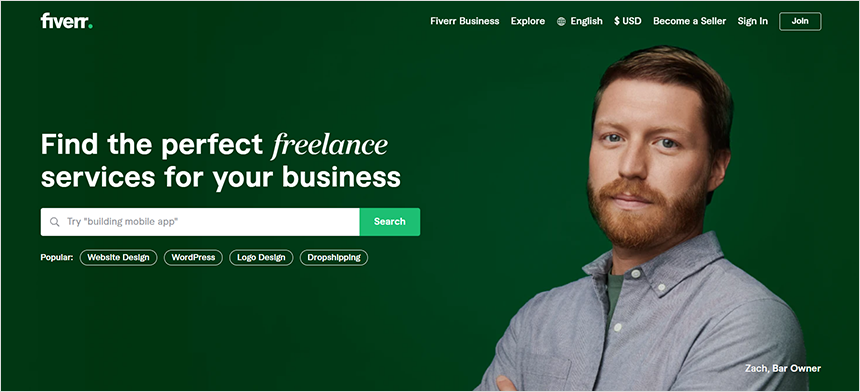 Fiverr
Fiverr is one of the biggest marketplaces on the internet. It's a great place to find freelancers for all manner of tasks. The website operates differently from Upwork as you need to browse gigs. Look through the available gigs and select someone whose skill set matches your job.
They do have the functionality for you to post a job request and receive pitches but it is rarely used.
Anyone can sign up for Fiverr which means there is a range of skill levels from basic to professional. For its most talented members look for the Pro Verified members. These are the most costly gigs but the quality of service is guaranteed.
How much does it cost?
Fiverr charges the buyer a small fee depending on the price of the service they are purchasing. Anything under $40 will incur a $2 fee regardless of the amount. Above $40, buyers will incur a 5% fee for anything they purchase. If you ordered a $100 gig, this will cost an additional $5 as a service fee.
Fiverr also charged 20% of the gig value to the freelancer as a service fee. Freelancers who earn $5 will pay a $1 service fee to the platform. The platform enables you to tip your freelancer for good work but this is also subject to the 20% service fee.
Pros of Fiverr
All gigs can be reviewed which you can view when selecting a freelancer.
Opportunity to discuss gigs with freelancers before you purchase
Low prices on a range of gigs which means it's a great place to find a bargain.
Customer service is key to success on Fiverr so you can expect fast turnarounds and excellent communication.
As a buyer your money is protected in case the work does not meet your expectations.
Cons of Fiverr
Gigs can be misleading. You need to carefully read the gig contents and what extras you need to include.
Extras aren't included in the price so it's not immediately obvious how much a gig will cost.
Anyone can host a gig on Fiverr which means low-level freelancers can overpopulate search results.
The refund policy means they will credit your Fiverr account. To have the money returned to the card you need to contact their customer support, leading to delays.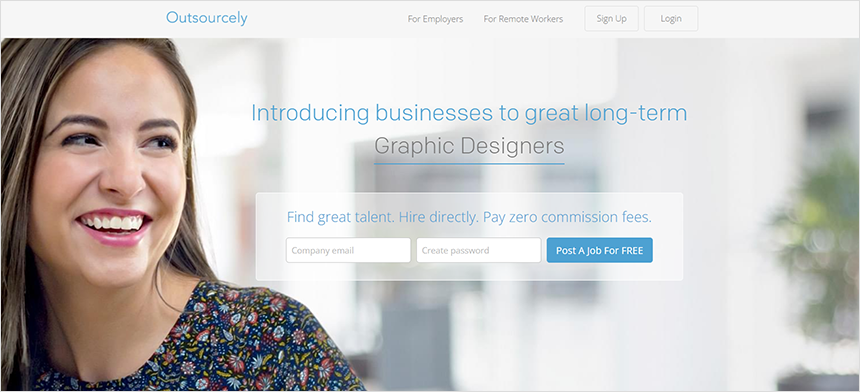 Outsourcely
Outsourcely is a great alternative to Upwork if you're aiming for long-term collaborations. Upwork is likely to be a better option for one-off projects. However, Outsourcely's focus on real remote working opportunities benefits everyone.
They have freelancers from 180 countries with skills in areas such as design, multimedia, web development, and administrative support.
Although it may not be the best platform for smaller jobs, Outsourcely advertises itself as a place to make long-term hires. This means that the freelancers available are looking for full-time commitments. There are no payment processing fees, introduction fees, or job posting fees when you use Outsourcely.
How much does it cost?
Unlike all its competitors, there are no fees incurred when you pay an invoice or post a job. Outsourcely makes money by charging a monthly membership fee to businesses. The free tier is good for one remote job posting each month with limited support.
The price for the second tier is $79 per month. This allows businesses to connect with freelancers and post up to 5 jobs a month. As well as opening up functions like video & voice messaging, bookmarking, and hiring workers. There is a higher tier priced at $229 per month for large businesses.
Pros of Outsourcely
Perfect for finding long-term collaborators and creating a remote-working team.
Outsourcely can help you find remote workers based overseas to benefit from exchange rates.
Freelancers get 100% of their earnings. Outsourcely doesn't scalp anything off the top.
No payment processing fees – you pay invoices directly to freelancers.
Free tier to test the product before signing up for a membership.
30-day money-back guarantee if you decide Outsourcely is not right for you.
Cons of Outsourcely
Not good for one-off projects, better off using an alternative.
Membership fees may make Outsourcely the wrong choice for certain businesses.
Slow response time from the customer support team.
Free trial restricts almost all the functionality of the website making it hard to test.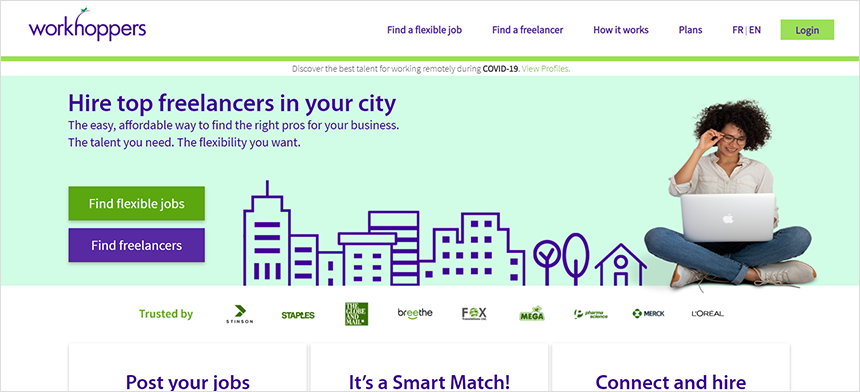 Workhoppers
Workhoppers is like Upwork but instead of connecting you with freelancers around the world, they'll find someone in your city. Finding top talent within your city means you'll be working with someone in the same timezone, speaks your language, and can collaborate face-to-face.
Although this may be beneficial it does mean hiring costs could be higher depending on where your business is based. Workhoppers allows you to build certain terms into your contract such as weekly/monthly face-to-face meetings. They have an AI that helps to connect you with the perfect person for your open positions.
How much does it cost?
You need to pay to access Workhoppers. They have a range of membership plans that start from $29 per month for the basic package. The essential tier is priced at $59 which has more features such as access to the talent database. Lastly, they offer an enterprise tier at $275 per month, this will let you post more jobs and higher out-of-city employees.
Workhoppers do not charge any additional fees on payment processing, job posting, or hiring staff. You pay invoices directly to employees which means they do not pay any commissions on their wage.
Pros of Workhoppers
Connect with freelancing talent in your own city.
No fees for posting a job or hiring staff.
Pay invoices directly to your freelancer, Workhoppers doesn't take anything from them.
Different membership plans to suit your business needs.
The concierge plan takes the hassle of hiring out of your hands as Workhoppers will scout out potential recruits for you.
Not tied into a contract and you can cancel at any point.
Non-profits can use Workhoppers free of all charges.
Cons of Workhoppers
Limited pool of freelancers to access.
Unable to hire cheaper overseas talent.
No free tier or free trial is available, you must select one of the membership plans.
Membership fees may be too expensive for some types of businesses.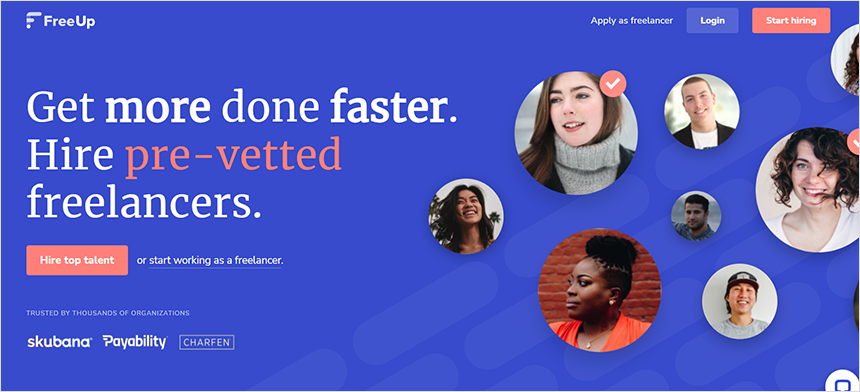 FreeUp
If you want access to already vetted freelancers then the best option for you could be FreeUp. You can hire a freelancer for as little as $5 an hour and you're guaranteed to find a professional. FreeUp vets all its applicants and only the top 1% of applicants are admitted to the platform. If they don't have an applicant that meets the skills required they will look outside of their platform to find someone suitable.
As well as pre-vetting the applicants, FreeUp will hand-select one to three freelancers for your job. They want to save you time in your hiring process and if your freelancer ends the contract they will find another to replace them. FreeUp puts businesses first and offers 24/7 customer support for all its clients.
How much does it cost?
There's nothing but good news for businesses that want to use FreeUp. They don't charge any fees for things like posting a job or payment processing. There are no monthly fees to pay for access to their talent pool either.
How they make their money is based on the hourly rate you set. FreeUp will take a percentage of the price offered to freelancers. This ensures that businesses will pay exactly what they expect to and freelancers will receive the exact amount shown to them.
Pros of FreeUp
Pre-vetted freelancers mean you will only deal with top-tier talent.
Save time on your hiring because FreeUp will recommend freelancers based on your job specification.
24/7 customer support.
No hidden fees or monthly membership plans.
No turnover guarantee. If a freelancer leaves your project, FreeUp will source a replacement and cover the costs.
Cons of FreeUp
Most freelancers are highly qualified and their fees reflect this.
Very limited pool of freelancers on their platform. 99% of freelancers refused.
Hiring Niche Freelancers
If you want something more niche-specific there are even more job boards you may want to consider. Platforms like Upwork, Freelancer, and Fiverr are so overpopulated that many talented freelancers won't even bother with them. Instead, they make themselves available for hire through niche job boards.
Here are some industry-specific boards that can help you to connect with incredible freelancers: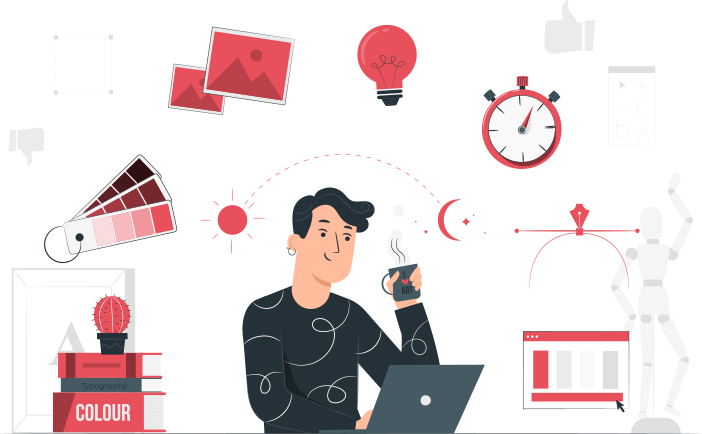 Content Writing
iWriter: Content and article creation for businesses of all sizes. You put in a request with a headline and some details and you'll receive a completed article back. Accept the article to acquire full ownership.
Writers Access: Hire writers, designers, translators, and editors to help improve your content marketing. Writers Access screens all its freelancers before letting them bid for jobs.
Textbroker: U.S-based content creators are available to take on all of your written content. Hire freelancers to write blog posts, ebooks, white papers, and much more.
Web Development
Codeable: The go-to online destination to find WordPress developers. Codeable vets all of its freelancers so you're guaranteed to be matched with an expert. They offer free estimations for interested businesses.
Lemon: Get matched with the perfect developer for your business needs. They aim to match you with a talented dev within 24 hours. Lemon targets startups but is available to help any business find a developer.
Codementor: Source project-based freelancers to help with your development. Codementor offers one-to-one live mentoring if you need some help developing your own product.
Graphic Design
Codementor: Source project-based freelancers to help with your development. Codementor offers one-to-one live mentoring if you need some help developing your own product.
99designs: Browse through their selection of high-quality graphic designers to find the right person for your project. Prices vary and are set by the designer, edit requests can be made, and you only pay once the work is done.
Dribbble: Find creatives that specialize in branding, typography, animation, and much more. They offer three membership plans; access to the job board, access to the designer search, and a combined plan.
Conclusion
If it's a one-off project or a full-time remote hire you're after, the internet has you covered. Job boards have millions of freelancers ready to work on your projects and help bring your ideas to life. Whether you go for a generic job board or something more specific, finding the right person has never been easier.
Upwork remains very competitive and attracts more freelancers than anywhere else but that doesn't mean they're the best. If one of the other boards mentioned sounds like the right choice for you take a look at their website. With luck, you'll find the perfect freelancer for your job in no time.