8 Project Management Books to Help You Scale Your Business
What is the one thing most project managers lack? Right! A chance to lift their heads from the day-to-day routine and see if others know a better way of managing projects.
Surfing the net to find the exact book you need may take hours of your precious time. The good news is – we've done the work for you.
In this article, you'll find the eight best project management books to give you a solid understanding of what works well and what should be done differently in your next project.
Pick the books you need most. Read them. Apply them. Chances are, your success is only a book away.
1. A Guide to the Project Management Body of Knowledge (PMBOK® Guide) – Seventh Edition
Author: Project Management Institute
Year of publication: 2021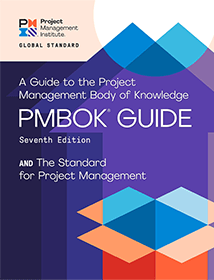 This is the go-to Guide to keep on your desk if you're planning to start a professional career as a project manager.
Also known as PMBOK, it's a must-read for the PMP (Project Management Professional) exam, so don't expect to read it like a novel. It's more of a comprehensive guide or an academic textbook. The book consists of two parts – the Guide and the Standards, which nicely complement each other.
The content of the book is detailed and well-presented. It sets out project management common terminology to help you build the foundation for entering the field and be able to communicate with your peer practitioners.
PMBOK seventh edition: how is it different from the previous versions?
The previous editions presented project management as a process (i.e., in its linear order), taking you through the stages of project planning, development, and execution. The seventh edition, on the other hand, is principle-based. And it's much thinner, just in case books over 600 pages tend to threaten you.
PMBOK is more a project-oriented resource guide that you can read and use; it's for putting project management into practice rather than passing an exam. That's why you'll find the essentials rather than the details in this version.
The latest edition is based on the premise that project managers often forget what they're doing and why they're doing it. One part you'll find particularly interesting is the chapter about systems thinking and critical thinking – two crucial elements that are so often overlooked in project management.
By the way, you can still choose a previous version of PMBOK if you're totally new to this field and want a structured view of the key processes.
The author of the book is the Project Management Institute (PMI), which is responsible for setting industry standards. No wonder this book is picked by those who are studying project management or want to deepen their knowledge in PM.
2. The Fast Forward MBA in Project Management- Sixth Edition
Author: Eric Verzuh
Year of publication: 2021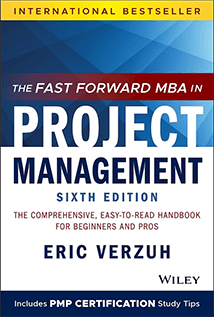 If PMBOK is the official guide, then "The Fast Forward MBA in Project Management" is the unofficial textbook – more user-friendly and readable that simplifies most of the jargon used in project management. It doesn't replace PMBOK but comes to be a great supplement to it.
Through useful case studies, Eric Verzuh gives an excellent overview of key topics (from collaborative problem solving and problem analysis to building high-performance teams). Expect your copy to be filled with notes that'll help you every step of the way – whether you want to pursue a certification or further refine your skills.
Many chapters have interactive elements – exam practice questions, an assignment matrix, or links to valuable resources to help you kick start your career. No more struggles about how to apply project management principles to real-world scenarios.
The author masters his craft. He has worked with major corporations like Adobe, Boeing, GE Capital, and Nordstrom for over twenty years. Obviously, he knows first-hand what he's writing about.
The sixth edition: how is it different from the previous versions?
The latest edition of the book has an additional chapter to help a project manager to become a leader. Eric Verzuh believes that without leadership skills, managers lack two critical abilities – to bring all stakeholders together and transform project management into a platform for innovation.
The book is the right fit for new project managers, veterans, as well as instructors who teach project management.
3. The Lean Startup: How Today's Entrepreneurs Use Continuous Innovation to Create Radically Successful Businesses
Author: Eric Ries
Year of publication: 2011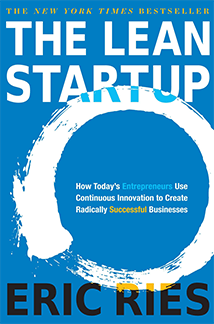 Have a new product idea? Want to navigate smartly in the Hi-Tech market?
Ideal for startups and entrepreneurs, this book will help you initiate and manage growth like a pro. You're invited to take a well-documented methodology and apply it to the fast-paced, high uncertainty world of startups.
Among the best books on lean project management, this one by Eric Ries clearly stands out. The author gives a good overview of how lean and agile methods apply to the startup world. The real case studies put everything into perspective to help you learn from others and up your game in this field.
More and more organizations adopt lean practices because they "produce greater customer satisfaction and improved profit margin."
The examples Eric Ries uses are more focused on software SaaS products; therefore, this book should be great for silicon valley practitioners and folks from tech companies. Furthermore, it's a worthwhile read for those who are part of a large organization that has become stagnant and lost its way. "The Lean Startup" will instill a fresh breath of air into your vision and daily work. However, managers who are successfully running a business most probably are already doing what the book sings the praises of.
The author of the book has a solid career as an entrepreneur with quite a few startup successes and failures along the way. He is an Entrepreneur-in-Residence at Harvard Business School.
4. Sprint: How to Solve Big Problems and Test New Ideas in Just Five Days
Author: Jake Knapp
Year of publication: 2016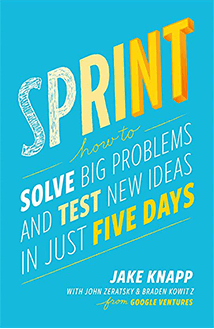 It reads like a friendly guide that takes your hand and walks you through the process described as a sprint.
Jake Knapp spent ten years at Google and Google Ventures, where he created the methodology. The sessions last for a week, and the ideal size is seven people or fewer for a sprint. In the book, you'll find the description of the entire process – from mapping your ideas to testing them. For your convenience, the author also included checklists at the end of the book to keep as reference.
The book is packed with useful details. The 'no device' rule, the 'nobody knows everything' approach, the 'how might we' method, the 'prototype mindset' – these and many more tools are provided to help you rephrase your business problems into questions and arrive at ingenious solutions.
You may find the practicality of the 5-day sprint process too challenging (depending on the business environment you're in and the teams you're working with), but still, there are some really great ideas that you can put into use. Why? Simply because sprints are all about focus. They teach you how to make the most out of your working hours.
The book is ideal for founders and top company management looking for unconventional methods to improve productivity. It's also a nice choice for startups who need to take an idea, collect data, and launch the product without breaking the bank.
Jake Knapp has coached companies on the sprint process, including teams at Slack, Uber, the New York Times, and LEGO. Read the book to steal the wisdom these giants have been using to this day.
5. Measure What Matters: How Google, Bono, and the Gates Foundation Rock the World with OKRs
Author: John Doerr
Year of publication: 2018
OKRs is a management methodology that stands for Objectives and Key Results. As defined in the book, it ensures that the "company focuses efforts on the same important issues throughout the organization."
Among the project management books to read, this one is a great introduction to the origins of OKRs and how to put it into practice. It provides valuable explanations for what can go wrong with top-down objectives and how companies can use OKRs to improve organizational effectiveness.
Loaded with interesting examples, the book does a great job outlining how to set up objectives that are measurable, boost accountability across teams, and align people's work to bigger business objectives. In short, it's about setting the right goals for the right reasons.
Those seeking advice on the what and the how of doing things in their business will find this book to be the perfect fit. It pulls the curtain aside to reveal the benefits of having a system for setting goals, choosing a direction, and mastering the art of execution.
John Doerr is a venture capitalist, investor, and board member at Google and Amazon. Probably that's why you'll relate to many descriptions presented in the book; the author actually lived the stories he's telling.
6. The Phoenix Project (A Novel About IT, DevOps, and Helping Your Business Win)
Author: Gene Kim
Year of publication: 2018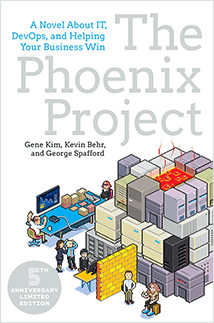 Books on project management contain examples you'll identify with. But while reading this one, you'll start wondering: "Has the author been hiding in my office building and meetings?" The mistakes, the symptoms, the characters – everything is painfully familiar to anyone within the industry. The author, without a doubt, knows how you feel about failed software projects. The book will force you to stop and reflect on your own experiences and how your team handled DevOps.
"Every work center is made up of four things: the machine, the man, the method, and the measures," states the author in the book and continues to explain how software development has moved from a traditional approach to DevOps. We all know the reason for this movement: to ensure a fast and uninterrupted flow of work and deliver on the strategic promises we make.
The Phoenix Project is frequently described as "The Goal" for IT, mainly because it uses a fictional plot (like the all-time classic) and provides good takeaways, which make it a fun read. Non-business people will get their feet wet with process improvements without having to decipher burdensome explanations. In addition, the author has walked the extra mile to revisit the presented concepts in a brief summary at the end.
This book is ideal for software development engineers (both senior and junior), managers, system admins, consultants, and executives. For high-level management, the book will draw the bigger picture of what software development is and how it relates to business. At the same time, the book will help junior staff to develop into more mature, well-rounded, and thoughtful engineers.
Gene Kim is the author of several books and has been studying high-performing technology organizations for over two decades now. He founded the DevOps Enterprise Summit back in 2014 which brings together thousands of technology leaders to network, share, and learn. Being a developer by training but having spent most of his professional career in operations, Gene Kim knows how to set shared goals between Dev and Ops teams and build the infrastructure (not only the code!) to achieve high performance.
If your IT department is swamped in work, scrambling to meet demands, cutting corners to release anything, sucking the souls of engineers, then something needs to be fixed. And this book is going to help you do exactly that.
7. Strategic Project Management Made Simple: Solution Tools for Leaders and Teams – Second Edition
Author: Terry Schmidt
Year of publication: 2021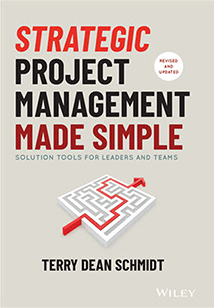 All too often, we fail to do cause-and-effect thinking. We forget that we don't do each separate project for the sake of merely accomplishing it. We accomplish each project for a reason.
"Strategic Project Management Made Simple" is a practical and accessible guide for project managers who lack hands-on experience and need recommendations from an expert who knows the game out there. Terry Schmidt will introduce the Logical Framework Approach (LFA), enabling you to take a systems-thinking view of project management.
Specific examples accompany the explanation of the framework, which makes the book an enjoyable read. LFA goes from inputs to outcomes, from outcomes to purpose, and from purpose to goals to help you get systematic about each and every project.
The author shows how to share ideas and concepts in an easy-to-understand manner to prepare your team for creating a project management plan that's strategic, logical, and practical.
Project managers who have hard times managing people will find one of the chapters particularly helpful. It provides information on how to "manage your inner game" by adopting the right mindset and working effectively with many different personalities.
Terry Schmidt earned his MBA from Harvard Business School, worked for NASA and was a consultant for World Bank and USAID-funded projects. He also teaches at UCLA and MIT. He is yet another professional who offers great information on navigating the unfamiliar waters and finding success.
Before we finish, let's shift the gears slightly.
Project managers often need to learn not only how to manage better, but also how to think better. That's why a book by Ray Dalio sums up our list of project management books.
8. Principles: Life and Work
Author: Ray Dalio
Year of publication: 2017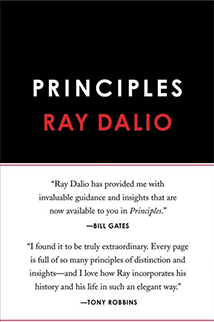 Take a moment to think. What are your criteria for making decisions?
Not an easy question, huh?
Ray Dalio gives answers to complex questions; he provides recipes for dealing with situations that happen over and over again by showing the path of building a system that works. It's extraordinary; by applying these techniques, you start thinking in a more principled way.
Pain plus reflection equals progress – here's the formula the author suggests and takes you on a journey of setting goals, learning continuously, and making informed decisions.
The book should be great for managers seeking ways to sharpen the edges and step up projects for success. The tricky part of the described system could be the following – to put it into practice, you'll most probably need a work environment with a strong corporate culture, as well as team members who are open to transparency, change, and experimentation.
Ray Dalio founded one of the world's largest and best-performing hedge funds – Bridgewater Associates. With all of the tremendous success the author has had in business and investment, you can rest assured that the wisdom this book shares is applicable and will help you come to grips with your most pressing problems.
Wrapping up!
All project managers have a shared pain – how to deal with the always-there uncertainty and discovery involved in each project?
There are a gazillion reasons to legitimize your fear of finishing a project successfully or sending out your product into the market now. But excellent project management books can help you put aside the fear of failure, experiment consciously, test carefully, and listen to your customers attentively.
So how many new tools do you add to your project management toolbox today? Well, it depends on what books you'll bookmark on your reading list – and actually start reading them!