Top 10 Must Read Books on Accountability
Sometimes, even the best blogs can't dig deep enough into an important and complicated topic… Books to the rescue!
Lucky for us, there are a ton of great thought leaders and experts on the topic of accountability so all you need to do is dedicate some time to reading their works and practice applying what you learn in your own life.
Here are 10 great books on accountability that you just have to read if you want to learn more about this important and necessary leadership trait:
1. QBQ! The Question Behind the Question: Practicing Personal Accountability in Work and in Life by John G. Miller, avid L. Levin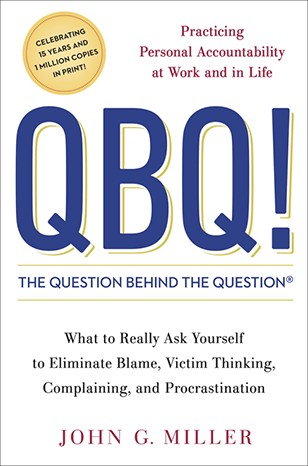 Stop pointing fingers and be accountable instead. This book will help you ask better questions and explains how taking accountability will benefit both you and your team.
The idea is that you can start asking better questions, the Question Behind the Question (QBQ) to be more specific. We all know the who, what, where, why, and how of asking a good question but how you start the question will influence the outcome of your answer. If you are starting questions with "who", it is more likely that blame will be part of the answer. When you focus instead on the "what" and the "how", the answers to your questions will be actions that your team can take to move forward.
This book is both practical and powerful and a must read for anyone who may be feeling the discomfort that comes with the lack of accountability in your organization. If you are tired of the blame game at the office and among your team, it might just be time to gift everyone a copy of this book.
2. So You Want to Talk About Race by Ijeoma Oluo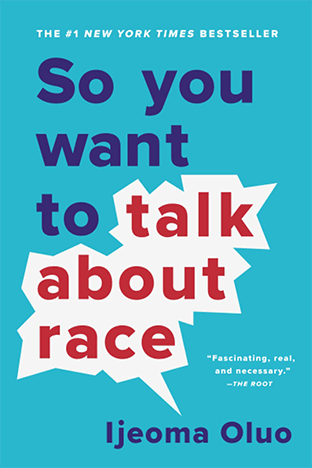 You may wonder why a book about race is on this list, hear me out…
Workplaces are getting more and more diverse, and that is a great thing! Everyone wins with a diverse team that holds a variety of perspectives and the stats prove it. Unfortunately, racism is still alive and well in our systems. While changing whole systems seems impossible, individual accountability on the issue of racism and bias is necessary to push our organizational cultures to be more equitable, diverse, and inclusive.
You have a personal responsibility to practise anti-racism in your organization and that responsibility starts with recognizing the privilege you hold, especially if you are a white person. Having honest conversations about race starts with holding yourself accountable for whatever role or place that you hold in the discussion. This may be uncomfortable but the result will be a team build on trust, mutual understanding, and respect.
3. The Oz Principle: Getting Results Through Individual and Organizational Accountability by Roger Connors, Tom Smith, Craig Hickman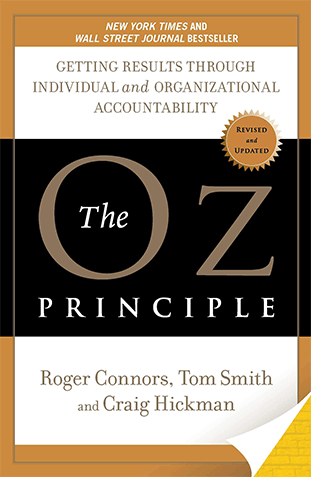 Some books are just timeless and this is one of them.
This book embraces the concept behind The Wizard of Oz, a well known example of the blame game where the characters are looking for external factors to blame for their failures as opposed to looking inside themselves for the solution. We all know how this ends.
The Oz Principle follows the journey from a victim mindset to one of an accountable individual who relies on their own abilities to achieve their goals. Many people embody the victim mindset without even realizing it: they are negative, make a lot of excuses, deflect, and are nearsighted when it comes to setting goals. If we are being honest with ourselves, we can admit that we all fall into this victim trap from time to time because it can be a comforting place to be – free from the responsibility of our actions. Of course, this is exactly why everyone will benefit from the helpful reminders of the Oz Principle as a means to become a better leader and practice accountability for our own good and the good of our teams.
4.  Accountability Leadership: How Great Leaders Build a High Performance Culture of Accountability and Responsibility by Di Worrall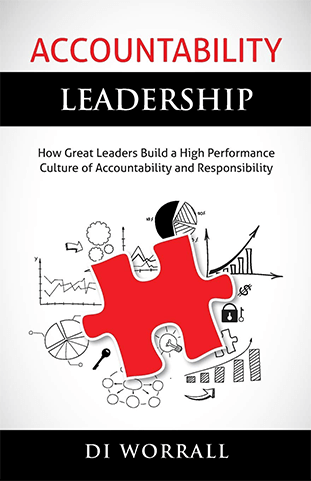 This book took home the top prize at the 2015 Indie Excellence awards for best leadership book for a reason. It is common knowledge by now that accountability is one of the keys to success, but developing a plan to actually be accountable if you happen to struggle with it is hard… and Di has you covered!
Jam packed and backed by extensive research, the author also has over 25 years of experience in the field. She says it best:
"Accountability is arguably the number-one issue that makes or breaks leadership performance today. Yet most of us were never taught this critical skill—not by our parents, teachers or business leaders. The good news is, accountability can be coached." – Di Worral
If you are looking for tageable actions to help build accountability into your team culture, this book is for you.
5. The Miracle Morning: The Not-So-Obvious Secret Guaranteed to Transform Your Life: Before 8AM by Hal Elrod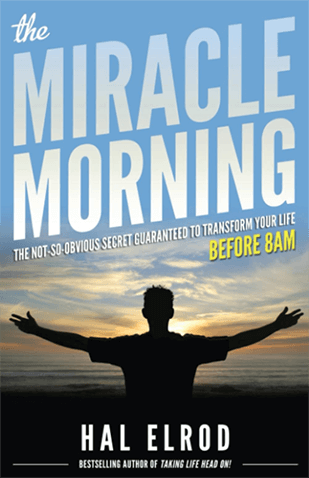 Maybe "miracle" is a bit of heavy a word but after reading this book, you may just become a believer!
The concept behind The Miracle Morning is that you can use your mornings to develop better habits and actions that can positively feed into the rest of your day. The catch? You need to be committed to yourself. No one is going to live a better life for you, so you need to prioritize actions that will move you in the right direction and Hal is here to tell you how.
And it can all be done before 8:00am!
It all boils down to (you guessed it) accountability to yourself in order to become the type of person capable of achieving success, one early morning at a time.
6. Dare to Lead: Brave Work. Tough Conversations. Whole Hearts by Brené Brown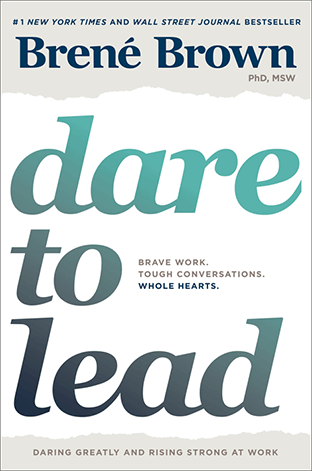 When it comes to great leaders, Brené Brown is at the top of the list!
While she has written a number of great books about leadership, Dare to Lead takes the cake and is a great read for those who may be unsure about how to actually start an accountability practice. Brené's background in social work gives her impressive insight into how people contribute and the lies we tell ourselves about our own abilities. Recognizing the potential in others starts with recognizing it in yourself and you can only do that when you are accountable for your own actions.
Brené also has a fantastic podcast that complements her written work. Her episode called Shame and Accountability is a must listen. She is a firm believer that accountability is a prerequisite for change in all aspects of our lives.
7. Atomic Habits: An Easy & Proven Way to Build Good Habits & Break Bad Ones by James Clear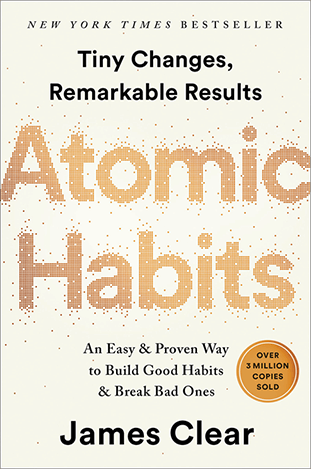 Sitting with Brené at the top of the list of great leaders on the topic of accountability is James Clear.
In his cleverly titled book, James dissects how we are shaped by our habits and how we can, in turn, shape our habits to better reflect who we want to be. There is no better way to practice accountability than developing habits that keep us accountable and consistent in our everyday activities.
James merges the most recent and credible studies with the readability of any classic leadership book resulting in a real page turner. When it comes to habit formation, start small (atomic, get it?) and be accountable to yourself. He helps the reader navigate all of the obstacles that get in the way of forming great habits and helps them form new ones that keep them accountable to the person that they aspire to be.
If you are looking for tiny tangible tips to start building great habits, Atomic Habits is a great place to start.
8. The New Social Learning: Connect. Collaborate. Work. by Tony Bingham and Marcia Conner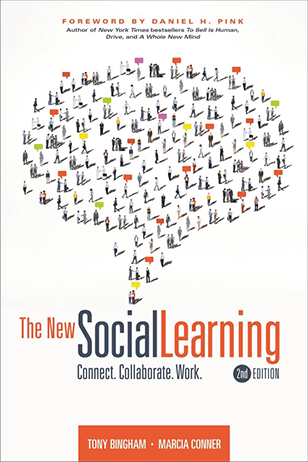 Have you heard of social learning? Authors Tony and Marcia define it as "a fundamental shift in how people work, leveraging how we have always worked with new and more humanizing tools. Accelerating individual and collective reach, giving us the resources to create the organization and the world we want to live in."
The message of this book is being accountable for your own learning and engaging with your team in the context of social media. If you spend any time on social media, you may be skeptical that there is any way to promote accountability online. This book is designed to quiet any concerns you may have and dispel the objections you may have to the concept of building teams and fostering accountability using social media.
If you have a digital team, this book should be at the top of your list!
9. Start With Why: How Great Leaders Inspire Everyone to Take Action by Simon Sinek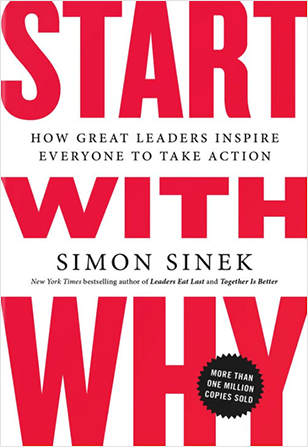 A list like this just wouldn't be complete without at least one Simon Sinek book.
This book not only helps you define your organizations "why" but also how to better understand its effects on everyday activities. He argues that when you make your "why" the focus, everything else falls in place and actions that support your "why" are prioritized.
Simon has a great website with additional resources that really compliments his books. He also offers a number of affordable and complementary courses, the most relevant to this topic being Care & Accountability: How to Create an Environment that Inspires People to do More. He argues that caring for people (your team) and accountability are intricately linked and that you need to foster an environment where people can take ownership without barriers.
Simon is a big picture thinker and has done the work for us by studying the best leaders of our time and letting us know what they all have in common.
10. Emotional Intelligence 2.0 by Travis Bradberry, Jean Greaves, Tom Parks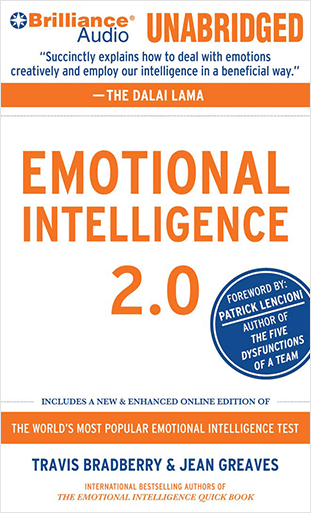 You have likely heard about IQ, but have you ever heard of EQ (Emotional Intelligence)?
In essence, emotional intelligence is measured by your ability to manage your own emotions – communicate, empathize, manage conflict, and handle challenges. Even if you have heard of EQ, understanding it is not enough if you don't know how to use it. This book is a perfectly packaged program to boost your EQ in the following areas:
1) Self-Awareness
2) Self-Management
3) Social Awareness
4) Relationship Management
What more do you need? This book will walk you through exercises in accountability to refine your EQ and help you better contribute to the world around you.
Get Reading!
Reading any one of these books will help you better understand accountability and why it is important to your own success but also that of your team. If you are still not ready to digest a book on this topic, check out Promoting Accountability and Trust in the Workplace by fellow Teamly blogger.