The 30 Best Project Management Blogs on the Internet
If you're looking for project management tips, tricks, and how-to guides, you've come to the right place. The internet is packed with project management blogs that can teach you everything from the basics of project management to more advanced theories and methodologies.
Finding a suitable mentor takes time as people have very different styles of sharing information. You should pick someone that gels well with your own management style. Someone who has the experience you wish to learn from.
In this blog post, we'll share some of our favorite project management blogs with you. Whether you're a beginner or an experienced project manager, these blogs will help you stay productive and achieve success in your projects!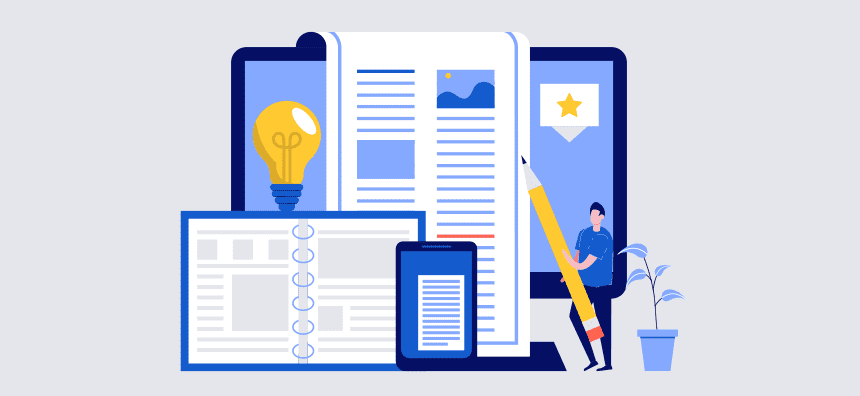 Why You Should Follow A Project Management Blog
Project management blogs can benefit anyone, from project managers and team leads to project assistants and interns. They provide valuable project management tips, tricks, guidance, and information on emerging methodologies.
Anyone looking to improve their project management skills can benefit from following project management blogs. They are a great source of information for beginners as well as experienced project managers.
The project management blogs that we've listed provide a wealth of information on project management methodologies, theories, and tips. They offer project managers of all levels the opportunity to learn and improve their project management skills.
There are tips and tricks that you'll find on these blogs that can help you overcome common project management challenges and stay productive during your projects.
Additionally, the project management advice offered by these professionals can help you achieve success in even the most challenging projects.
Who Benefits From Learning Project Management?
The project management industry is constantly changing and evolving. The project managers who want to stay relevant in their field have to keep up with these changes by learning new skills and techniques. There are numerous project management blogs out there that can help them do just that!
Project managers of all levels can benefit from following a project management blog. It provides valuable information on emerging trends, theories, methodologies, tips, tricks, and much more. They are an excellent resource for people looking to improve their project management skills or learn something new about this profession.
Additionally , those working in related fields such as marketing or operations will also find many valuable articles on these blogs, which can help them become better at what they do every day- manage projects successfully.
What To Look For In A Project Management Blog?
Before you start reading project management blogs, it is essential to know what you should be looking for in them. The project management blogs have a lot of information on project management. Still, not all of it will be relevant to you. You need to find blogs that focus on the project management topics that interest you and offer the advice and tips you need.
Look for blogs that are written by experienced project managers. The advice and tips offered in these blogs will be more valuable to you than the ones provided by project management novices. You should also look for blogs that are updated regularly with new content so you can stay up to date with the latest project management trends.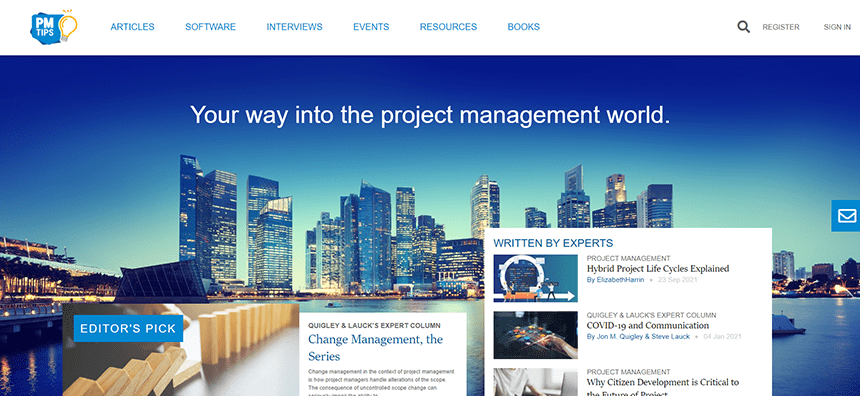 PMTips
PMTips is a project management blog that offers project managers of all levels the opportunity to learn and improve their project management skills. They offer project managers of all levels the opportunity to learn and improve their project management skills. The blog provides valuable project management tips, tricks, guidance, and information on emerging methodologies.
Head to the interviews section for incredible insights from PMP and Scrum accredited project management. PMTips is loaded with advice for project managers of every experience level.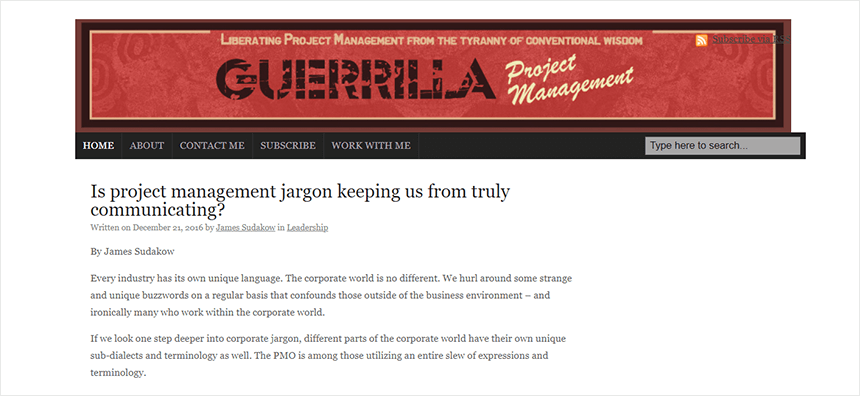 Guerrilla Project Management
Set up by Samad Aidane, a PMP certified expert, Guerrilla Project Management is a blog for leaders by leaders. Topics covered on this blog include social sciences, organizational change management, psychology, neuroscience, and project management. Samad set the blog up in 2009 and has been coaching leaders from HP, Telefonica, and Time Warner for even longer.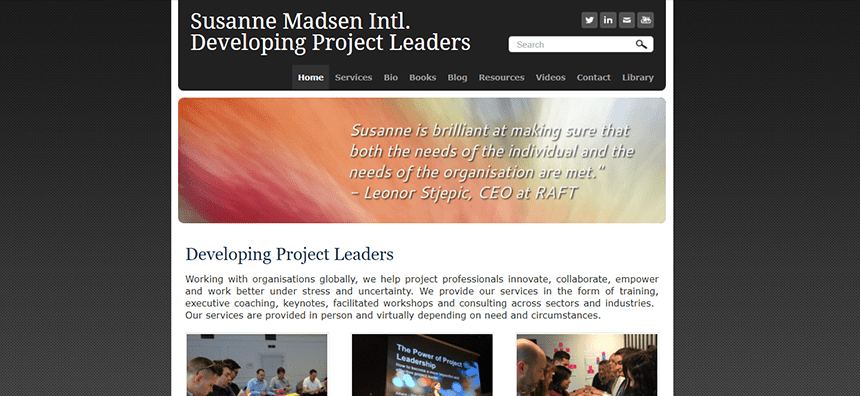 Susanne Madsen
Susanne is an internationally renowned project manager and author of the books The Power of Project Leadership and The Project Management Coaching Workbook. She's a contributor to the Association of Project Management and worked with high-profile firms like JPMorgan Chase. Safe to say, she is the real deal, and if you're looking to expand your project leadership skills, you need to look no further.
On her blog, she shares her thoughts on project management and how it relates to a changing work landscape. There are years worth of blog posts available for free.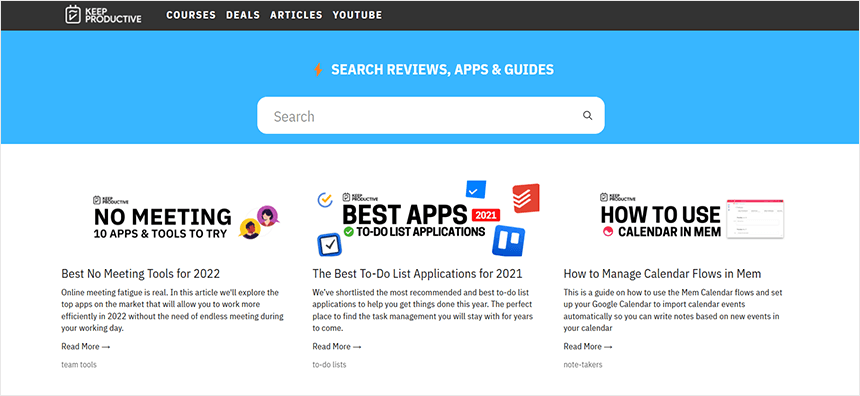 Keep Productive
Keep Productive is chock full of helpful reviews for project management software. What programs you use as part of your tech stack plays a significant role in how productive you can be. Keeping on top of new releases and choosing the best products for your price range is essential.
They also review new project management courses, so checking Keep Productive for new courses is a great idea if you're looking to upskill. All their reviews are impartial, so you'll be able to find quality information.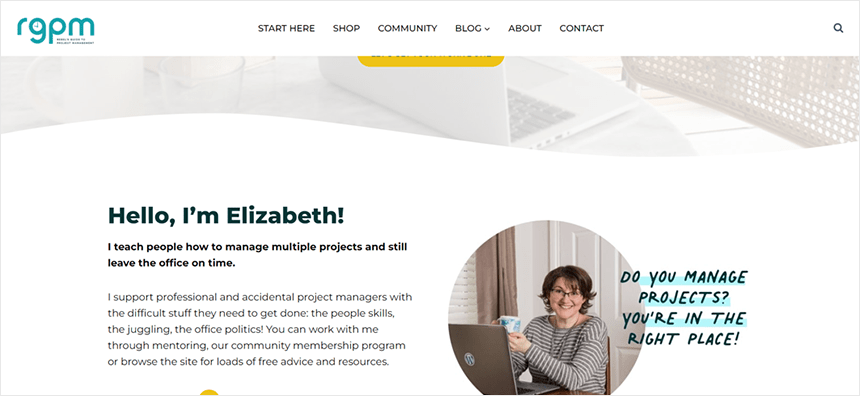 Rebels Guide to PM
Rebels Guide is the brainchild of Elizabeth Harrin. She has been a project manager for over 20 years and is a Fellow of the Association of Project Management. There's a real community spirit surrounding Rebels Guide. They have a Facebook group called "Project Management Cafe" and a paid members community known as "Project Management Rebels."
If you want to learn more about project management and get involved with a bunch of like-minded PMs, being a Rebel may be the way for you to go. If you want the information but not the camaraderie, then head over to the Rebels Guide blog.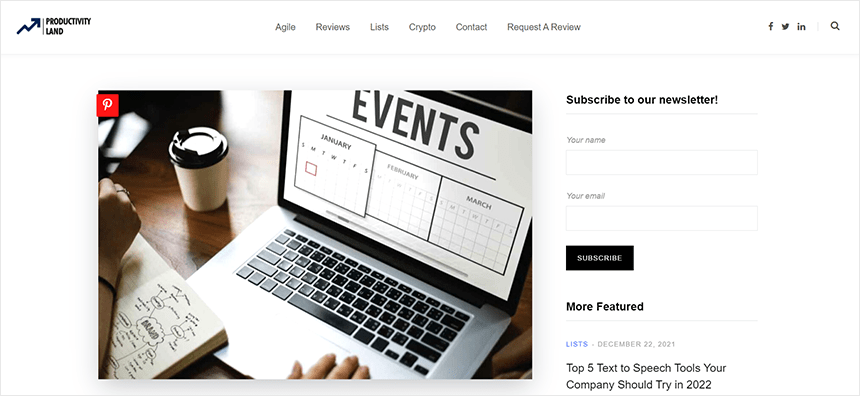 Productivity Land
Productivity Land is another website where you can find recommendations for project management software. They also have a section on their website dedicated to Agile methodology. Anyone who is looking to get certified in Agile should check this out for up-to-date information on this style of project management.
Another section on the website is dedicated to crypto and how the burgeoning technologies may be able to help your business. There are a lot of fringe ideas being developed in the crypto space, and getting on board early may give you a competitive edge.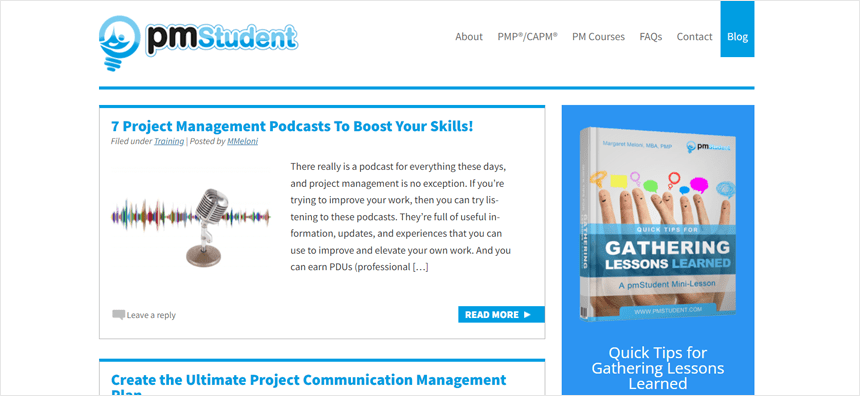 PM Student
Magaret Meloni set up PM Student in 2014 as a way to share her knowledge as a certified Project Management Professional. Her blog is full of practical wisdom sprinkled with a bit of humor which makes PM Student a good reading experience. There's a lot to learn from Margaret, who has a background in PMO Leadership and IT Project Management.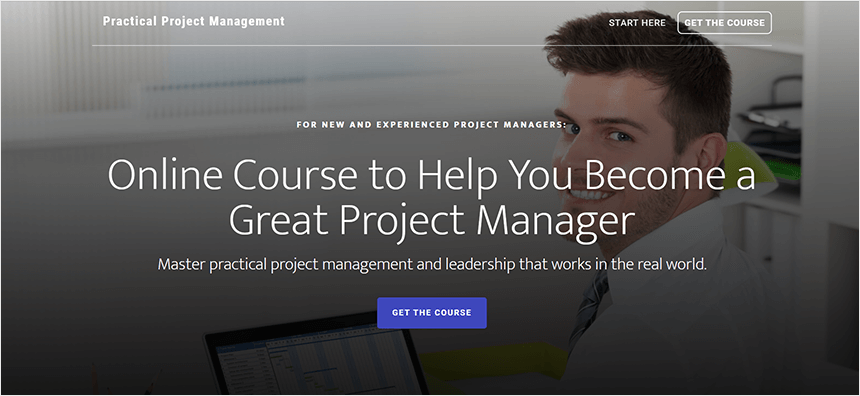 PM Basics 101
PM Basics 101 is a popular course designed to teach anyone the principles of project management. Their blog section contains snippets of their well-crafted advice and is shared for free on their website. Content on the site ranges from interviews with project management professionals to different ideas and strategies useful for managing your team.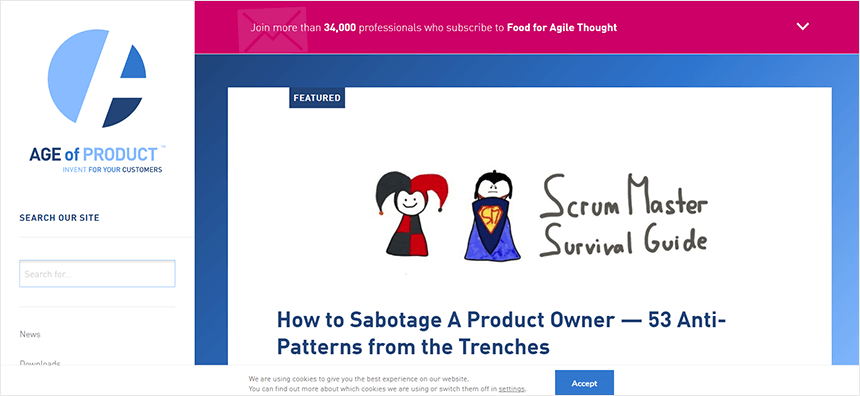 Age of Product
This website focuses mainly on Lean and Agile methodologies and teaches project managers everything they need to know. If you're looking to train or upskill in Agile, visiting Age of Product will help you on your journey. Alongside the blog, they have content of every kind for your enjoyment, including podcasts, workshops, books, and videos.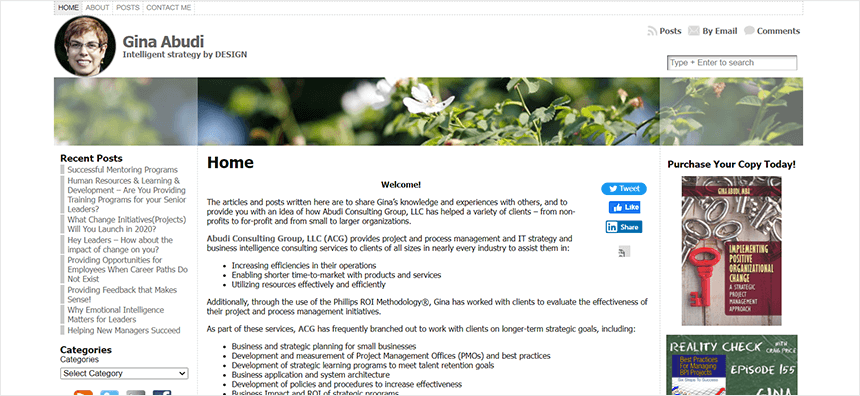 Gina Abudi
Gina Abudi has been working in project management for over 25 years, working with businesses of all sizes. She published her book "Implementing Positive Organizational Change: A Strategic Project Management Approach" in 2017 through J Ross Publishing.
Her website contains many articles on project management topics, particularly on managing people and processes. She works as a teacher at Granite State University, teaching a master's degree in Leadership and Project Management Program.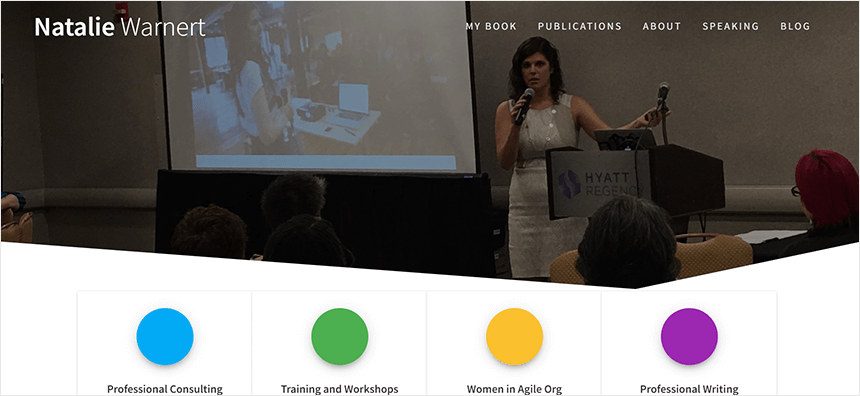 Natalie Warnert
If you're looking to take immediate action, Natalie Warnert has got you covered. She specializes in strategies that can be implemented the next day to get your business on the right path. She is an internationally renowned speaker and thought leader who uses humor to connect with her audience.
Alongside being a project management tzar, she is the President of the non-profit organization Women in Agile org. They work on dissecting and discussing emerging agile theories worldwide. Natalie is a Certified Scrum Professional and has earned her Six Sigma Yellow Belt.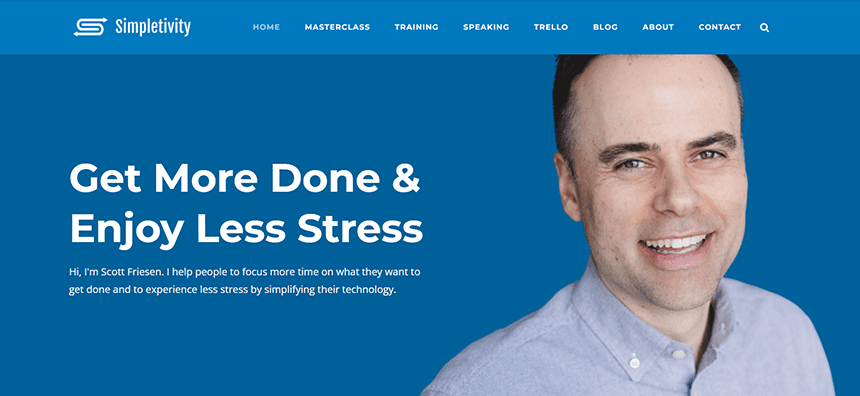 Simpletivity
Everything you need to be a kickass project manager is on Simpletivity. From software recommendations to how-to guides for products you may already be familiar with but could benefit from understanding better. Simon Frieson is the mind behind Simpletivity and focuses on helping people get focused on their work.
If you're interested in productivity hacks as well as ideas on better project management, head over to the blog section for free advice.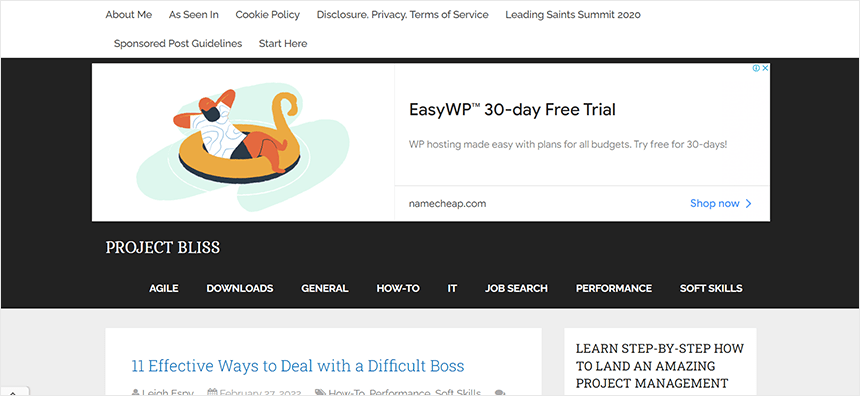 Project Bliss
Project Bliss is an excellent website for project managers who want to work on their soft skills. Soft skills are the ones that come to you naturally, and while that might be the case, there's no harm in sharpening them. The website also focuses on Agile methodology and provides how-to's as a way to guide beginners and intermediate PMs.
One of the best sections on the website is the job search. This will help prepare you for job interviews. If you're new to project management and looking for new opportunities, Project Bliss is a great resource for you to check.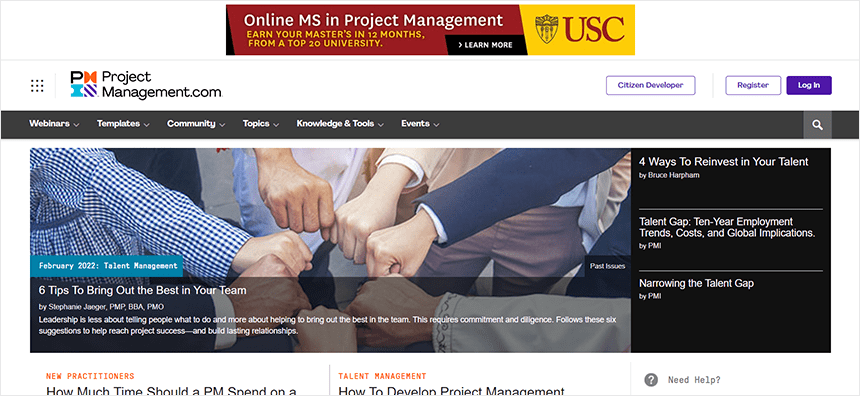 Projectmanagement.com
Why look any further when the promise is made in the URL. This is one of the best resources for project managers who are looking to bookmark excellent information. Take your time to look through everything this website has to offer and take what you need from them.
They offer hundreds of free templates that you can use in your projects and altogether remove the hassle of creating one for yourself. Some of them are locked behind a paywall, but the team at projectmanagement.com offers plenty of useful templates for free. Alongside this is a wealth of information on every topic pertaining to project management.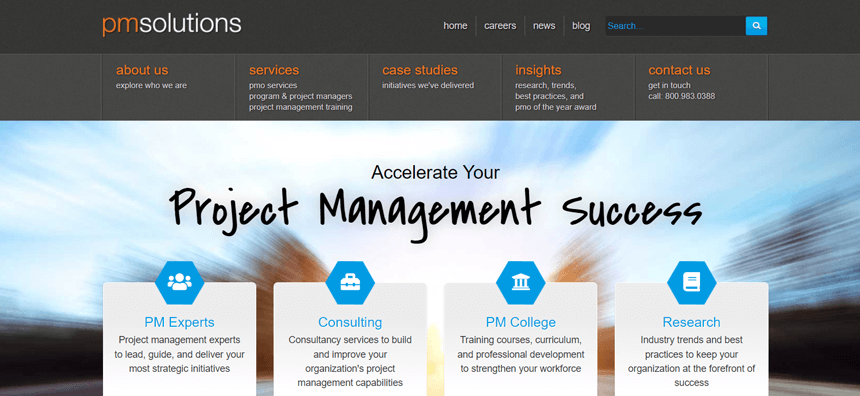 PM Solutions
PM Solutions offer project management services to organizations around the world. The blog section of the website offers a look into what they do, how they do it, and how project managers can learn from them. It's run by the professional's that work for PM so this blog may be best suited for people already working in the profession.
What could be useful for everyone, however, is the case studies and insights sections. Case studies breakdown successful projects by looking at the "challenge," "solution," and "results." This gives PM's a look at how PM Solutions manages their projects.
The insights section, on the other hand, is all about discussing project management trends, methodologies, strategy, and more.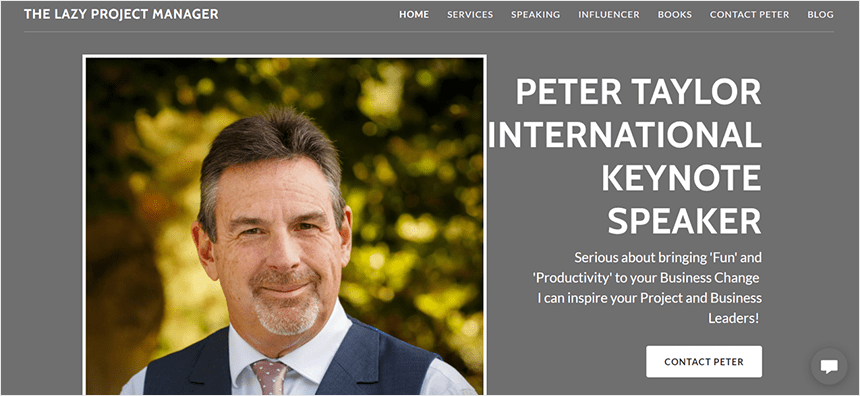 The Lazy Project Manager
It's important to make the distinction between laziness and making things easier for yourself. Peter Taylor, the mind behind The Lazy Project Manager, is not lazy, nor is he advocating for laziness. He's just been doing this thing a while and knows how to speed processes up and get more work done for your time.
The blog bears the same name as the popular book that Peter Taylor wrote. His method is described as "project laziness" and helps project managers to achieve more with less. If you're a PM looking to save time without sacrificing the quality of your projects, this is the blog for you.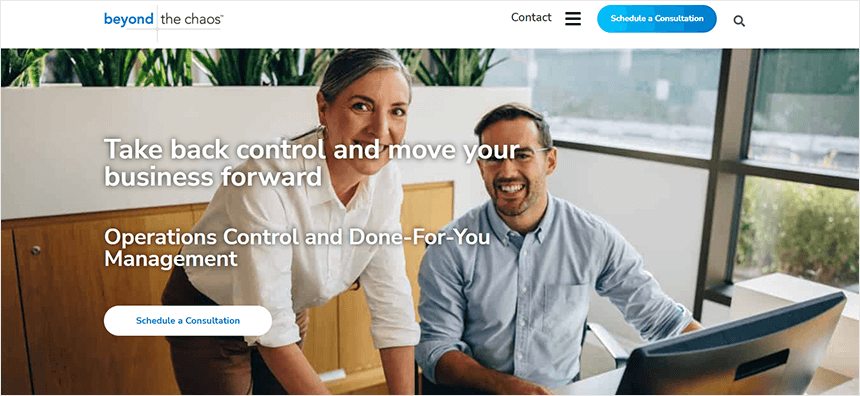 Beyond the Chaos
Small business owners need to be project management whizz kids, but as is the nature of being an entrepreneur, you need to wear many hats. It can be hard to learn everything you need about each facet of the job. That's where finding mentors, blog, and information will come in handy to help you navigate your world.
Beyond the Chaos is a project management blog that's written for small businesses. They want to help you handle moments of overwhelm and move your plans forwards. Check out the section on virtual business ownership to learn on how to use internet services to save money without compensating on your growth.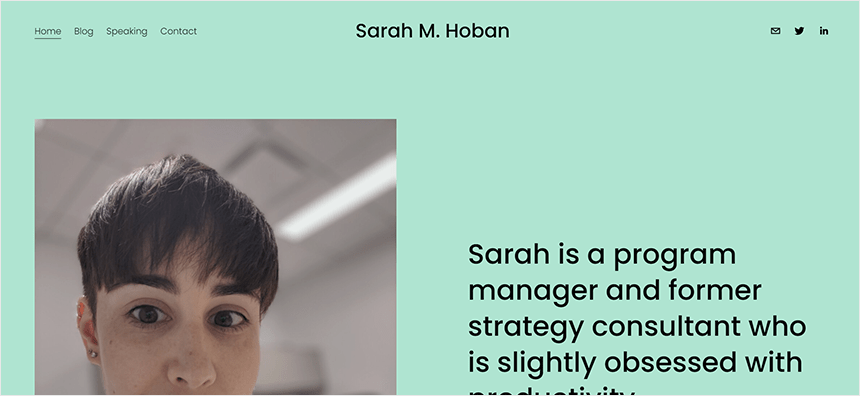 Sarah M Hoban
Sarah is productivity obsessive, so her website naturally includes tonnes of helpful information for aspiring PMs. She's been in the business for over 10 years, and the blog has been around for more than 5. The website has written work on everything from career advice to product reviews.
As well as a treasure trove of resources on project management, she dives deep into the world of product management. For new and existing PMs, Sarah has all the information you need to increase your knowledge base and lead successful projects through to completion.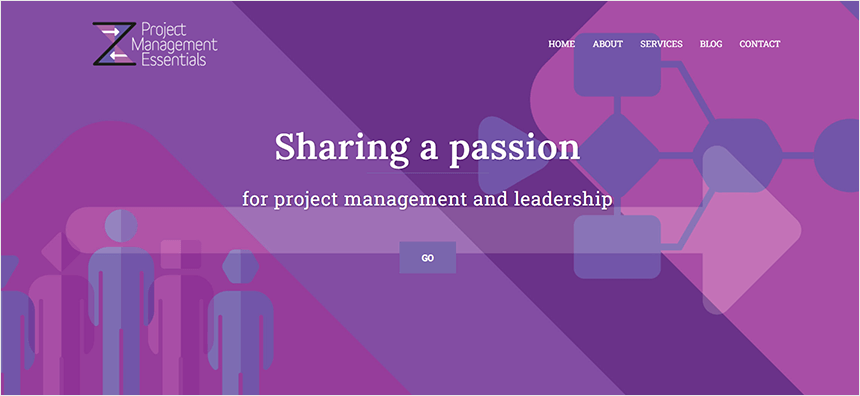 PM Essentials
PM Essentials is an excellent resource for people with a passion for project management, particularly those who are leading projects, business owners, or dealing with stakeholders. The blog is updated monthly by Alan Zucker. He has been working with Fortune 100 companies for the past 25 years and has a varied history in project management,
The topics covered on PM Essentials include staying agile, leadership, and, of course, the project management essentials. As a mentor, Alan Zucker stands out because he has led over a thousand successful projects and worked with multi-million dollar projects.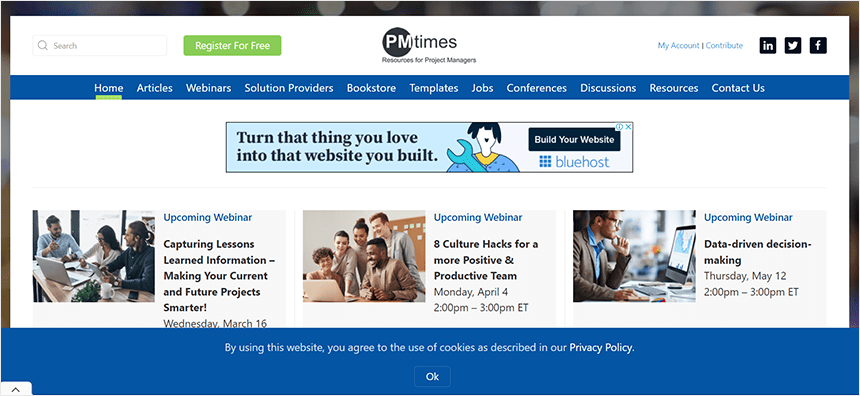 Project Times
Project Times vets all their contributors, which means this website is full of project managers giving project managers news, advice, and more. The website has so many resources for people invested in project management, from whitepapers to templates to webinars, and even a fully functional job board.
So if you're looking for a new opportunity, or just want quality information from industry professionals, Project Times is a website you should bookmark immediately. And if you're an experienced project manager looking to submit your own original articles, check out their submissions page.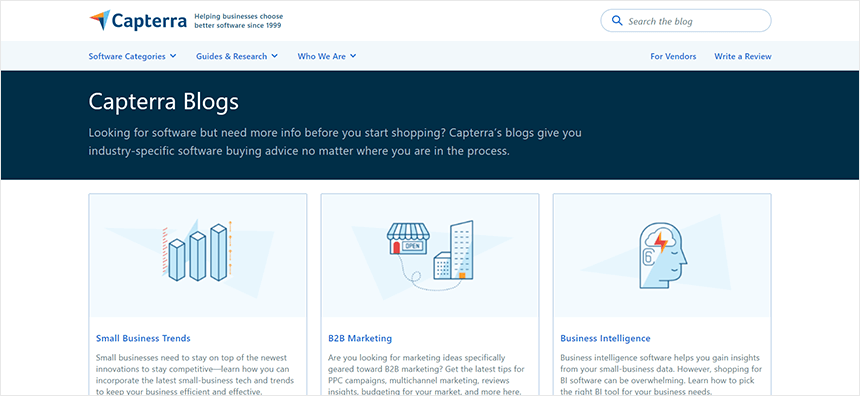 Capterra
Capterra is a blog that has been around since the early days of consumer internet, back in 1999. They've always focused on software and helping connect business owners and IT departments to the best apps for their needs. On this website, you will be able to find detailed reviews on all kinds of software that can assist you with your project management needs.
You will also find recommendations and reviews for every kind of software that could be useful for your business. The website is not limited to just project management. However, it is worth taking a look at the PM section because using the right tools will make your projects much simpler to manage.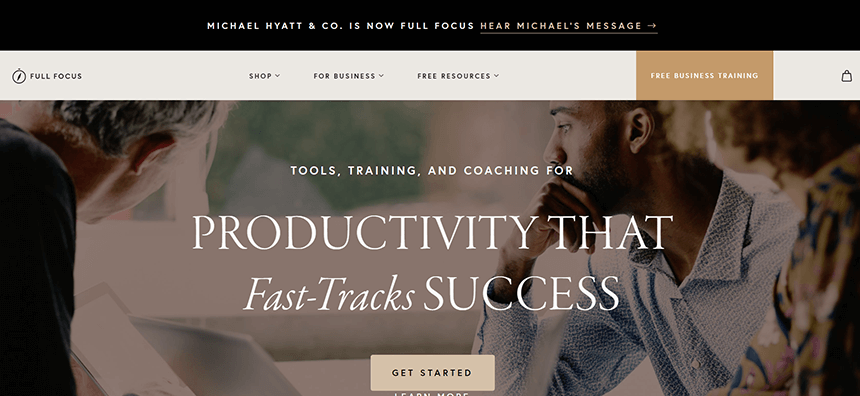 Full Focus
Full Focus was once known as Michael Hyatt & Co., which has been recognized as one of the fastest-growing companies in America (and one of the best places to work!) according to Inc. While the business side of things focuses on helping "high-achievers live their best life," the blog has many resources for project managers.
The blog has sections on leadership, personal development, project management, and more. The articles are written by Michael Hyatt and his team. They are walking examples of how good project management methods can get you on the most sought-after lists conducted by Inc.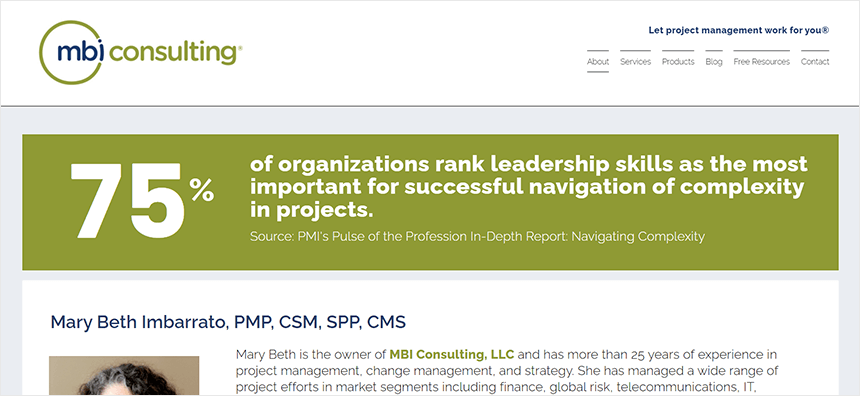 Mary Beth Imbaratto
Mary Beth is an experienced PM who has been in the industry for over 25 years. She has specialized in change management, project management, and strategy, with the certificates to prove it. What makes her blog stand out is that she isn't just for people who live and breathe project management or are looking to start a career in it.
She writes for those people whose jobs may see a project land on their desk. The people whose job title isn't PM, but maybe they work in operations or head up customer services. Mary Beth writes for these people to help everyone manage their projects better. If you're leading a project and need guidance, Mary Beth Imbaratto is someone to trust.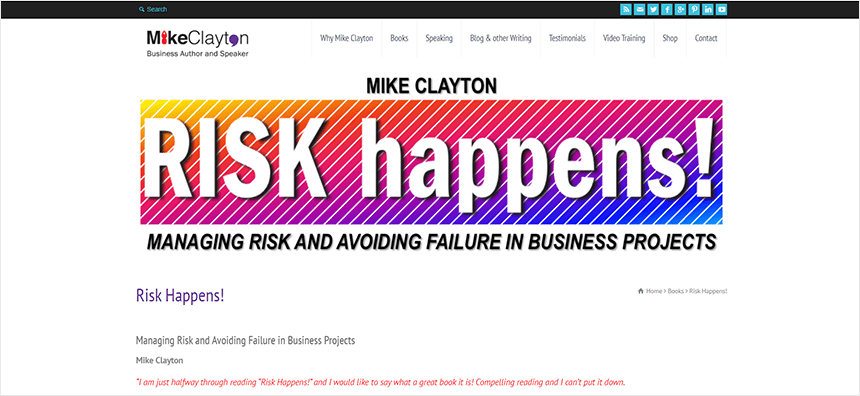 Shift Happens!
The brainchild of Mike Clayton, Shift Happens! is a collection of articles, courses, and resources on topics relating to project management. He talks about change, leadership, and risk. As for his personal experiences, Mike was a senior manager for 12 years and has led massive projects for the UK Post Office and Transport for London.
He has personally trained over 5,000 people in project management skills, making him perfectly positioned to be a mentor to burgeoning PMs. As well as his blog, he is also the mastermind behind OnlinePMCourses, where he will teach you how to be an incredible project manager.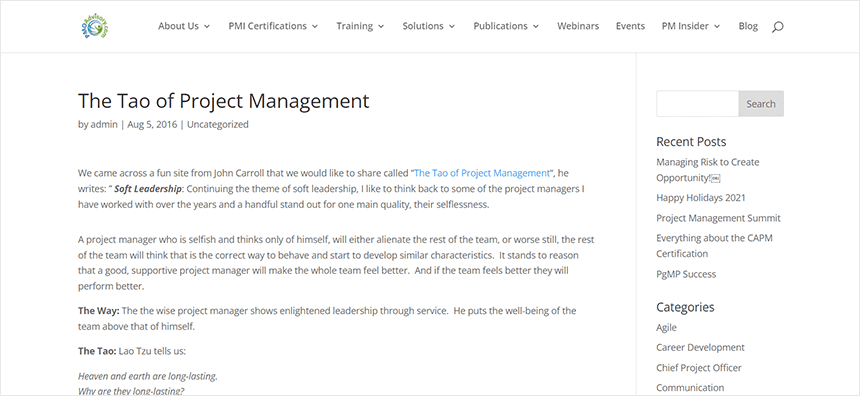 The Tao of Project Management
Taoism and project management may not seem like the obvious partnership, but it's a school of thought that lends itself well to PM. Taoists believe in a balance between all living things and the universe. Using this as the foundation of your project management style can lead to successful projects.
It's run by the now-retired project management consultant John Carroll. He's condensed his blog into a book titled "The Way of Project Management" if you enjoy the blog but want a more guided experience.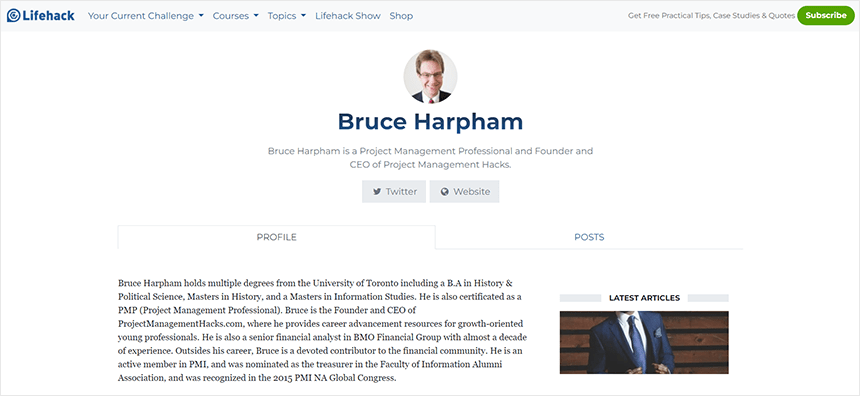 Project Management Hacks
Project Management Hacks is a great way to cut through the noise of the internet and get straight to good stuff. The advice on this website is driven by successes and failures to give you a head start on your projects. Bruce Harpham created the website to share his own story in the hopes you will benefit from his lessons.
He believes that people who are ambitious with personal and professional growth will enjoy his methods. If you're a fan of Tim Ferris and his book "The Four Hour Work Week," you'll be sure to love Project Management Hacks.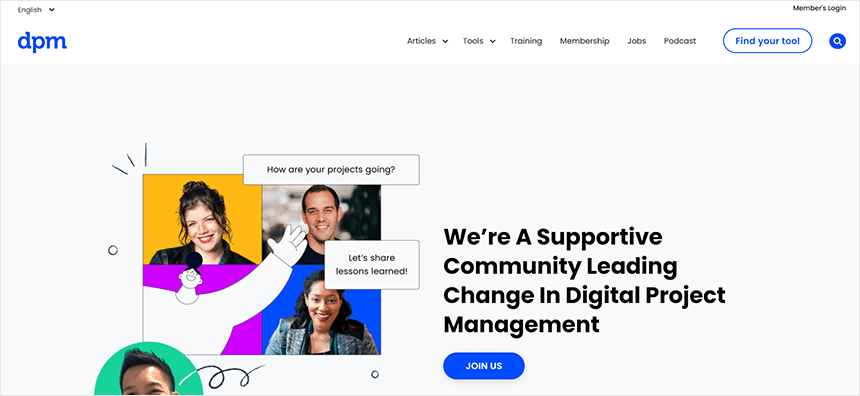 The Digital Project Manager
The Digital Project Manager is all about doing things online and using modern technology to increase your productivity. To that end, they have included plenty of how-to's, tools, articles, and even podcasts. This way, you can get your information in the way that suits you best.
There are over 140 contributors who have shared 1000+ articles on the website. If you're a current project manager, you may also want to head over to the forum, where you can connect with other PMs and discuss emerging ideas with your peers.
You'll find information on a variety of frameworks, including Scrum, PMP, and prince2. If you're looking to get certified in any of these methods, you'll find a fountain of knowledge through the Digital Project Manager.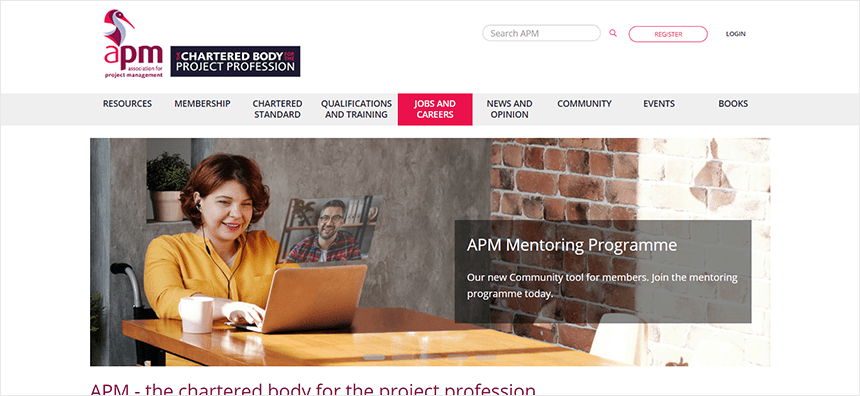 The Association of Project Management
If you want to become a chartered project manager, you'll need to apply through the Association of Project Management. They're a registered charity dedicated to providing education and support for the project profession. Alongside their website, which offers qualifications and membership, they have a blog that contains plenty of information for PMs.
This really is getting your information for the premier source. The Association of Project Management is the only chartered membership of its kind in the world. As well as plenty of articles to sink your teeth into, you'll be able to find information about upcoming events to help further your project management career.
Invensis
Invensis is a platform that offers training and courses in a variety of different project management topics. You'll also find information about IT governance and quality management, but it's the PM blog you'll be most interested in. They are a founder and practitioner of Prince2 and have an entire section dedicated to Agile.
The blog is populated with articles from a variety of expert coaches and trainers who disseminate information in a way that's helpful to everyone from PM beginners, intermediates, and professionals. There's also a YouTube channel connected, which can help you to visualize project management methods.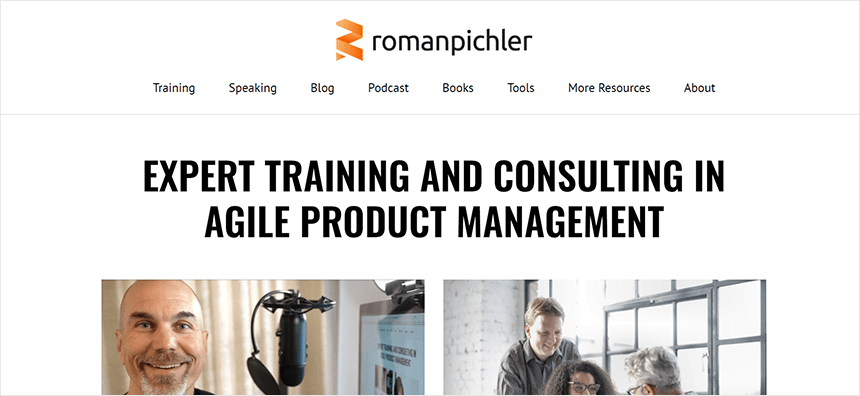 Roman Pichler
The last blog on our list is from Roman Pichler. He is a project management professional that writes about the topic on his blog. Available on his site are some really helpful resources, including templates, roadmaps, and decision-making charts. These freebies are the icing on the cake because the real value comes from the content within in his blog.
On his blog, he will teach you how to use these tools as well as how to apply Agile principles to your project management techniques. The blog is useful for anyone dealing with projects and not just those who are trained as project managers.
Conclusion
Project management is one of the most important aspects of any business. Without a project manager, projects can quickly fall apart, and deadlines can be missed.
That's why it's so important to have a great project management team in place. But even the best project managers need help sometimes, which is why it's important to have a few good project management blogs bookmarked.
These are just a few of the many project management blogs that are out there. But they are some of the best, and they will help you to further your career as a project manager.