Striking Pay Dirt With a Landscaping Business
Are you ready to turn over a new leaf? Does the grass look greener in the world of self-employment?
Starting your own landscaping business offers an undeniable perk: the opportunity to spend your days in the great outdoors. Not to mention setting your own schedule and being your own boss!
Not all of us are gifted with green thumbs. Most homeowners have neither the know-how nor the time to design and maintain their lawns. This means that work for landscapers is never in short-supply.
As with any new line of work, worming your way into a career in landscaping comes with its own set of challenges.
From landing your first clients, to marketing, to expanding your equipment and skill-set, here are several things to keep in mind when starting a landscaping business.
Breaking Ground
A methodical approach to building a landscaping business from scratch takes two to three years. It requires patience—and probably a second income!
When setting out, carefully consider things like seasonal demand, the equipment you need and what services you offer. Most importantly, set your mind on landing those first handful of clients.
1. Seasonal Work Cycle
The demand for landscaping work varies dramatically from season to season.
In colder climates, landscapers find their work dries up completely for three to four months in the wintertime! Even in warmer climates, such as South Carolina, available work tapers around November. Come spring and summer, however, mother nature ensures that every landscaper has plenty of work—and even more besides.
In your first years of running a landscaping business, anticipate the busy spring season. If you're working a second job, adjust for the spring burst by squeezing landscaping clients in on weekends and weekday evenings.
Setting aside a portion of spring and summer income makes it possible to cover living expenses when work slows down during the winter. Taking up other jobs, such as hardscaping or snow plowing, during this time also solves cash flow issues.
2. Offer What You Can
Even if you're as green as grass with respect to some facets of landscaping, such as building rock walls or installing sprinkler systems, don't let this deter you.
The skills you already have provide a place from which to start—services such as mowing, weeding, pruning and watering are always high in demand. At the same time, keep your eye on your objective: be it landscape design-build (designing and building yards) or hardscaping (building patios and rock walls), or something else.
According to Dan Erickson, a landscape designer in Virginia, the base equipment needed to start a landscaping business are a mower, trailer, truck, clipper and leaf blower. A push mower, that can get around trees and through narrow fences, allows for the flexibility to mow all sorts of lawns.
Erickson found that when clients were happy with his lawn maintenance work, they asked him to do other things, such as hardscaping and tree-cutting. This offered a prime opportunity to expand his skill set. Learning on the job is the fastest and most effective way to learn.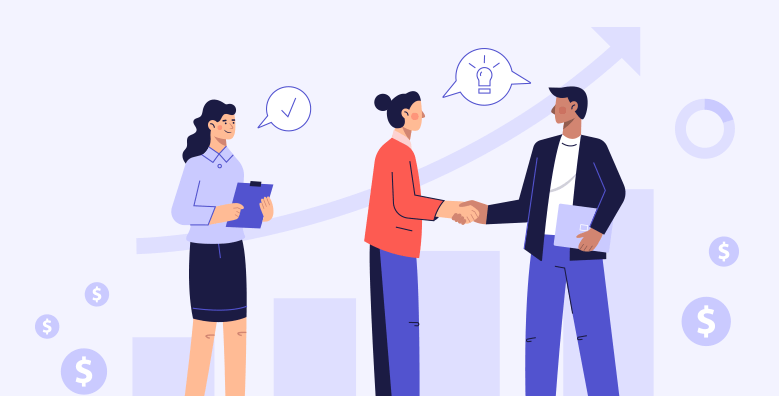 3. Initial Client Hustle
"Landscaping companies usually grow by word of mouth and recommendations; professional contacts. They rely on publicity to grow a brand," says Andrew Pototschnik, the lawn care marketing expert.
This is especially true when starting out. Landing those first five or six clients means hitting the pavement and getting scrappy. Blake Albertson of B&B Lawn care recommends reaching out to all of your family, friends and contacts.
Don't be too picky about the kind of work you'll take on. Building up a satisfied client base who'll recommend you is the main part of the game at this point.
As these first clients are the seed to your budding landscaping business, nurturing and cultivating them is crucial to healthy growth. Water and fertilize them with quality work and dependable behavior.
In order to be duly compensated, bid carefully on your first jobs, taking into account the size of the yard, and any equipment needed, including things like gas, gravel, mulch, plants, and sod. Writing up a bid that details charges communicates your services clearly, and ensures you and your client are on the same page.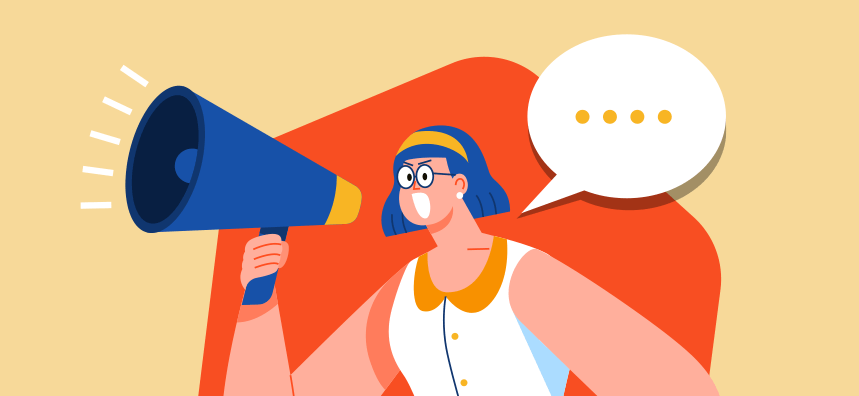 Get the Word Out
Once you've covered the basics, it's time to find more clients! Building your brand and reputation around consistent, quality work is central to a successful landscaping business.
As your business develops, also consider your niche or competitive advantage. What services or qualities do you offer that other landscaping companies don't? Perhaps you have an expertise in rose bushes, hardscaping, or tree-cutting. Or you pride yourself on speedy work, punctuality, or next-day service.
Positioning yourself strategically within the industry allows you to reach clients in need of your specific service.
In order to reach the right clients with advertising, take some time defining the market you want to service with your landscaping company. Is your objective commercial or residential properties? Also define details like the location and demographic you prefer to serve.
In addition to word of mouth, here are some ways to spread the word about your landscaping business and the services you offer.
1. Website
A website is as fundamental as a business card. It needn't be anything fancy, so long as it details all your services, the locations you'll travel to, a brief bio, feedback from satisfied clients and photographs of completed work.
Plus, provide a phone number and email for people to contact you.
2. Online Ads
Facebook and Search Engine ads are an efficient way to use marketing dollars, as they enable you to specify details like the region, age, and even annual salary of the people who see the ad. You know you're getting your message in front of the right people.
3. Newsletter
Sending a newsletter to your current clients keeps you in contact with them throughout the year. It can include work you're especially proud of, or new services you offer. Customers always appreciate helpful advice, so including yard care tips gives your business an edge.
4. Social Media
Utilizing free social media advertising, such as Instagram and a Facebook page, keeps your followers current on your landscape projects. Using stories allows you to give everyone a glimpse of a regular day on the job.
5. Nextdoor App
Free neighborhood apps such as Nextdoor allow you to advertise your services exclusively to your community and the neighborhoods surrounding it.
Dan Erickson credits this app to his business growth. He went from a lawn maintenance company of just himself, to a landscape and hardscaping company with several employees.
6. Houzz
The popular home design website, Houzz, allows landscape professionals to build a page to showcase their experience and services. As Houzz receives 25 million unique views each month, it's an effective way to reach your target audience.
7. Car Magnets
Custom magnets for your truck are a simple way to broadcast your services wherever you go. They're affordable, and easy to create and apply.
8. Print Ads
The days of print ads aren't entirely over! Advertising your services in the city newspaper, neighborhood publications, and church bulletins gets the word out to the local community. Be strategic about these ads, placing them at the right time of year, and within the neighborhood you aim to serve.
Picking three or four marketing strategies that are within your budget and doing them consistently should be sufficient to broaden your client base. A satisfied client keeps a landscaper on board for three years or longer, so marketing is worth the effort.
Ask your clients how they found out about you, and then periodically adjust your marketing plan toward the advertising that is the most effective.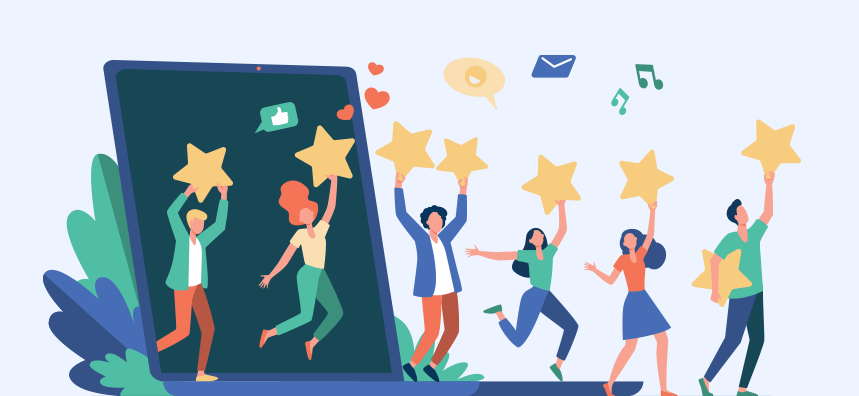 Keep the Client Satisfied
Landing a base of satisfied clients is the prize rose for any landscaping business. Even with top-notch equipment and brilliant marketing, a landscaping business won't get liftoff if the clients aren't happy.
A healthy client relationship entails being responsive, communicative, and punctual. It sounds pretty simple, but in the daily life of a landscaper, that's easier said than done!
1. Show Up When You Say You Will
This sounds like a no-brainer, but landscapers find it's hard to gauge just how long certain jobs take in a given day. For this reason, Blake Albertson has a policy of providing windows as to when clients can expect him to come by, such as "in the afternoon" or "in the morning."
Making a commitment to a specific time means the client may be left waiting around…and he or she may be pretty upset when you finally show up!
2. Know the Client's Vision
Each lawn is a reflection of the personality and taste of the owner.
Develop a relationship with each client, and understand his or her hopes for their lawn. This allows you to offer boutique, individualized service.
3. Be Responsive
Even though a landscaper juggles all sorts of tasks during the day, from laying mulch to mailing invoices, responding to clients needs to be at the top of the to-do list. Addressing concerns and inquiries within 24 hours assures the client of your dedication and keeps issues from festering.
Following these three simple principles, along with consistently providing quality work, yields a flowering of happy, satisfied customers.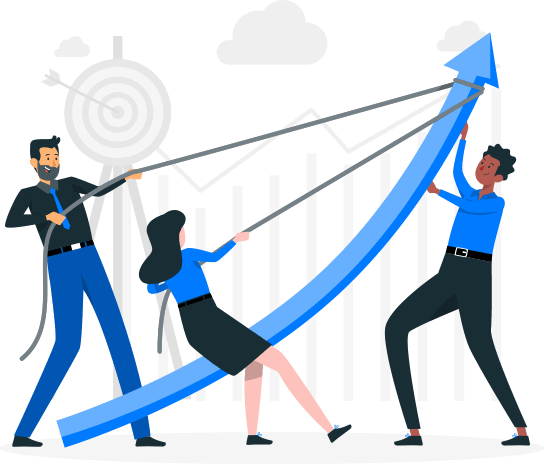 A Blooming Business
Growing your landscaping business from something you do on the weekends into a full-time occupation is a gradual process of adding new services, increasing education, hiring employees, and buying new equipment.
1. Growing Into a Full-Service Landscaper
From installing sprinkler systems, to building fire pits, to pond construction, to laying patios, to installing outdoor lights, there are endless services you can offer as a landscaper!
The direction you choose to grow and specialize in depends on the demands of your market, and your skill set and preferences. If you live in a heavily wooded area, learning to cut trees can be a lucrative skill.
Or if you love working with wood, learning to build gazebos and pergolas might be a fulfilling direction to take your business.
2. Keep Learning
Many of the skills needed for landscaping are learned and improved on the job. However, formal education is a central component as well.
Understanding the climate you live in, all of the local plants, trees, flowers and bushes, and the nutrients in the soil, are crucial components to becoming a quality landscape designer.
Talking with local landscaping companies is a way to learn about services, equipment, and the best neighborhoods to find work.
Growing beyond a landscape designer and into a landscape architect requires licensing and a bachelor's degree. So you'll have to hit the books if this is your aim.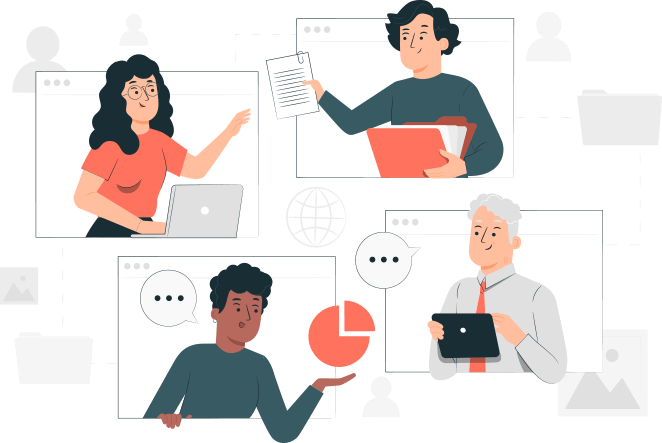 3. Distribute the Workload
Even though you're eager for clients at the beginning, all landscapers quickly realize there's a limit to the amount of work he or she can take on.
At some point, expanding your landscaping business entails bringing on additional help. Hiring an employee who's reliable, does quality work and interacts well with clients is an asset to any business. (But you may not find this person on the first or second try!) Making this employee a valued member of your team is important to the growth of the business.
Assistance with marketing and clerical work gives you free reign to focus on the primary aspect of your business: landscaping! If you're short on office space, a virtual assistant, who answers phone calls and responds to emails, can take off some of the workload.
4. Adding Equipment
As your services and expertise expand, so will the equipment you use in daily landscaping.
Look closely at numbers before purchasing expensive equipment like sod cutters, chain saws, or a dump truck. How much income do you anticipate to make out of this equipment, compared to its cost? In order to scale with minimal debt, buy things you can pay off right away.
For projects like excavation with a pond installation, consider renting a backhoe, or hiring someone else to do the excavation.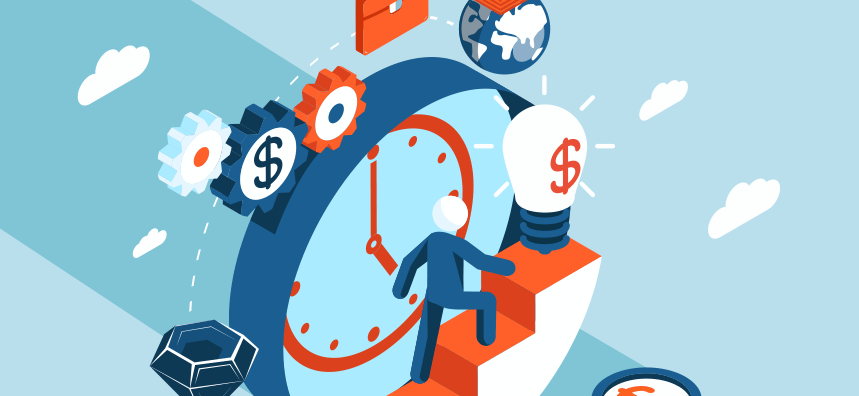 Reaping Success
In a world where much of the workforce spends eight hours a day behind a computer, a career in landscaping is a real breath of fresh air.
Being a landscape designer allows you to work with your hands, get dirty, and experience the beauty of the yearly seasons—every single day!
The key to building a solid landscaping business is starting small. Adding additional clients, new equipment, employees, and new skills, brick by brick, builds a solid foundation and a sound company.
For someone who loves the outdoors, owning your own landscaping business is ideal, and well within the reach of anyone who pursues it.