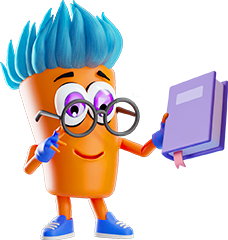 Discover What You Don't Know: The Best Books for New & Experienced Product Managers
Do you ever find a product that's exactly what you're looking for? Maybe it's a coat with pockets in all the right places, manufactured in a fashionable shade of blue, or an office chair that supports your back just right, allowing you to focus on your work for hours.
How was it made so perfectly, almost like it was made to order?
Chances are, it wasn't by role of the dice. Not by a long shot. As Marty Cagan writes in his book, Inspired: "Behind every great product there is someone—usually someone behind the scenes, working tirelessly—who led the product team to combine technology and design to solve real customer problems."
This "behind the scenes" person has come to be known as a product manager. The position of product manager is fairly new; it was first conceived at Procter & Gamble just under 100 years ago. In the last thirty years, the role has developed, becoming a key component in the organizational structure of complex industries such as technology. The demand for the position is high. The pay is attractive.
But the job itself isn't for the faint of heart. A product manager must sway and influence many disparate groups of people, without having authority over any of them. The position requires thinking creatively and imaginatively while at the same time researching and analyzing hard facts about the market, the customer, the production process and the bottom line.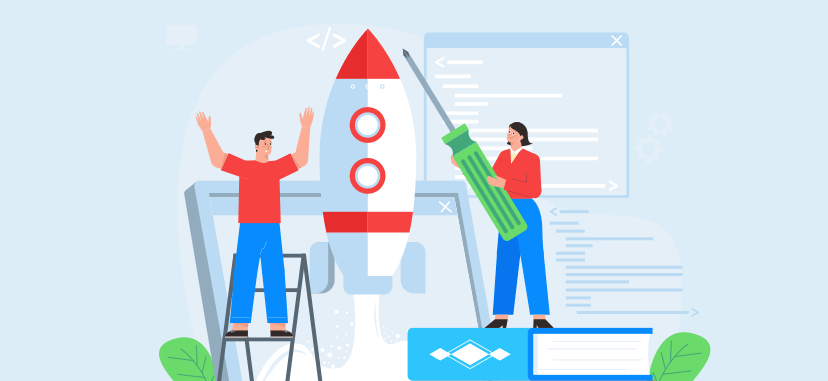 Successfully balancing these tensions means the difference between developing a product that's a hit that everyone wants to buy, and a product that's a dud that disappears from the market immediately.
It's not a position you can master without some guidance, that's for sure.
Maybe you understand product management in theory, but struggle with "doing it" in the day-to-day. Or you think you know all the ins-and-outs of the position, but still get thrown curve balls that leave you wondering if you know how to do your job at all. Or maybe you want to embark on a new career, and wonder just what product management entails and what skill set it requires.
Whatever stage you're at with product management, someone's been there before. Many have shined a light on what they've learned. In an assortment of books, they've covered all the facets of product management, from teaching the basics, to explaining theories of efficient production, to navigating the day-to-day, to getting your foot in the door. These are thoughtful books, with lots of practical takeaways, guides, templates and checklists, to get you on track with your product management career.
So whether you're a newbie to product management or a seasoned product manager who wants to learn more, there's a book out there for you. Now, without further ado, let's take a look at the best books on product management.
The Influential Product Manager: How to Lead and Launch Successful Technology Products by Ken Sandy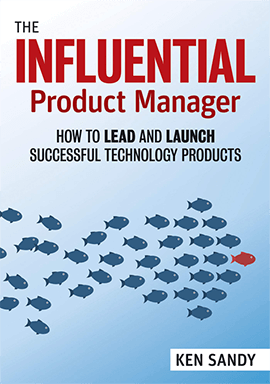 Publisher: Berrett-Koehler Publishers, Inc.
Publication Year: 2020
Number of Pages: 384
It's so common to read inspiring prose about product management, and still be clueless how to apply the ideas to a specific situation.
Author Ken Sandy makes sure you don't have this problem with his book, The Influential Product Manager.
"My goal is to provide current and aspiring product managers with the tools, techniques, skills and empathy required to be successful in navigating the critical 'human' or 'people' component of their role."
He explains how a product manager leverages soft skills (influence, persuasion, charisma) to build a great product.
"What makes a truly outstanding product manager? It's not just the ability to deliver a product to market. It is also the ability to empathize and determine customers' needs; to persuade, motivate, and align a cross-functional group of professionals behind a common purpose."
Then, he shows you how you can become this outstanding product manager. His book is based on a course he teaches, and includes a link for downloading worksheets and exercises for putting his lessons into practice.
He addresses The Influential Product Manager to current product managers, aspiring product managers and even people working with product managers.
The book has a pleasing layout and design. The chapters begin with learning objectives and end with a checklist of activities covered, indicated with a pencil icon. Takeaway tips and tricks are sprinkled throughout, indicated with a rabbit icon. It consists of 12 chapters, organized around the life cycle of a product: ideation, discovery, prioritization, definition, implementation, launch and measurement. They're easy to read, and include personal anecdotes from Sandy.
Sandy brings over two decades of hands-on experience to the topic, including directing product management for Kodak and Looksmart, and working as the VP for product management at Masterclass. He currently gives lectures and webinars in product management.
Much of this book is communicated through its layout (text boxes, notes in the margin, checklists at the end of chapters), so it's better to read than listen to. A lot of the meaning and emphasis don't come across in audio.
Product Management in Practice: A Real-World Guide to the Key Connective Role of the 21st Century by Matt Lemay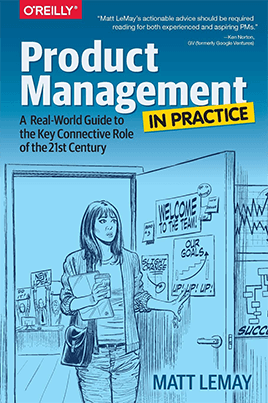 Publisher: O'Rielly Media
Publication Year: 2017
Number of Pages: 186
When he first started out as a product manager, Matt Lemay had an experience common to many novices. He found himself sitting at his desk, twiddling his thumbs.
"For all the books that I had read and all the methodologies that I had studied, the only thing I was left with when I sat back down at my desk was, "What the hell am I supposed to do every day?"
Product Management in Practice is about making the leap from theory to practical, so it's suited for someone new to product management. "This book is intended to help you through the challenges that no tool, framework or 'best practice' can prepare you for."
Lemay argues that product management isn't a role or a theory, but rather a practice. And in practice, "product management often feels more like a series of interrelated novellas than it does a neatly organized textbook."
It's a fun book. The cover is an image of a brand new, doe-eyed product manager, looking around the office, bewildered. His writing is thoughtful, analytical and also humorous. Some chapters include: "The Art of Egregious Overcommunication" and "The Wonderful, Horrible Truth About Agile" He recounts many relatable anecdotes of both of himself and his peers on the job as product managers.
Lemay's approach to product management leans heavily on the agile methodology; he's also written the book, Agile for Everybody. His experience includes working as the product manager for Bitly and as an adjunct professor at New York University.
Although a seasoned product manager may not find a lot of takeaways here, Product Management in Practice is a good supplementary book for anyone who's learned product management in theory and needs some practical input. At just under 200 pages, for the writing, humor and stories alone, you may find yourself reading it twice.
The Product Book: How to Become a Great Product Manager by Carlos González de Villaumbrosia and Josh Anon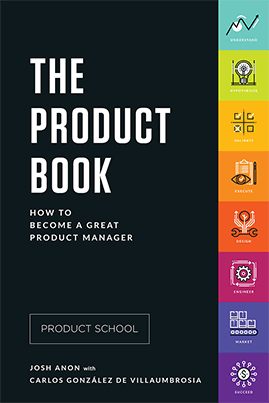 Publisher: The Product School
Publication Year: 2017
Number of Pages: 302
This book could just as easily be titled: Product Management 101. If you're looking for an easy-to-read overview of product management, this is your book.
Over its nine chapters, it provides an end-to-end view of what happens in the position of product manager. Titles include: "What is a Product Manager," "Idea to Action," "Working With the Engineer," "Working With the Designer," and "Bringing the Product to Market."
Its large all-caps headings and subheadings make it easy to process the concepts quickly. It's a great overview for any newbie product manager wanting a refresher course, or an aspiring product manager (although there's not much in here about getting your foot in the door).
Villaumbrosia is Spanish, and has worked in product management in both Spain and Portugal. He's earned degrees in management, computer science and engineering. He also founded the Product School in 2014, which offers three online certifications in Product Management, taught by industry leaders from Google, Uber, and Amazon, amongst other businesses. The book's second author, Anon, is an instructor at the product school.
Product Leadership: How Top Product Managers Launch Awesome Products and Build Successful Teams by Richard Banfield, Martin Eriksson and Nate Walkingshaw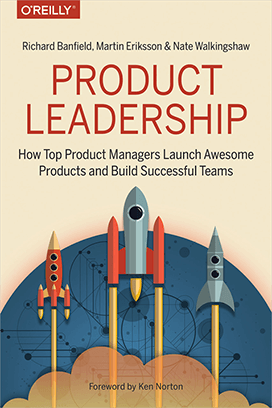 Publisher: O'Rielly Media
Publication Year: 2017
Number of Pages: 248
Anyone thrown into product management flails around for a while. The position is wedged between a lot of opposing forces, including a development team, clients, stakeholders and upper management. A new product manager naturally wonders where and how she fits into the scheme.
In their book Product Leadership, authors Banfield, Eriksson and Walkingshaw write that more than completing a set of tasks, product management is about rallying people around your insights, data and inspirations.
"The book you're holding in your hands will be your guide to navigating product leadership…there is no one right way to build great products, but…there is a right mentality and approach."
This book speaks to experienced product managers, as well as CEOs, CTOs and startup founders. They discuss the history of product management, and explain how the position evolved during the agile revolution of the 90s.
"Today in the digital world where we hardly agree on much, just about everyone can agree that product managers are essential contributors at the intersection of business, technology and user experience."
There are different contexts for product management today. But in all of them, the authors find, the role is about leading. The book is written in three parts, and organized to be a "choose your own adventure." They distinguish between startup, emerging and enterprising organizations, and emphasize how each has a distinctive approach to product leadership.
The authors bring their diverse experience to the book. Banfield is a former CEO and currently an advisor to several companies. Erikkson is a co-founder of Mind the Product, an organization that provides counseling, courses and career support to product managers.
It's composed mostly of text, with only a few images sprinkled throughout. Although some readers found the book dense and hard to read, others found it a comprehensive overview of product management.
Inspired: How to Create Tech Products Customers Love by Marty Cagan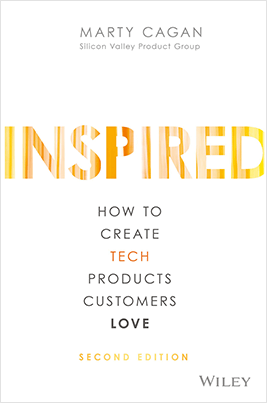 Publisher: John Wiley & Sons, Inc.
Publication Year: 2018
Number of Pages: 368
In Inspired, Marty Cagan argues that there isn't a formula or recipe for creating an excellent product. The winning formula, rather, is around creating a culture and environment that enables a great product to be built. The product manager is central to shaping this environment.
He states outright that not everyone is cut out for product management. Yet his aim with the book is to help product managers navigate challenges and succeed in the role.
This book is helpful for someone new to product management, as it provides some context for where product managers fit into an organizational structure.
It's a lengthy book, with three sections dedicated to shaping the organizational framework, titled: "The Right Product," "The Right People" and "The Right Process." A fourth section covers how to not do things, and includes a chapter titled: "The Root Causes of Failed Product Efforts."
The first edition of Inspired was a bestseller, and was translated into several languages. This is a much-revised second edition.
Cagan brings his lengthy experience to the book, which includes working as an executive at Ebay and Netscape. He's now a partner at the Silicon Valley Product Group, and writes a monthly newsletter and blog.
Some readers have found Inspired helpful with interview preparation, as it outlines the functions of the position.
Pivot to Product Manager: The Ultimate 3-Step Playbook to Kickstart Your Product Management Career by Irving Malcolm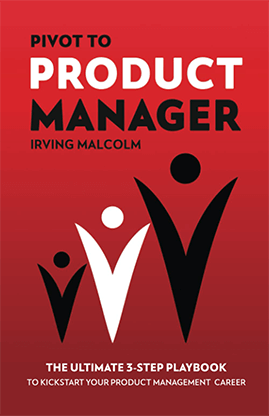 Publisher: Kaiconnections London
Publication Year: 2021
Number of Pages: 190
Even after putting together a flashy, attention grabbing resume, every aspiring product manager has an even higher hurdle to jump over: the interview.
The position requires such a broad array of soft and hard skills, that preparing for an interview brings all sorts of questions to mind, such as: What will they ask? What sort of skills do I present? What does the job really entail?
Pivot to Product Management is for anyone who hopes to land a position as a product manager. It's the "insiders" guide to crushing the interview and knowing what skill to develop beforehand.
Author Malcolm outlines practices to pick up, including reading for 20 minutes each day (from a list he provides at the end of the book) and perusing tech publications such as Mashable and TechCrunch.
He dedicates the entire second and third sections of the book to the hiring process, covering:
How to research which companies to apply for,
How to prepare for the interview,
How to develop the elevator pitch and
How to answer questions related to every facet of the position, including product strategy, KPIs and estimating techniques.
Anyone who reads Pivot to Product Manager should close the book with a clear understanding of the purpose of the position, the skills essential to the role and the qualities a manager looks for in potential candidates.
"We know that an excellent product is usually a result of a robust product manager's vision, skill and leadership…The role is scientific and data-driven but simultaneously requires creative intuition and the ability to trust your instincts."
Pivot to Product Manager is an elusively easy read, as it's packed with practical takeaways. Readers love the section on elevator pitches. It's a must-have for nailing the interview and starting a career in product management.
Excellent Execution as a Product Manager by Clement Kao
Publisher: Self-Published
Publication Year: 2020
Number of Pages: 177
Some people have reasonably predictable jobs. Take toll booth workers, for example. They arrive at work, sit down and stay put. They do the job, then get up and go home.
A day in the life of a product manager doesn't go exactly like this. The position entails interacting with many groups of people, from stakeholders, to developers, to upper management, to clients. Plus, it's research heavy. A typical day in the life of a product manager ends miles and miles from where it started, and it doesn't follow a linear path in between.
All the code-switching demanded of the position begs the question: How does a product manager do the job and do it well without burning out?
Clement Kao answers this question and more in his book, Excellent Execution as a Product Manager. He describes the book as a "look-over-my-shoulder-guide," and he didn't write it for newbie or seasoned product managers. It's written for a very specific audience: product managers in their first few years on the job.
It's all about how to "do" product management in the day-to-day. Kao gets into the minutia of the daily grind, advising readers to do things such as:
Take regular walks during the day.
Goal set at the start of each day.
Schedule the day using time blocking.
His description of product management places a heavy emphasis on agile, and the book includes chapters such as: "Sprint Best Practices," "Maintaining Healthy Backlogs" and "Retrospectives."
He dedicates his book to "all product managers who are dedicated to their own self improvement." It's written in a casual style, and reads more like a 177-page blog post than a book.
Kao himself works as a Product Manager at Blend, a startup in San Francisco. He also co-founded Product Manager HQ, an online community for product managers. Product Manager HQ has been featured in Forbes, and hosts live sessions with leaders in product management.
The Lean Product Playbook: How to Innovate with Minimum Viable Products and Rapid Customer Feedback by Dan Olsen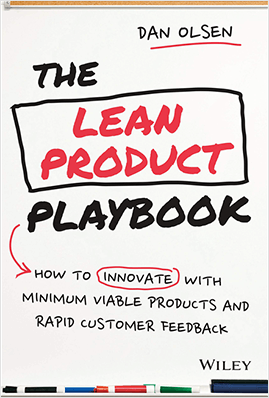 Publisher: John Wiley & Sons, Inc.
Publication Date: 2015
Number of Pages: 336
Have you ever gotten so far into a project that reversing just a few steps meant doubling your time? A lean approach to manufacturing aims to eliminate this sort of rework.
The Lean Product Playbook is for product managers who want to develop products using the lean production method, which incorporates working efficiently, minimizing waste and addressing needs of customers. It's suited for current product managers who want to develop methods for creating products with an improved product-market fit.
The book is very theoretical, but also includes case studies and frameworks and diagrams to make the concepts easy to apply. It's written in three parts. The second part delves into the Lean process, where author Dan Olsen outlines its five steps, including: determine target customer, identify underserved customer needs and define value proposition.
A great process creates a good product, Olsen asserts. And lean manufacturing is that great process.
The writing is pretty granular, with wordy descriptions of things such as "product," "market" and "product-market fit." He does bring in examples, which makes his concepts easier to understand.
Olsen cut his teeth in product management at Intuit. He now consults companies through Olsen Solutions, and stays busy giving workshops and hosting a monthly meetup in Silicon Valley.
Conclusion
Expressions like "know your place" and "stay in your lane" definitely don't describe the role of product manager. A product manager delves into many facets of a business. But he or she does remain singularly focused on one thing: the product.
Product management is a complex but necessary role within an organization. Experienced product managers know that succeeding in the role is more about developing a practice than completing a series of tasks. It's about leveraging soft power, developing deep knowledge and cultivating a framework that fosters the creation of great products.
Every product manager needs a few guides along their career path. Fortunately, there's a lot of encouragement and knowledge between the pages in the books covered here. And once you master the rules of the game, you're in the driver's seat to create some fantastic products!