Meetings Getting Derailed? Here's How to Keep Things on Track
Today's meetings are frequent, lengthy, and keeping things on track can be hard for anyone to manage. Meetings are key to progress, whether you're trying to impress a client and win a contract or plan for your business's future. Without them, decisions don't get made and viewpoints aren't heard.
Have you ever been in a meeting led by someone who, for lack of a better word, is boring? It's hard to force yourself to pay attention when you have to focus on staying awake – that is not a good look. When you lead a meeting you need to be charismatic, succinct, and so good they can't look away.
It's not the sole responsibility of the meeting leader to keep things on track. If you're in a meeting, there is plenty you can do to ensure the meeting stays productive if you notice your colleagues starting to get sidetracked.
In this article, we're going to look at exactly how to keep meetings on track when things stop progressing. We'll look at how everyone in the room can ensure the meeting ends on time, with all the topics of the day discussed.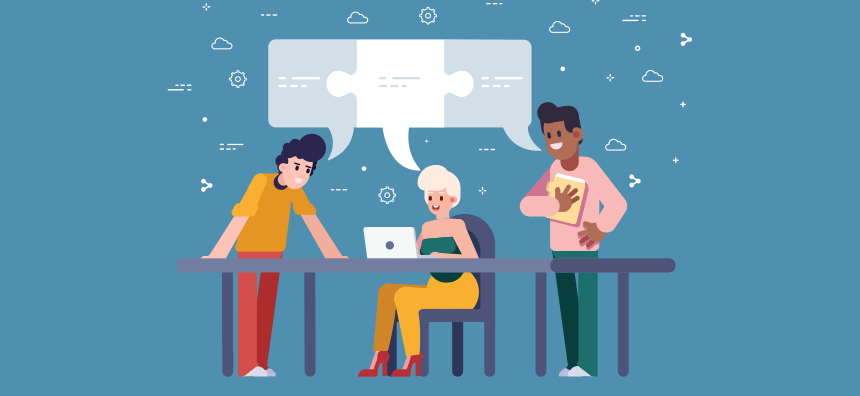 How to Keep Meetings on Track as the Host
Pitching a concept to new investors? You need to keep their attention otherwise your great ideas may fail to leave an impression. No matter if you're a seasoned pro or you haven't presented anything since school, the fundamentals of a good meeting don't change.
It's human nature for the mind to wander and it's part of your job to keep things on track and stop people from disengaging with what you have to say. The importance of meetings can vary from a quick catch-up session to deciding the future of the business. Whatever the agenda is, you want the participants to contribute and be engaged.
Let's take a look at some of the best ways for how to keep meetings on track if you're the one running things.
Make the Objective Clear
Make sure that everyone is aware of what the meeting is about before it starts. Ideally, you'll give people a good amount of notice. Not only does this help you to define the scope of the meeting but it allows the other members the chance to prepare. If the meeting is going to require group participation then everyone will benefit from having the time to research, collect their thoughts, and prepare something.
Every good meeting has an agenda that explains each of the talking points. If you can, email this out to everyone who will be present in the meeting. Meetings that don't have a clear agenda are more likely to run off course. An agenda with clear objectives provides clarity and keeps things moving on track.
Assess the Meeting Size
Before you send the email invite to the whole department, consider who actually needs to be in the meeting. The larger the meeting size the higher the risk that things will start to get messy. Smaller meetings also carry the possibility of not providing enough information or soliciting diverse opinions.
Instead, try to invite people who are critical to the meeting. A memo with the meeting notes can be sent to other interested parties and stakeholders. If a meeting starts to get too full there may not be enough time to hear from everyone. There's also no benefit to inviting someone who has nothing to contribute or gain as it will be a frustrating experience for them.
Meeting Location
The location of the meeting can set the tone for how the discussion will flow. A group meeting is best located in the conference room, or somewhere with minimal environmental distractions. Try and make the meeting secluded; close the door, draw the blinds, and block out any distractions.
If you don't have access to a meeting room in your office, it may be worth renting one for an hour or two somewhere else. There may be an opportunity to use a meeting room in your office block, or elsewhere in the city center or business parks.
Unless absolutely necessary, participants shouldn't be bringing in their tech devices. This is everything from personal cell phones to their work laptop. The most effective note-taking tool will be paper and pen as they will be the least distracting. Obviously, there will be exceptions to this but without tech, people will be less likely to browse the web or send a sly text.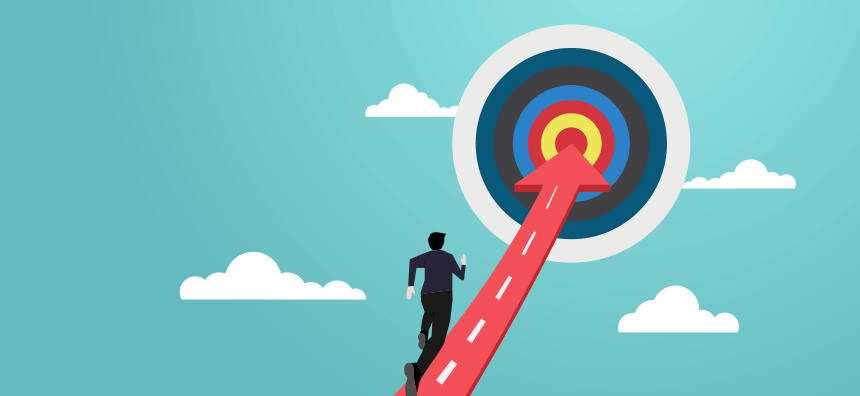 Get to the Point
Time is precious, especially if you're the one signing the paychecks at the end of the month. If you're hosting a meeting you should make sure you're clear and concise with everything you say. Allow people the opportunity to stop you and ask for clarification if anything is unclear, but keep the conversation flowing.
You should also stop other people in the meeting who are getting off-topic. It's easy for tangents to occur in the meeting room when someone follows a connected train of thought. If this gets too far off course, they can end up bringing up topics that aren't pertinent to the meeting agenda.
Pause them and seek clarification if something is bothering them, it may be that a separate meeting to address these issues is needed. In any case, acknowledge what they are saying and shelve the topic for another time. Bring the conversation back to the points in the meeting agenda.
Prioritize the Most Important Points
People lose focus during the tail end of a meeting, unfortunately, it's just the way of things. Concentration starts to wane and people zone out, so if you leave the most important topics until the end, you're not going to be getting 100% out of participants. Instead, always plant the most important talking points at the start of the meeting.
If the critical topics are moved to the start of proceedings you'll be able to get people's best input. At this point they are more engaged, will find it easier to think, and participation will be at its highest.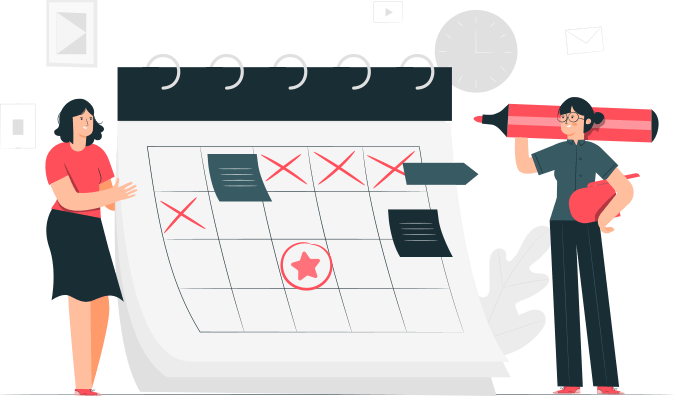 Stick the Schedule
Meetings should start and finish when they're supposed to. If someone is running late to the meeting it will need to start without them. This helps to teach people an important lesson, that meetings won't be put on hold to wait for them. Equally as important is ensuring that people can leave at the designated time.
Overrunning can cause a lot of problems, participants have roles they need to be getting on with and if a meeting goes over it can cause them stress. People start to get antsy and concentration goes out the window. Stick to the meeting agenda and wrap things up at the agreed-upon time.
Divide Talking Points Between Participants
One way to keep people engaged is to change the meeting leader for the different talking points. Participation is key to keeping things fresh and avoiding people's minds from wandering. Agenda points should be distributed to people ahead of the meeting so they have time to prepare.
By doing this you can ensure that talking points are led by people who have the appropriate knowledge in each subject. You may not be an expert in everything that needs to be discussed so handing part of the meeting over to someone more experienced can help to develop ideas and lead the conversation.
Make Time for Discussion
When setting the length of the meeting you should build enough time for people to discuss and ask questions about each topic. Allow an extra 5 minutes or so in case people need to seek clarification about anything. It's best to do this after each topic so questions will be fresh in their mind.
If you only allow for questions at the end, people may forget what they wanted to ask, or think that it's no longer relevant. You should always create an atmosphere of no stupid questions and encourage people to speak up with they don't understand something.
Also, build in some time towards the end for a recap and to encourage discussion about talking points. This gives people an additional opportunity to seek clarification and helps the meeting to end with everyone on the same page.
Have Someone Take Notes
Bring in your secretary and ask them to keep notes on the meeting, or alternatively, ask someone in attendance to do this. Ask them to record every question that was asked and any answers that were provided. If there are questions that can't be answered in the meeting, you can email the answer along with the complete notes.
Since you'll be busy running the meeting, this isn't something you'll be able to accurately manage at the same time. A dedicated note take can ensure that all key information is recorded and a copy of the notes is sent to everyone for their records. If anyone is late to the meeting or can't attend for any reason, they should be able to easily access these notes.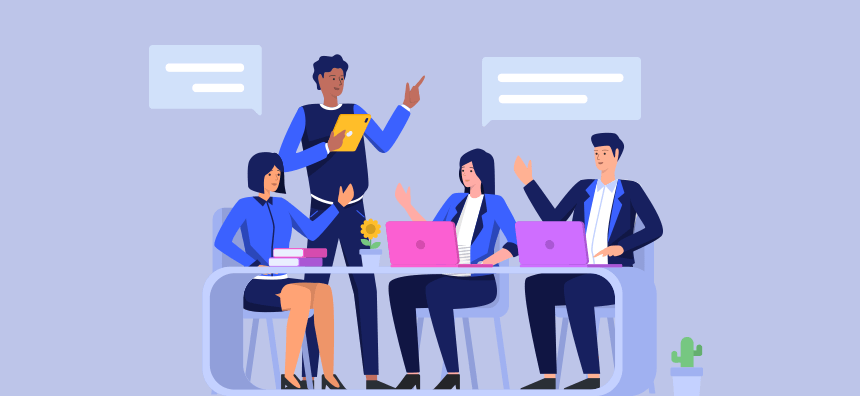 How to Keep Meetings on Track as a Participant
Just because you're not the one leading the meeting, it doesn't mean you don't have a duty to help keep things on track. There are ways for you to support the host by being a golden example of participation. Your behavior in meetings is a great way to make an impression on your superiors. Meetings are intimate and personal, so you should take the opportunity to demonstrate competency.
Active Listening
Listen attentively to whoever is speaking and understand what they are talking about. If there is an opportunity to respond, demonstrate your comprehension and repeat key points back to them. Give them verbal and non-verbal cues that you are listening and take note of what's being discussed.
Write down key information as this will help you reflect on what's being said. Once the speaker is done and they encourage discussion, get involved. Refer back to key points and add your thoughts to the topic. Be patient and non-judgemental with whoever is speaking and show them the respect you would desire in return.
Ask Questions
If there is something you don't understand or would like further clarification on, speak up. There are no stupid questions, even if you may think so. Chances are, if you're thinking it, someone else is as well. Don't wait for them to pipe up and ask, get involved, and make sure you understand everything that's being said.
The host can't read minds and may assume that they are being clear. However, what's obvious to them might not be to everyone else. Good meetings should have everyone at the same level of understanding and asking questions is a great way to increase your own knowledge. If it's critical, interrupt the host and ask for more information, otherwise, write the question down and ask at the end of the topic.
Encourage Participation
Some people are extroverted and love to talk in meetings, they know exactly what they want to say and they're confident enough to say it. Others can be introverted and quiet. They might have a really important point of view that they're too shy to share without prompting.
Anyone in the meeting can step up and encourage participation from people who are being quiet. Allow others the chance to take the floor and share their opinions. If you're someone who finds it easy to talk in meetings, use that confidence to build others up and seek input from those who haven't found the space to interject.
Conclusion
Meetings are inevitable in business. Key decisions are decided in meetings and keeping things enticing and moving forward is imperative. When you gather a group of people together to hold a meeting, you want to make sure that you're going to get good participation and hit all the key points you need.
Some people find hosting meetings to be a nervous experience but if you make a clear agenda, assign different talking points to participants, and stick to the schedule, your meeting should run smoothly.
Everyone in the meeting room has a duty to make sure things are progressing. Tangents and diversions will happen but if participants keep a keen eye out for this behavior, things can be pulled back to what's on the agenda. Hosts should lead by example and make concise points, encourage discussion and end things on time.