13 Best Ways to Send Money to India
More and more businesses are turning to India to supplement their workforce. However, once they overcome the challenge of finding remote workers, they're confronted with a new obstacle–how exactly do you send money to India?
Fortunately, we've got the answer right here! In this blog post, we'll tell you what you should consider before sending money to India, share with you your best options for transferring money, and discuss the various pros and cons of each of those options.
Things to Consider When Sending Money to India
Before selecting a payment method, you'll first want to evaluate it based on the following criteria:
1. Speed
Everyone values being paid promptly. While remote workers typically realize there may be some delays sending money overseas, you should aim to make those delays reasonable.
For instance, although you could send a personal check through the United States Post Office's First Class Mail International Service, deliveries generally take 7-21 days to arrive–and even that timeframe isn't guaranteed. Rather than go that route, it's a better idea to look for a service that offers a faster delivery time.
2. Ease-of-Use
Some money remittance services are more arduous to use than others. After all, there's a big difference between driving to your local bank to get an international money order and hopping on your phone to send a payment electronically.
While you might not mind a bank trip for a one-off payment, it's definitely worth choosing an electronic payment method if you expect to be sending money on a regular basis.
3. Fees
Regardless of how you opt to send money to India, you'll typically have to pay fees. Be aware that these fees can vary significantly from provider to provider.
For instance, most banks charge $35-$65 to wire money internationally. However, Bank of America doesn't charge anything–as long as you send the money in rupees, India's official currency.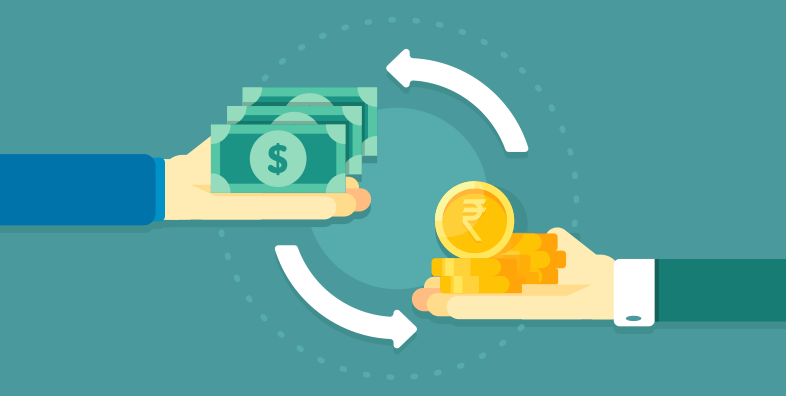 4. Exchange Rate
Exchange rates are constantly fluctuating. By way of example, at the time of this writing, one dollar is equal to 74.46 Indian rupees, whereas 5 years ago, it was equal to 65.11 Indian rupees.
While the exchange rate may not seem like such a big deal to you, it will matter to your recipient–who won't receive the full amount of the money you send. Take, for instance, the difference between two $1,000 transactions, calculated using different exchange rates:
USD/INR 74.089 = US $1,000 becomes 74,089 Indian rupees
USD/INR 71.012 = US $1,000 becomes 71,012 Indian rupees
As you can see, even this relatively small difference in exchange rates translates into 3,000 less rupees for the recipient. And of course, the larger the transaction, the more money your recipient will lose out on.
That's why it's a good idea to find out the mid-market rate–the exchange rate banks use when they're trading with each other. Then, compare different money remittance services to see what their exchange rates are–so you can see how much of a markup they're charging.
To simplify this process, we suggest visiting Exchange Rate IQ, a website that lets you quickly compare exchange rates among different money transfer providers.
5. Reliability
According to Incomopedia, "Money transfer companies aren't subject to the same legal requirements as banks. In fact, they aren't closely regulated at all, so using them is inherently risky."
To avoid those risks, Incomopedia suggests seeking out a money transfer provider that provides bank-grade encryption–that's important because the provider will have all your bank details and were they to be hacked, you could have your money stolen.
Furthermore, you'll want to select a transparent provider, since hidden fees are the most common way money transfer companies cheat you out of your money. To assess whether there are any hidden fees, be sure to read over the Terms and Conditions before using a money transfer provider for the first time.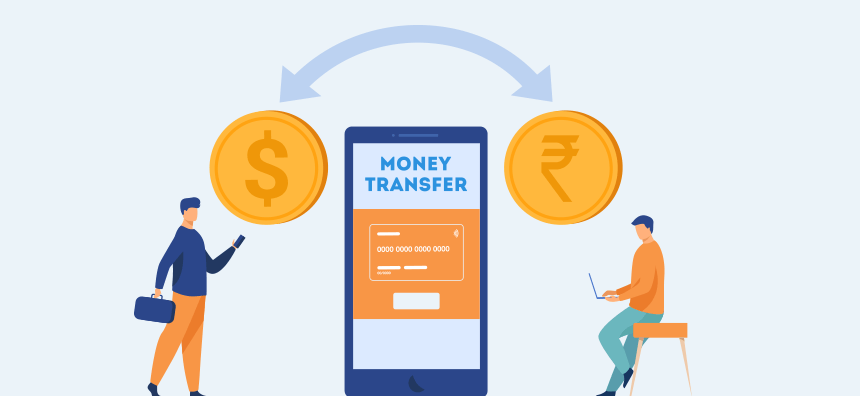 The Best Ways to Send Money to India
To make it easier for you to choose a money transfer provider, we've identified our top picks for each of these categories:
Best for Low Exchange Rates
Best for Technophobes
Best for Sending Money to Friends and Family
Best for B2B Money Transfers
Best for Sending Large Amounts of Money
Best for Low Fees
Best for Quick Transfers
Best for Low Exchange Rates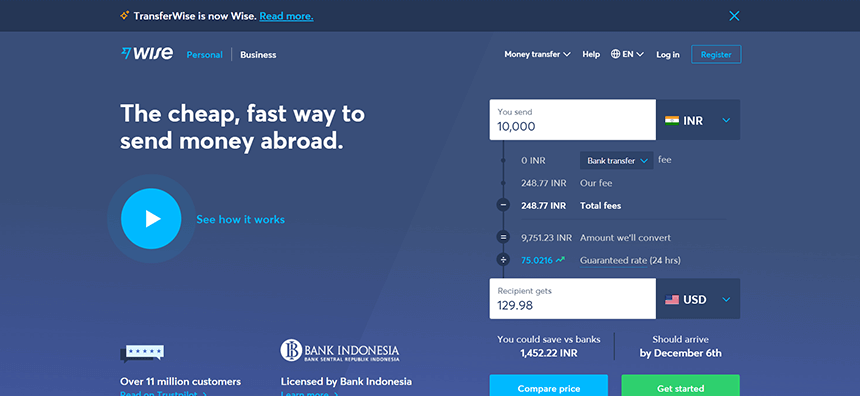 1. Wise
Formerly known as TransferWise, Wise was developed by two guys who grew frustrated by the expensive fees and bad exchange rates they experienced with other transfer services.
As a result, Wise has lower fees than many of its competitors, which is just one reason the company's many fans give Wise rave reviews on Trustpilot (4.6/5 stars).
Although Wise doesn't have branch locations, users can send money to India via the company's website or its app. Additionally, money transfers can be funded with a bank debit, wire transfer, debit card, or credit card, although fees vary depending on the method used.
Pros
Money transfers are done using the mid-market exchange rate; even better, you can lock in that rate for a period of time should you decide not to send money immediately.
No hidden fees – you can visit Wise's website to calculate how much it would cost to transfer money using Wise, as well as via its competitors. If Wise isn't the cheapest option, the company will let you know upfront.
Fast cash transfers – Wise lets you send money within one day using a same day transfer or even instantly, with an instant money transfer.
Wise is considered a safe and reliable money transfer provider.
Cons
You can't fund a Wise payment with cash.
No cash pickup option–you can only send money directly to someone's bank account.
When sending amounts larger than $10,000, a foreign exchange specialist may be cheaper than Wise.
Customer service is only available by phone in the US from 9am until 5pm ET on weekdays.
Best for Technophobes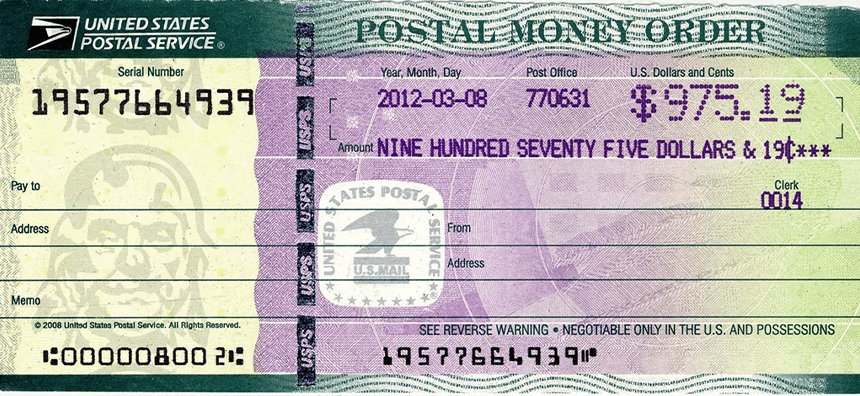 2. Money Order
If you want to send money securely to India but don't want to do so over the Internet, a money order is a great option. A money order is a printed, pre-paid certificate that can be mailed to your Indian recipient for cashing. Money orders can be purchased at banks, gas stations, grocery stores, the post office, and other third-party locations.
Pros
Relatively cheap – a money order typically costs $5 or less
If a money order hasn't been cashed yet, you can still cancel it (for a fee).
Recipients typically don't need a bank account to cash a money order.
An ID is required to cash a money order, which minimizes your risk.
Cons
Money orders usually have poor exchange rates.
If you need to replace a lost money order, it can take the issuer 20-30 days to send you a new one and as long as 8 weeks if you don't have the receipt.
International money orders can be made out for a maximum of $700, so you'll need several if you want to send a larger amount.
It might take weeks for your money order to reach India via snail mail.
Best for Sending Money to Friends and Family in India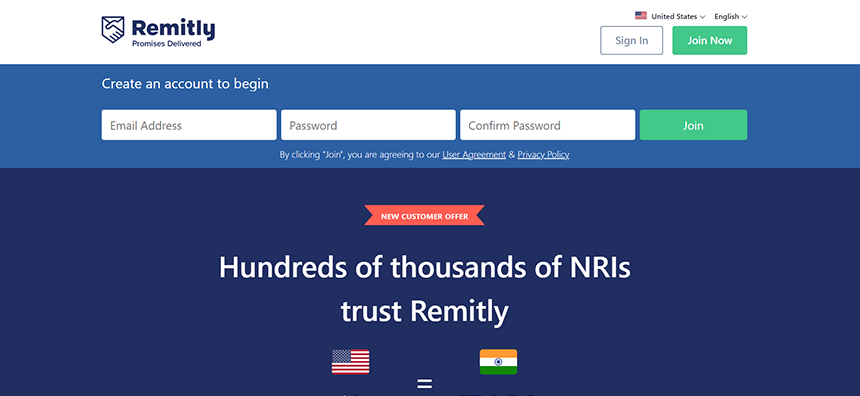 3. Remitly
Headquartered in Seattle, Remitly is a great option when you want to send money to friends and family fast. It's also a secure and reliable choice for transferring money, since the company is registered with the U.S. Dept. of Treasury as a Money Services Business and offers 100% satisfaction on your transactions–or your fees back.
Additionally, Remitly makes sending money easy and convenient with its highly rated mobile app (4.8 on Google Play, 4.9 on the Apple app store).
Pros
Remitly offers a more favorable exchange rate for first-time users.
Two options for sending money–Express and Economy; Express arrives within 4 hours and Economy takes 3-5 business days.
No fees if you send $1,000 or more; a flat fee of $3.99 for smaller transactions.
Money can be transferred to 130+ Indian banks, and Remitly allows recipients to pick up their funds at 100,000+ cash pick-up locations throughout India.
Cons
The Express delivery option offers a less favorable exchange rate than the Economy option.
Lower sending limits than some other companies – you can send $2,999 to $10,000, depending on how much information you provide to confirm your identity.
Remitly is for personal transactions, not business ones – if you try to make a business transaction, your account is at risk of being flagged.
Remitly charges an additional 3% fee for credit card transactions – still, this is fairly comparable to many of the other companies on this list.
Best for B2B Money Transfers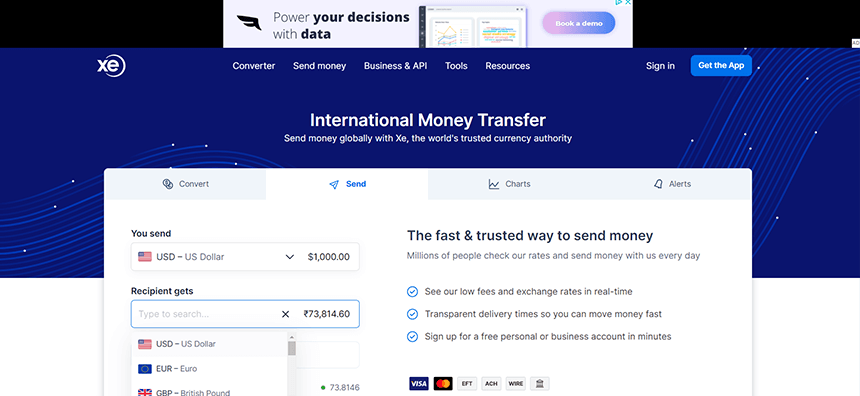 4. XE Money Transfer
XE is a well-known, trusted money service provider that earns rave reviews from its customers (9.6/10). Although the company doesn't have branch locations like some of its competitors, transfers can be made via XE's website or mobile app and funded with a bank account or credit/debit card.
Unlike some of the other money transfer providers on this list, XE offers two different types of accounts–personal and business. Business account holders gain access to a variety of tools and currency risk management solutions–which is why it's well-worth considering XE for money transfers if you own and operate your own business.
Pros
XE is fast – most money transfers to India are completed within just a few minutes.
No limits on the amount of money you can transfer – you can send up to $500,000 online or more if you contact XE by phone.
Competitive rates – while banks typically charge 3 – 7% of the amount being sent (fees + exchange rate markup), XE usually charges .5 – 2%.
XE doesn't charge a fee when sending money funded with a bank transfer or direct debit (note: the company does add an exchange rate markup).
Cons
For money transfers less than $7,000, XE charges a higher markup on the exchange rate.
Recipients don't have the ability to receive money via cash pickup; money must be sent to a bank account.
Setting up a new account can be a lengthy process.
All currency transfers are done through the SWIFT banking network, and banks at either end may charge the recipient some fees; XE has no control over this.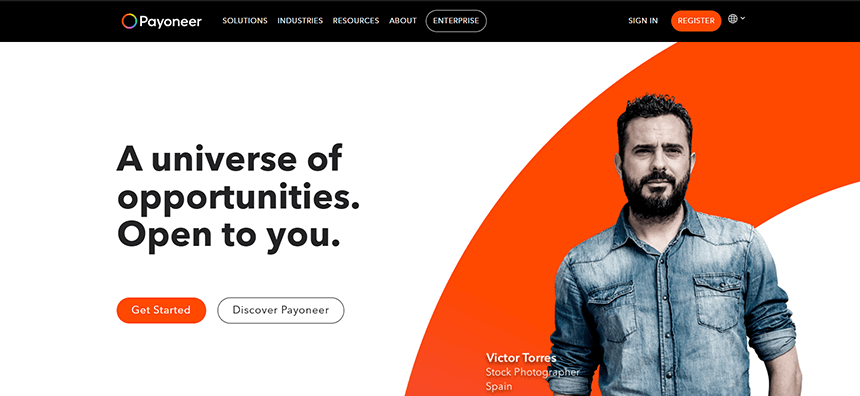 5. Payoneer
US-based Payoneer is a financial services company that was founded in 2005. With lots of big-name clients, like Google, Airbnb, Upwork, Amazon, and Walmart, Payoneer is a popular and trusted choice for B2B transfers.
Payoneer has extensive reach, and it offers services in India, as well as over 195 countries with 100+ currencies. When making an international payment, users have the option of paying via a bank account or a credit card, respectively incurring a 1% or 3% fee. However, no fees are charged if money is sent from one Payoneer account to another and funded with a Payoneer balance.
Pros
Lower exchange rate than some other money transfer options (up to 2% above the market exchange rate).
Once a payment is received, Payoneer transfers it within 24 hours to your recipient's bank account.
Payoneer typically receives high reviews from its users and has a score of 4.6/5 on Trustpilot.
With the ability to batch pay multiple contractors at once, Payoneer makes it easy to process payroll.
Cons
Payoneer allows business payments only, so you can't use the service to send money to friends or family abroad.
For a 12-month period of inactivity, Payoneer charges an annual fee of $29.95.
Reportedly, there are a number of hoops your Indian recipient may have to jump through to receive a global payment, including presenting a copy of an ID, an invoice, screenshots of account activity, etc.
Although Payoneer offers 24/7 phone, email, and live chat customer support, a small percentage of customers have reported that customer service is slow.
Best for Sending Large Amounts of Money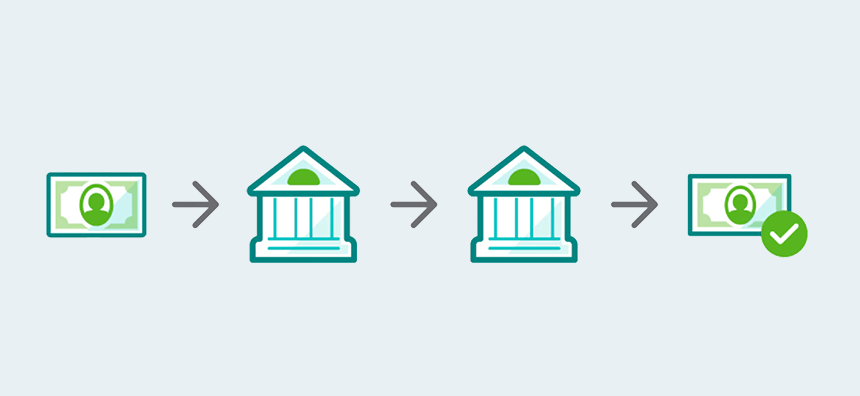 6. Wire Transfer
A wire transfer is used to transfer money electronically from one bank to another. The money is then credited to your recipient's bank account.
International wire transfers can be made from virtually any bank and in many cases, online, via your bank's website. Additionally, you can also send an international wire using a non-bank transfer service–which is well-worth considering since these services typically charge lower fees than banks do.
Pros
Wire transfers are generally considered a very safe option for sending money internationally.
Unlike ACH transfers, wire transfers are processed faster and typically take around 2 business days.
Some banks don't have transaction limits, so you can send as much money as you want with a wire transfer.
There usually isn't a hold put on the money, so recipients won't have to wait for the funds they receive to clear.
Cons
An international wire transfer is nonreversible–making it riskier than some of the other payment remittance services listed here.
Banks typically charge a $30-$75 fee for outgoing international wires, making this a relatively expensive option.
Exchange rates vary from bank to bank, sometimes significantly. Typically, banks don't readily share their exchange rate markup, so beware of hidden wire transfer fees.
No cash pickup option – the recipient must have a bank account that you can transfer the money into.
Best for Low Fees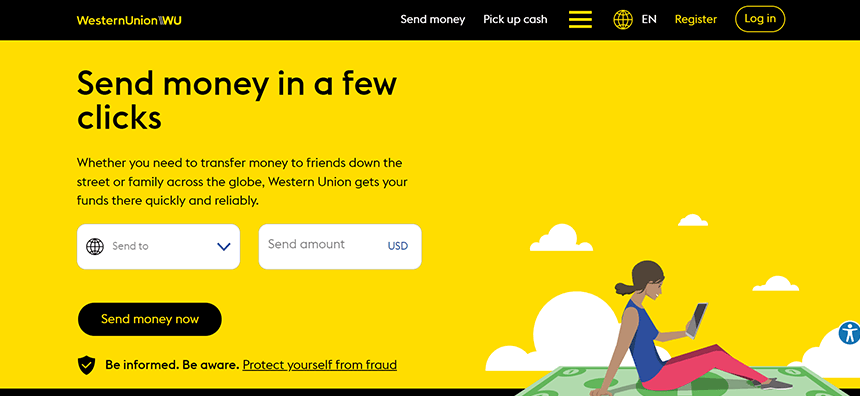 7. Western Union
With 150 years in the industry, Western Union is a reliable source for making international money transfers to India. Plus, as the largest money transfer provider, Western Union not only offers online transfers and a mobile app, but it also has more than 42,000 US locations–making it really convenient to transfer money in-person at a Western Union branch.
Additionally, Western Union has a low exchange rate markup and zero fees if you fund the payment with your bank account and don't mind a longer transfer period (0-4 business days).
Pros
Transfers are done in real-time if you send less than 200,000 INR (about $2,709 USD) and pay with a debit or credit card.
Western Union's exchange rate markup is low, compared to other services.
Western Union offers a 24/7 live chat option.
No fees if you transfer money from your bank account directly to the bank account of your recipient.
Cons
Higher fees if you arrange for cash to be picked up in-person, rather than transferring it directly to a bank account.
If you make your money transfer in-person at a Western Union branch, you'll be subject to a higher exchange rate markup.
Western Union doesn't have an email customer support option.
Like most money transfer services, Western Union charges significantly more to send cash via credit card. For instance, the fee for sending $1,000 USD by credit card to a bank account in India is $29.99, compared to just $2.99 when paying with a debit card.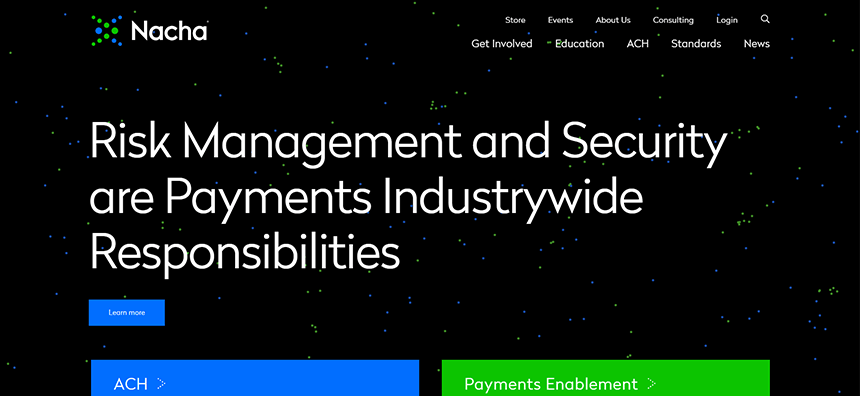 8. ACH Transfer
One of the more secure methods for sending money to India, an ACH transfer is a bank-to-bank transfer that goes through the Automated Clearing House, an electronic funds transfer system run by NACHA. You've probably sent or received an ACH transfer yourself, if you've ever been paid via direct deposit or used your bank's bill pay option.
ACH transfers are super-convenient, since no trip to the bank is required, and fees are small to non-existent–however, be aware that with ACH transfers, it can take anywhere from 3-5 business days for recipients to receive their money.
Pros
ACH transfers are typically free, although some banks may charge a small $1.00 fee per transaction.
Unlike some other money transfer options, if you make an error when submitting an international ACH transfer, you may be able to reverse it.
Most banks provide extensive customer support, offering multiple easy ways to get in touch with a representative.
International ACH transfers are incredibly convenient, since you can do them online.
Cons
Depending on the bank, you may be subject to per transaction transfer limits or daily/weekly/monthly limits.
ACH transfers can take as long as 3-5 business days.
No cash pickup option – this transfer method only works if your recipient has a bank account.
Although banks use the mid-market exchange rate when trading with each other, they do markup international ACH transfers; the markup percentage varies, depending on the bank you use.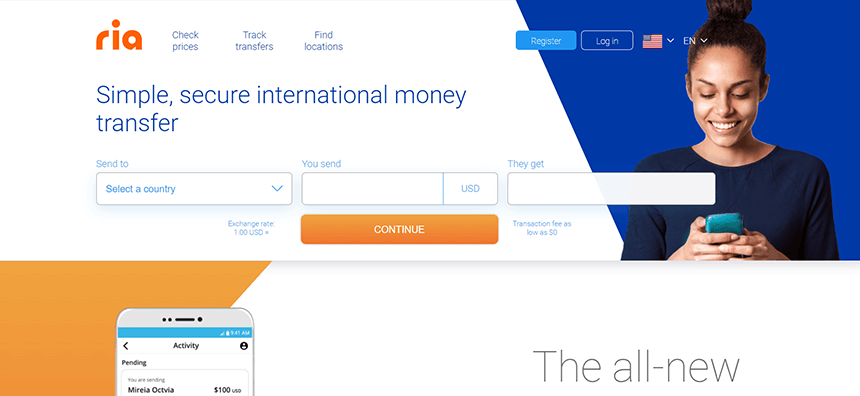 9. Ria
One of the largest money transfer services, Ria is a safe, secure choice for sending money to India. Even better, Ria offers several convenient transfer options. For instance, Ria users can send money via its website, mobile app, or in-person at one of its branch locations, which are often conveniently located inside Walmart and 7-Eleven. Additionally, Ria allows users to send money directly to a bank account or for cash pickup at locations throughout India
Pros
Ria's fees are cheap (just $1) when you send money from one bank account to another.
Fast transfers – if you pay with cash, a credit card, or a debit card, your recipient can pick up their cash at a branch location within 15 minutes.
Unlike some other money transfer providers, Ria doesn't have a minimum transfer amount.
Although Ria does add an exchange rate markup, the markup is competitive compared to other providers.
Cons
Low transfer limits – users are allowed to send up to $2,999 per transfer and $7,999 per month.
You can't lock in an exchange rate with Ria – which is something some of the other money transfer providers allow.
When funding your payment with a bank account, delivery time is slow–it can take up to 4 business days for your recipient to receive the money.
Ria's customer service team isn't available by phone in the evenings if you live on the West Coast.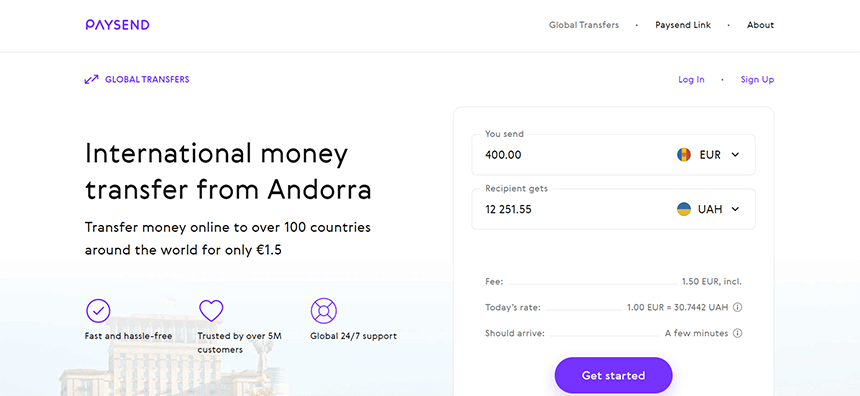 10. Paysend
One of the newer companies on this list, Paysend was founded in 2017. Headquartered in the UK, Paysend has expanded quickly and to date, the company's served over 3.5 million customers.
Despite its relatively new entry to the financial services scene, Paysend is considered a safe and reliable way to transfer money. Not only is the company licensed in the UK, but it's regulated by the UK's regulatory body, the Financial Conduct Authority (FCA). Paysend is also certified by Visa and Mastercard and uses top-notch security protocols.
Pros
Attractive exchange rates, typically between .5 – 2% above the market exchange rate.
Fees are cheap. Paysend charges a $2 flat rate when sending money from the US.
Money transfers are quick. Those funded with a debit or credit card are typically instant. If they're funded with a bank account, Paysend transfers the money within minutes–however, it may take a couple of days for the receiving bank to credit the funds to your recipient's bank account.
Convenience – users can send money via Paysend's app, which is available on both the Apple and the Google Play Store.
Cons
Although Paysend allows you to make payments from a bank account, credit, or debit card, you can't send a money transfer using cash.
Money transfer limits are relatively low. Until you provide account verification, you can only send up to $999. And even with that verification, there's a sending limit of $10,000/month.
Account verification can be slow, taking up to a week or even longer.
Paysend doesn't offer phone support; users can only get help via live chat or email.
Best for Quick Transfers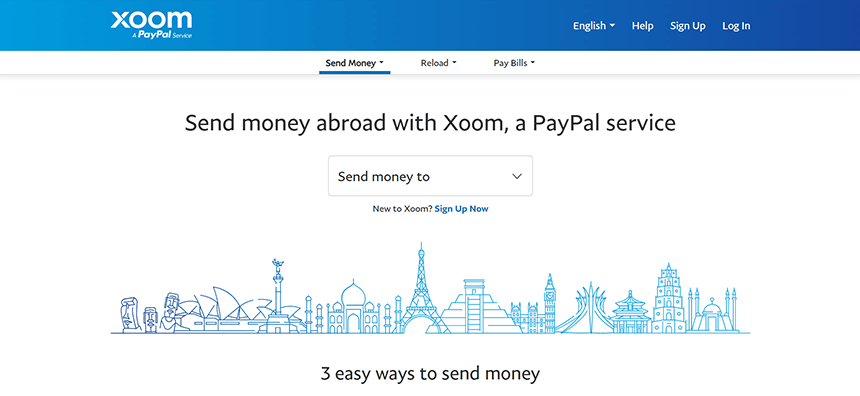 11. Xoom
Xoom is a PayPal service that allows users to quickly and easily deposit money to a recipient's bank account or arrange cash for pickup or delivery at locations throughout India. Because you can use Xoom from your phone or computer, it's an incredibly convenient option when you need to transfer money.
Plus, Xoom's been in the business for 14 years and is associated with PayPal, so this is a service you can comfortably rely on–so much so that Xoom promises a full refund should a transaction not be received by your recipient.
Pros
Cash pickups and bank deposits to most major Indian banks are usually available in minutes.
The Xoom app is highly rated by users, earning 4.7 stars on Google Play and 4.8 on iOS.
Xoom offers multilingual customer support 24/7.
Money transfers can be funded with PayPal, a bank account, credit card, or debit card.
Cons
Xoom has daily/monthly/6-month sending limits based on your account type.
Xoom doesn't offer live chat support.
You can expect to pay higher fees if you send money using a debit or credit card ($30.49 to send $1,000 USD).
Xoom's exchange rate markup can be higher than other services, totalling over 3%.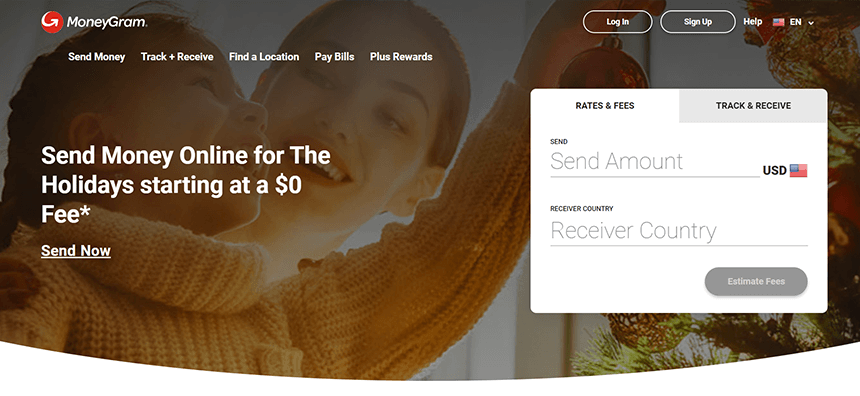 12. MoneyGram
Although MoneyGram doesn't have the name recognition of Western Union, it's the second largest money transfer provider in the world, with 30,000 MoneyGram locations in the United States alone. And like Western Union, Moneygram's transfer service scores high points for convenience, since users have the option of visiting a MoneyGram branch, sending money online, or using MoneyGram's mobile app.
Pros
Flexible funding – payments can be funded via credit card, debit card, cash, or bank account; even better, MoneyGram doesn't charge a fee when you send a payment from one bank account to another.
Multiple delivery options – Money can be sent to a recipient's bank account, VISA debit card, or for cash pickup at one of MoneyGram's 30,000 locations throughout India.
Safe and secure – MoneyGram is considered a trustworthy money transfer provider.
Fast transfers – money is typically available within minutes if you send it to the recipient's debit card or for cash pickup; transfers to a bank account take as little as 3 hours.
Cons
Users can't send more than $6,000 per transaction, and up to $6,000 every 30 days.
MoneyGram's exchange rate markup is higher, should you choose to send money to a recipient's debit card or for cash pickup.
Users report that transactions are sometimes declined without any meaningful explanation.
Many users have expressed dissatisfaction with MoneyGram's customer service.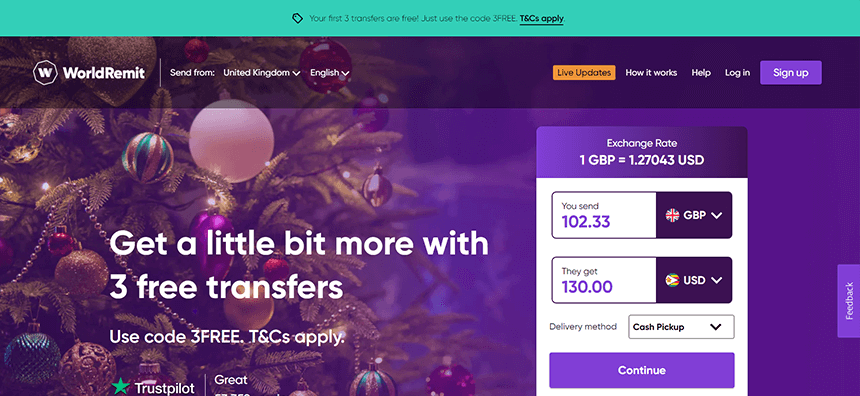 13. WorldRemit
WorldRemit is a UK-based money remittance firm that was founded in 2010. Considered safe and reputable, WorldRemit's app won Investopedia's Best for International Transfers category, due to the company's low fees, upfront exchange costs, and fee transparency.
WorldRemit also earns high marks for its convenience. The company not only offers multiple options for funding a transfer (debit, credit, prepaid cards, Apple Pay, and bank transfer), but it also allows recipients to receive money in a number of different ways, including bank transfer, cash pickup, mobile money, AirTime top up, and Alipay.
Pros
Fast transfers – 95% of WorldRemit's transfers are ready for recipients in minutes.
First-time customers can usually find a promo code.
Unlike a lot of other money remittance services, WorldRemit doesn't require you to sign-in before viewing its money transfer fees.
WorldRemit's app is highly rated (4.3 on Google Play, 4.8 on the Apple app store).
Cons
Lower transfer limits – WorldRemit allows you to send a maximum of $9,000 in 24 hours and $5,000 per transaction for debit, credit, and prepaid cards.
Some users have reported that it takes too much time to receive a refund from WorldRemit.
WorldRemit doesn't allow you to pay for money transfers with cash.
Although transfers typically occur quickly, sending funds directly to someone's bank account can take anywhere from a few minutes to 5 days.