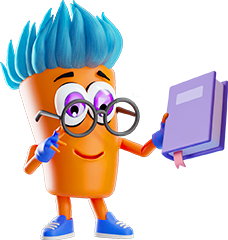 25 Best Business Blogs to Help You Crush Online Marketing
Starting out on your own as an entrepreneur or creating your first business can be confusing and a little scary. Luckily there are thousands of resources available online to help you sail the ship. Finding the right information can be tough, particularly when there are millions of blog posts being uploaded to the internet every day.
Most of this information is free and readily available if you know where to look. From CEOs' personal blogs to business journals to niche-specific blogs, there's advice on every aspect of business ownership.
The hard work has been done for you; below is a collection of the best blogs on business. You'll learn about how to create and run a business, how to market your products, and how to connect with customers. Let's take a look at exactly where you can find expert advice for free.
Blogs for Entrepreneurs & Business Owners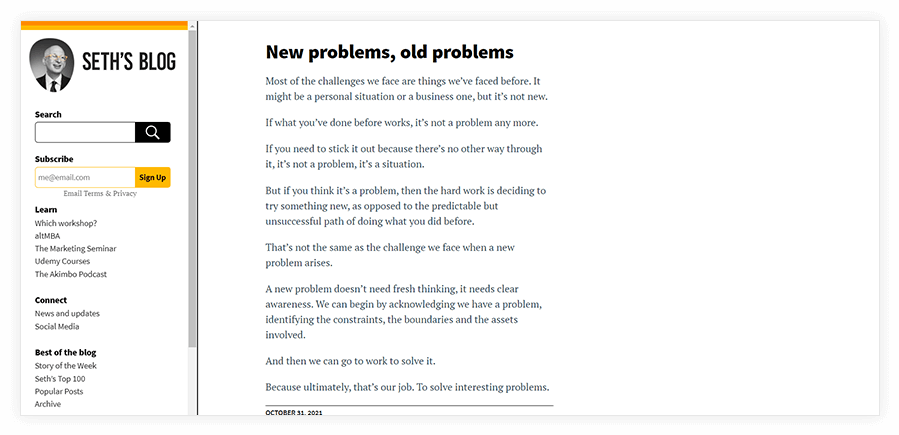 Seth Godin
Seth Godin is a hall-of-fame digital marketer. He shares information on his blog about marketing, the digital landscape, thought leadership, and much more. As a prolific writer, he has released 20 best seller novels.
Seth gives a lot of his wisdom away for free through his daily blog posts. He has his finger on the pulse of digital marketing so following his blog is bound to keep you up to date with changing trends.
Shopify Blog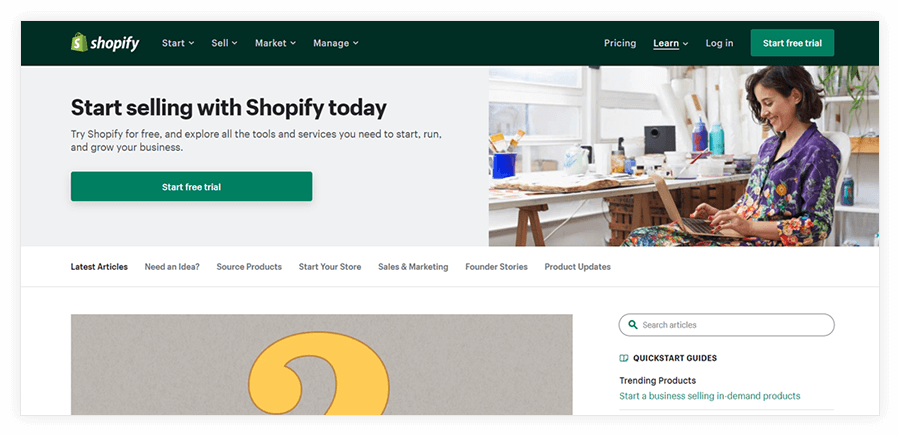 Shopify is a platform that enables you to create a digital storefront. Many entrepreneurs use Shopify for dropshipping, to sell digital goods, or their homemade products. The Shopify blog is a goldmine of information on business growth, social media strategy, and marketing tips.
The eCommerce giant posts interviews with successful entrepreneurs which can provide added insight into owning an online shop. Shopify categorizes its articles to make it easier for you to find what's relevant. If you're considering a Shopify store, take a look at the Start Your Store section. The Sales & Marketing section contains pertinent information for anyone dealing online.
Intuit Quickbooks Resource Center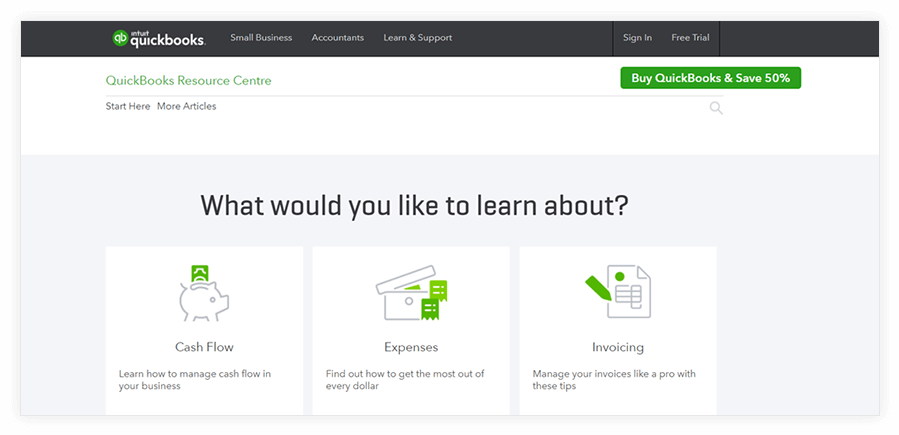 Money. It's a big deal and learning how to manage your business's income and expenditure is important from the get-go. Quickbooks is accountancy software, money is what they know. Their resource center has all the information you need on things like taxes, invoicing, and payroll.
In fact, their blog has articles to take you through the entire process of starting a business. Check out their starting out section if you're at the early stages of your new business endeavor. Otherwise, their sections on taxes and growing your business are full to the brim of information for business owners.
Teens Mean Business Blog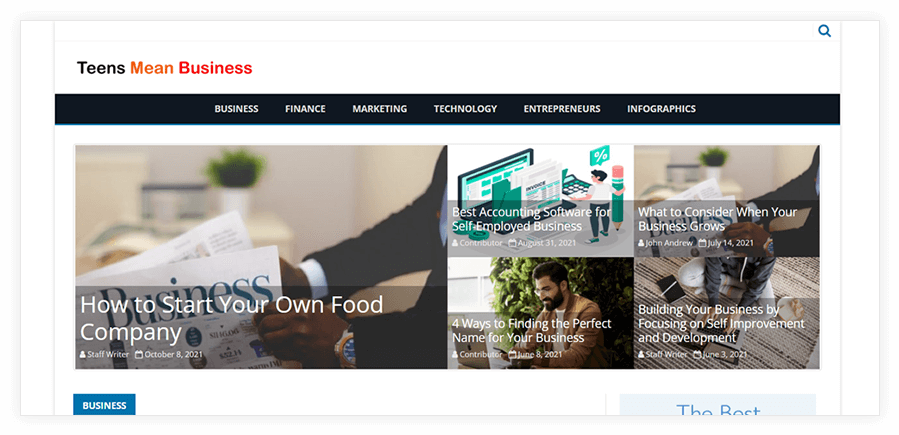 Don't be fooled by the name, they may be marketing towards teens but the articles on the blog are useful for anyone whether 15 or 55. Teens Mean Business takes intense business information and presents it in an easy-to-digest fashion.
The topics they cover include finance, technology, and marketing. It's a great hub of information for entrepreneurs and the website is updated frequently with new articles.
Big Ideas for Small Businesses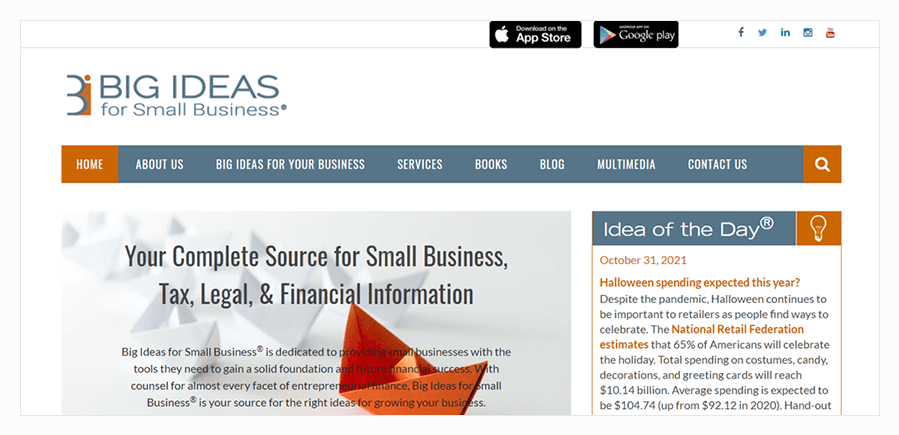 The brains behind Big Ideas for Small Business have over 40 years of experience in the legal and business industries. All of their advice is geared towards small business owners and they can help at the very start of your venture.
Alongside their blog, they upload videos and podcasts so you can choose your preferred medium. The Wall Street Journal has crowned Barbara Waltham, the Big Ideas for Small Businesses owner, "the guru of small business taxes." It's safe to say you'll be in good hands following her advice.
Blogs by Business Leaders

Richard Branson's Blog
Richard Branson is the charismatic leader of the Virgin Group. Through the Virgin brand, he has created a lot of successful businesses as well as some not so successful. His personal blog contains deep dives into his businesses and what he's learned from failure.
His blog is a masterclass in thought leadership and any CEO can learn from the way he connects with people. As one of the most successful billionaires in the world, he has unique insights into taking risks and business growth.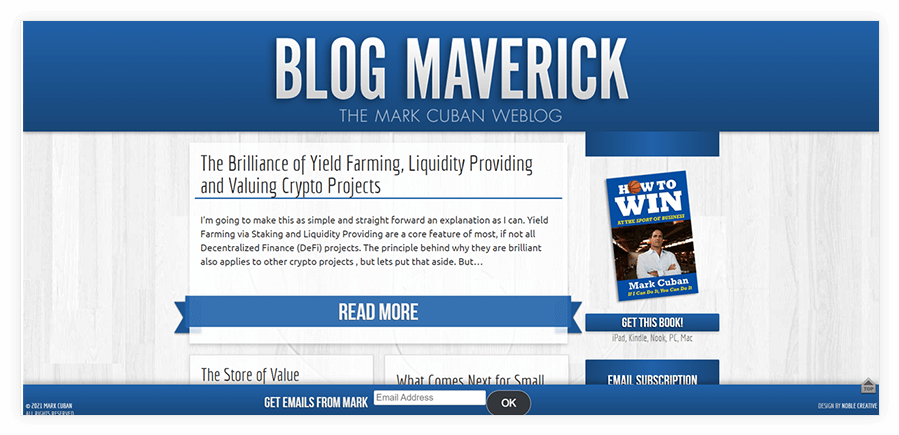 Blog Maverick
This is Mark Cuban's personal blog. He may be a polarising figure to some but he's a successful investor and knows a thing or two about business. Most people will recognize him as one of the sharks from Shark Tank. However, on his blog, Cuban shares his thoughts on things like crypto, business, and government.
For entrepreneurs, there's a lot to learn about how he has become successful. He doesn't mince his words but his sometimes controversial advice provides unique viewpoints on the tech industry as well as business strategy.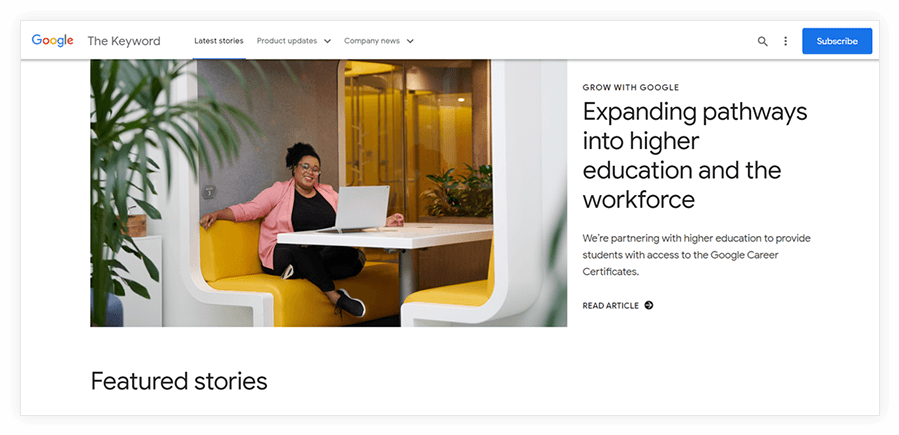 The Keyword by Google
The Keyword is Google's blog where they share news and information about the company. What benefits entrepreneurs, however, is their articles about how to use their applications and how to make the most of the online space.
If you want to be at the forefront of emerging technologies, the Keyword can help you do that. By learning about what Google updates are incoming or new technologies they're developing you can make sure you're business is equipped for changes. Be sure to check out the Google for Creators section to learn how you can reach new audiences.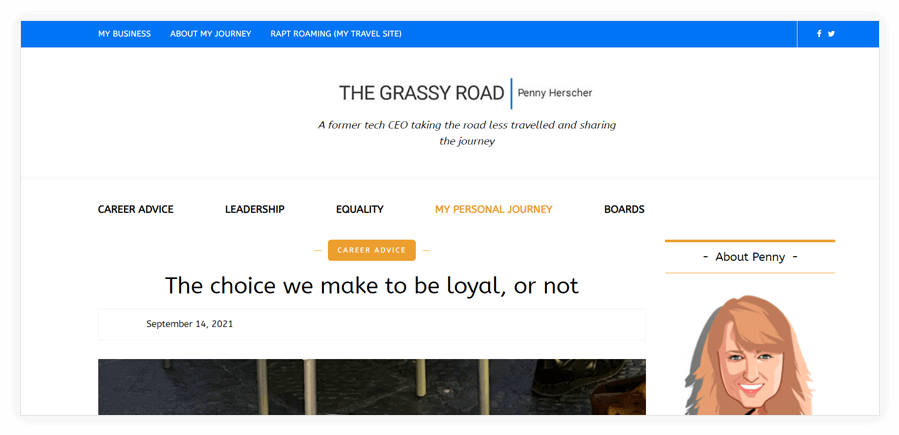 The Grassy Road by Penny Herscher
Penny Herscher is a successful former CEO who has taken to her blog, the Grassy Road, to help entrepreneurs achieve their dreams. She built her career in the heart of Silicon Valley with businesses in enterprise software and data analytics. One of her biggest passions is promoting equality in business.
Her blog details the personal journey she took to get to where she is. Entrepreneurs will also find a wealth of knowledge in leadership, business growth, and career advice. All of the information she shares is available for free.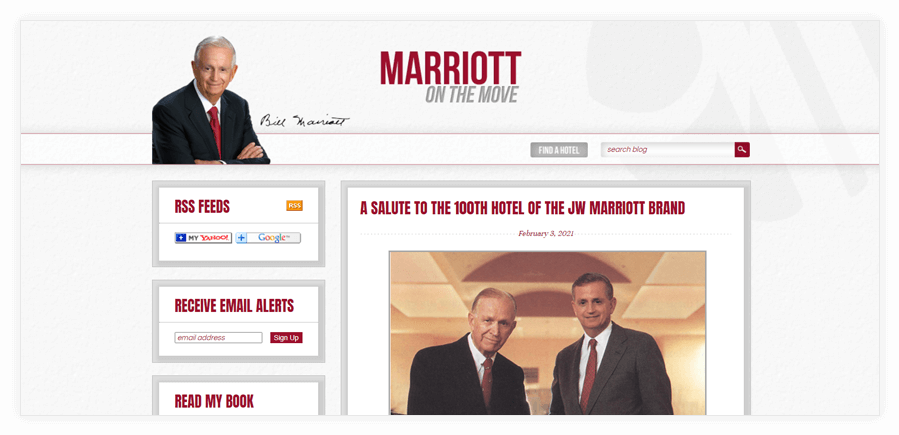 Marriott on the Move
Bill Marriott is the executive chairman of the hotel chain Marriott International. His career started at 14 when he stapled invoices for his father, J. Willard Marriott. He worked his way up the company and masterminded the transition into the hotel business. Now he shares his thoughts with the internet and helps to teach entrepreneurs the way of business.
The blog has articles on leadership, operations, and his personal take on current affairs. There are many pearls of wisdom to be learned by taking a look through his blog. You could be brand new to entrepreneurship or a seasoned professional but Bill Marriott's blog can help you grow as a leader.
Business Journalism Blogs

Business Insider
Business Insider launched online in 2007 and publishes articles on business and finance. The company has expanded to include new topics under its Insider brand but Business Insider remains the most notable resource. As a journalism blog, this website is useful for keeping up with current affairs and emerging technologies.
Entrepreneurs can use Business Insider to ensure they're making the most out of new ideas and changing sentiments. As a news outlet, the rate of publication is intense with dozens of new articles every day. Some of its articles are locked behind a paywall but the majority of information is shared freely.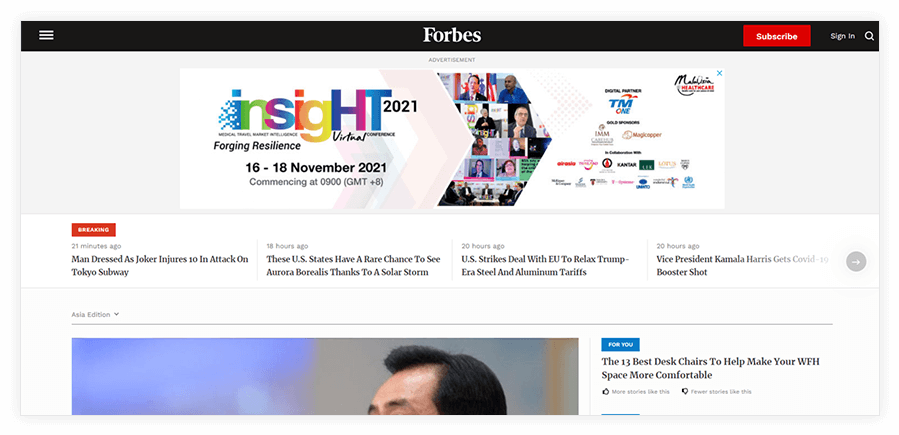 Forbes
Forbes is one of the most prominent magazines in the world, most notably is the Forbes Rich List. The website houses thousands of articles on topics ranging from billionaires, innovation, and lifestyle. There is a subscription you can sign up for and access premium articles but plenty of resources are free to view.
Business owners will find targeted articles under the "small business" tab. Forbes uploads articles on entrepreneurship and small business strategy that are worth looking at. They also conduct interviews with successful business leaders.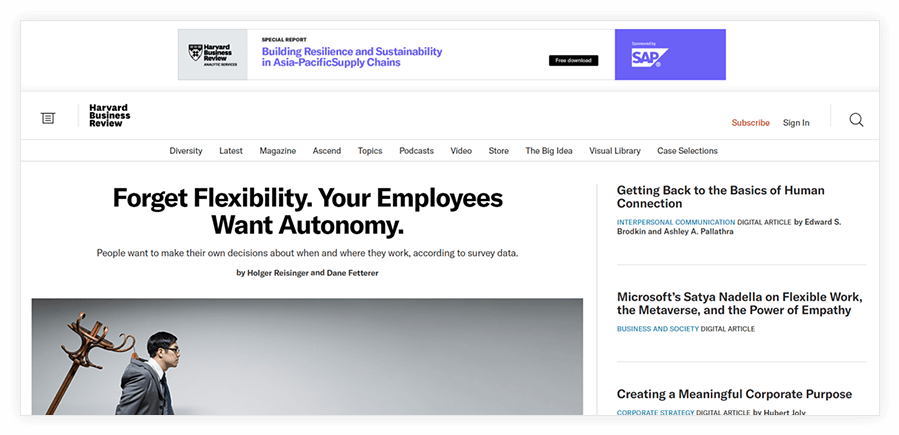 Harvard Business Review
The Harvard Business Review magazine is released 6 times a year and is owned by Harvard University. Alternatively, you could check out the website which is constantly updated with articles on talent management, collaboration, negotiation, and much more. HBR offers different mailing lists so you can choose to sign up for the ones that are most relevant to you.
Many prominent leaders in business have written for HBR. In fact, many business terms and management ideas originate from their articles. If you're looking for long-term growth, the Harvard Business Review is a great resource to help your career development.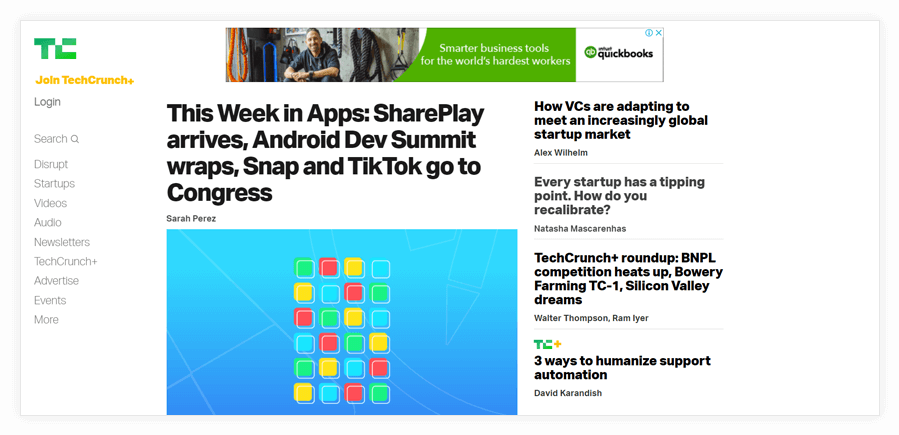 Tech Crunch
Tech Crunch is an online magazine that focuses on startup culture and news. They conduct interviews with founders and help to inform the next generation of entrepreneurs. You can sign up for their newsletters to get the best articles sent directly to your inbox.
With a focus on startups, Tech Crunch is an incredibly useful resource for anyone building companies in the digital arena. They have articles on getting funded, how to choose the right technology, and initial public offerings (IPO).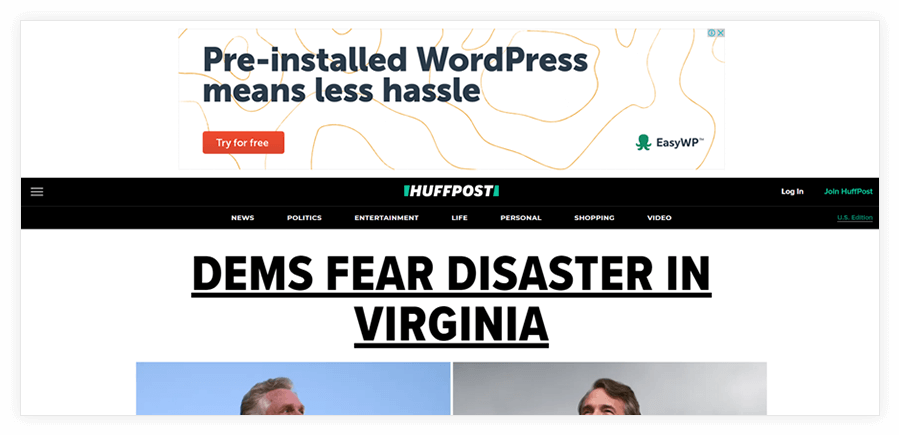 HuffPost
HuffPost, previously known as The Huffington Post, is a news website that covers a wide range of topics. They have a dedicated business section that can be used to learn more about developments in the business world. It's not as extensive as the other journalism blogs on this list but it's less overwhelming as a result.
If you're looking for a way to keep up to date then HuffPost has got you covered. They report on strikes, changes in laws, and climate change. As a leader, it's important to know what's going on in the world. HuffPost will keep you in the know as you work on growing your company.
Content Marketing and SEO

Copyblogger
If you're dealing online you're going to need a solid marketing strategy that focuses on Search Engine Optimization (SEO) and content marketing. Copyblogger is one of the best websites to learn how to become an expert in your field and increase your domain authority. Their blog is a prime example of effective online marketing and they share all their tips for free.
It's the ideal destination for solo entrepreneurs who can't afford to outsource their content. You'll learn all of the best practices to ensure that your blog ranks highly in search engines and drives sales. There is a lot of power in blogging and if you want to create a blog for your product or services, Copyblogger is a great way to learn new skills.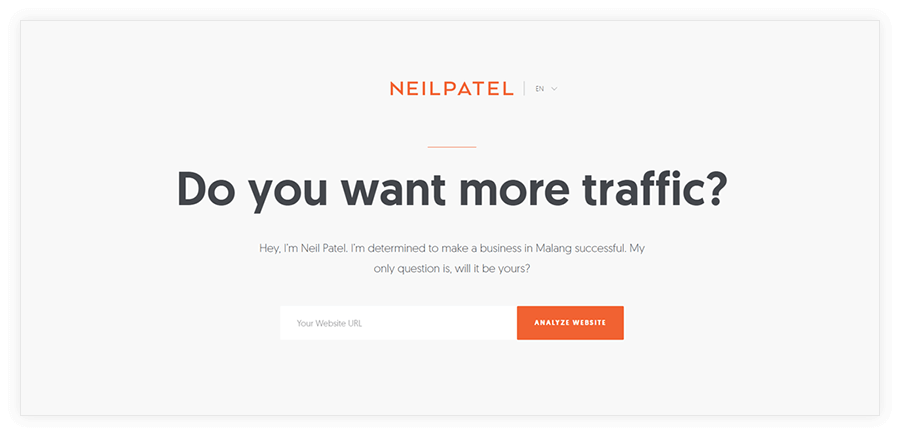 Neil Patel
Neil Patel is considered to be one of the most influential online marketers available. He is an expert in all things SEO and he gives away most of his advice for free. As well as learning how to craft excellent copy you can use his free tools to analyze your competitor's websites and learn how to beat them.
If you don't have a blog already, the Neil Patel blog can take you through the entire setup process. To ensure you're always ranking high on results pages you'll need to keep an eye out for updates from Google and other search engines. The team working for Neil Patel always has their eyes peeled for any changes. In order to keep your blog performing well, refer back to Neil's website for new information.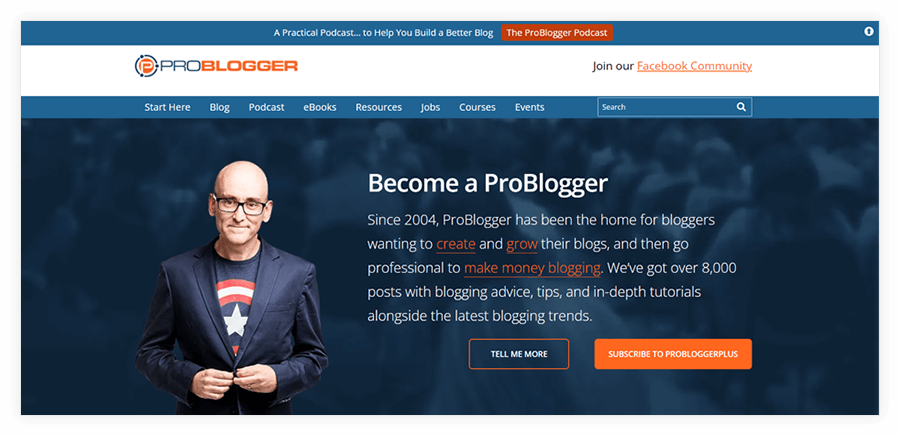 Problogger
Problogger is another resource that's great for your content marketing team to learn from. If you want to turn your blog into an additional revenue stream, they have all the information you need on how to do that.
Blogging is a great way to connect with your customers and developing a useful blog helps to establish you as a thought leader in your industry. Equally important is making sure your blog provides value to the reader. Problogger is a fantastic resource to learn how to make compelling content that can convert into sales, email signups, or increase brand awareness.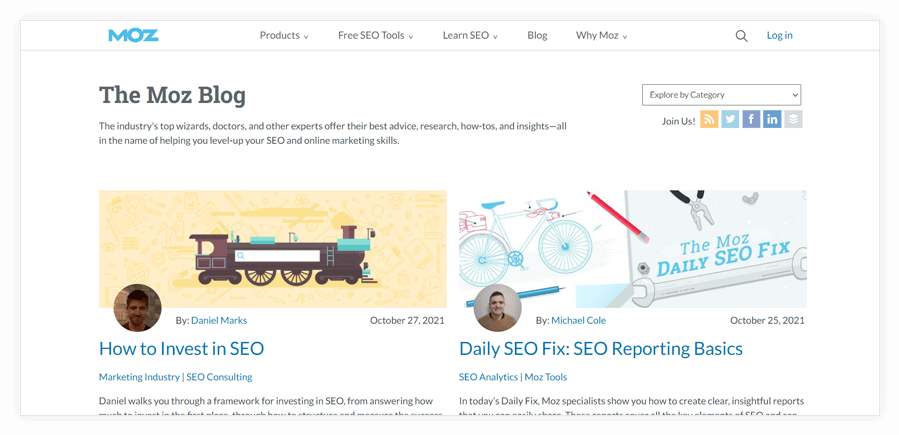 Moz Blog
Moz is one of the leading SEO platforms that have a lot of free and premium tools to increase your reach. Their blog is full of up-to-date information on all things SEO which makes it a great place to learn from. Whether you're brand new or a seasoned professional, a resource like the Moz Blog is a great way to keep on top of changes and best practices.
Another great feature Moz has on offer is their training academy which is free to use. These courses will take a novice and turn them into an SEO pro. Any marketing team will benefit from the knowledge they're sharing, even if you're a one-person team.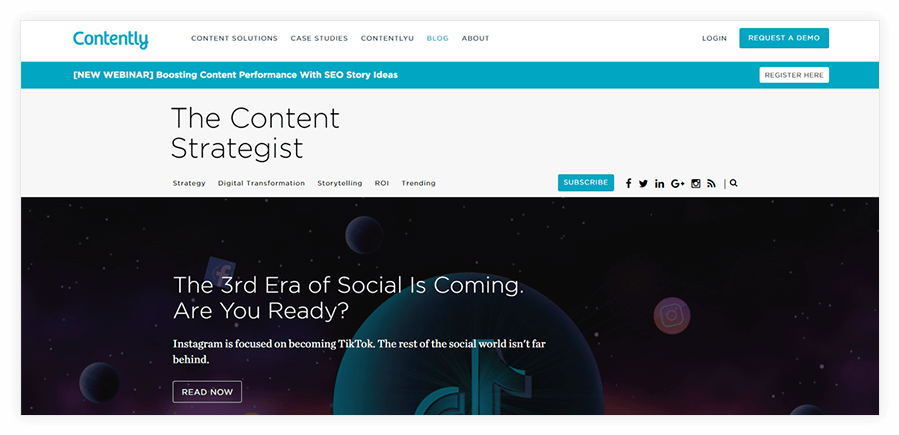 The Content Strategist
Contently is a done-for-you content marketing platform but their blog, the Content Strategist, is a great place to learn how to develop a content marketing strategy. The advice shared is freely available and covers everything a business needs to know.
Creating an online marketing strategy from scratch can be difficult but referring to experts is the best way to learn. Take a look at their articles on storytelling to learn how to create content that flows well and engages your readers.
Crowdsourcing Blogs

Quora
Navigating blogs to find the answers to specific questions can be a pain. Instead, consider asking your question over on Quora to crowdsource blog-worthy answers from multiple sources. Quora is a question-and-answer platform that many experts use to share their knowledge.
There are two ways you can use Quora to learn from. The first is by searching through popular questions and reading the answers that have been submitted. Users can upvote helpful answers which will be displayed first. Alternatively, you can ask your own question and invite experts to submit answers.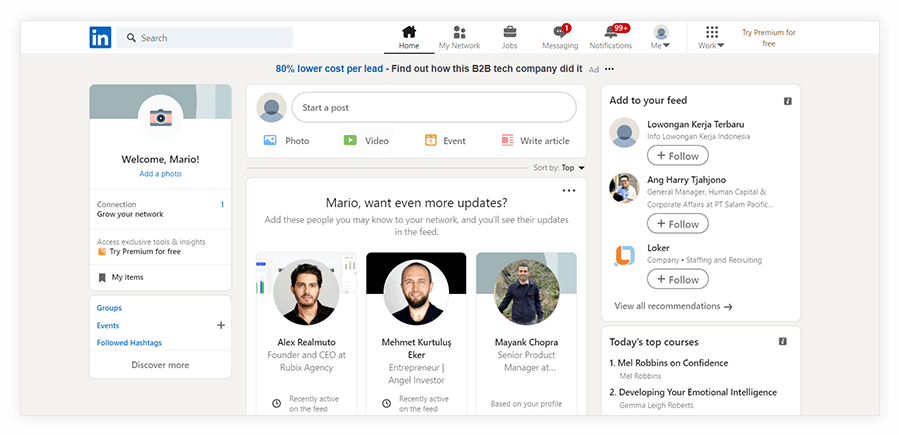 LinkedIn
LinkedIn has made its name as being the social media platform for professionals. One of its features lets you follow people in your industry which is a great way to learn from your peers. Many professionals use LinkedIn to post articles they've written and you can view these by searching for posts.
In order to get the most out of LinkedIn, you should search for specific industry hashtags and then filter the results by posts. This will let you see new articles as well as giving you a wealth of experts to follow.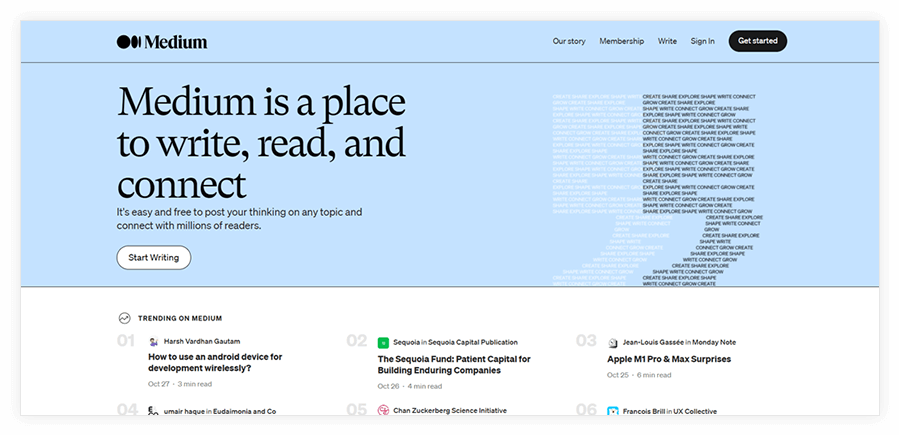 Medium
Medium is a blogging platform that is used by thousands of professionals to share content on a variety of topics. Some publications such as DataDrivenInvestor and Start It Up are hosted on the platform and focus on quality storytelling in the business niches. Medium has a paid subscription at $5 per month but this gives you unlimited access to their articles.
If you want to get the most out of Medium you should follow specific tags, topics, publications, and authors. Medium will send you a daily digest newsletter with relevant articles. It's a great way to read a lot of quality blog posts from a wide range of diverse voices.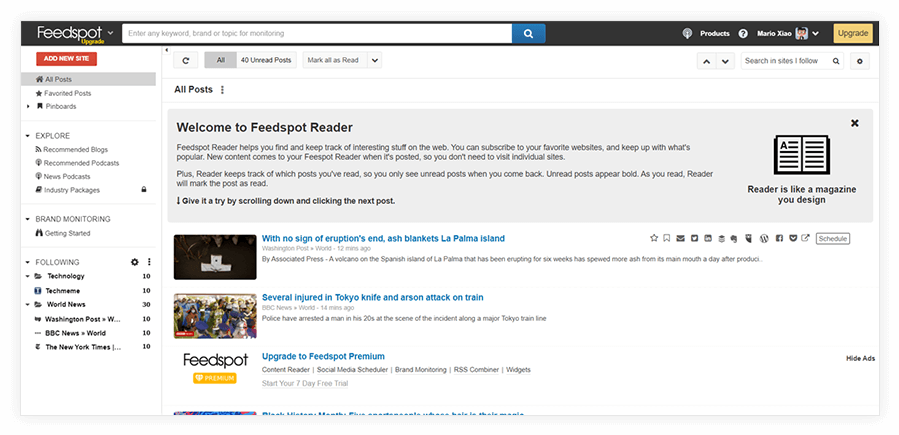 Feedspot
Feedspot is a website aggregator that tracks new blog posts from across the web. If there are a range of blog posts you want to follow but don't want to sign up for everyone's newsletter, Feedspot is the perfect alternative. All you need to do is search for specific keywords and it will list recent blog posts.
If you're looking to find quality articles you should filter according to engagement and domain authority. This will help you to find the best performing blog posts. Feedspot completely eliminates the need to sign up for individual newsletters as they will send an email daily with article suggestions relevant to your industry.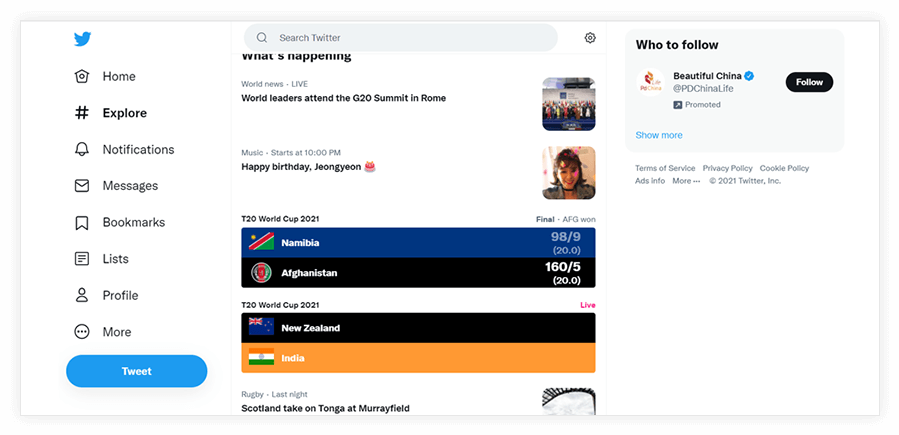 Twitter
Twitter is a micro-blogging platform that is often overlooked when searching for quality content. Many business leaders and industry professionals use Twitter to share their thoughts. Since Twitter caps your tweets at 280 characters, any advice shared is condensed to be the most impactful.
Following your competitors or influential people in your niche can help you to develop your own marketing strategy. Thought leaders flock to Twitter to connect with their audience and even small tweets can contain a lot of value.
Conclusion
It's unavoidable. Every business needs an online footprint. Whether the business started in 1921 or 2021, you need to be where your customers are and nowadays that's online. Bill Marriott is in his 80s and understands the value of a blog.
Take a leaf out of his book and start creating your own platform to connect with your audience. It could be to drive more sales or to connect with people on a personal level. Whatever your goals are, a great blog is good news for any business.